Indianapolis took another big step forward this week in their ongoing efforts to expand and improve transit service across the city and region. Monday night, the Indianapolis City-County Council voted to place a measure on this November's ballot to allow voters to decide whether or not to raise new funding for transit service.
If approved, the measure would allow IndyGo, the city's transit agency, to dramatically expand and improve public transportation service, tripling the number of residents and doubling the number of jobs within a five-minute walk from frequent transit service. It will also extend the hours of service for transit, making it a viable choice for more workers. This base of new funding will also support the start of building out the city's visionary network of bus-rapid transit (BRT) lines.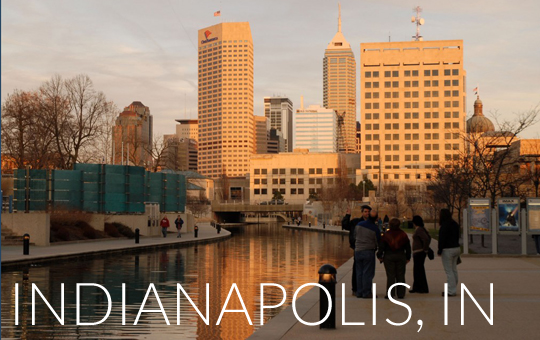 Read more about Indy's long-term plan and their journey to this point in our can-do profile: "Action by the Indiana legislature in early 2014 cleared the way for metro Indianapolis counties to have a long-awaited vote on funding a much-expanded public transportation network, with a major emphasis on bus rapid transit. With that legislative battle behind them, the broad Indy coalition is working toward a November 2016 ballot measure to fund the first phase of their ambitious Indy Connect transportation plan."
With the council's vote now completed, voters in Marion County will decide on supporting a 0.25% increase in income taxes — a tax of about $100 for a resident earning $42,000 a year — specifically for transit. This additional revenue source will provide an additional $56 million a year for IndyGo.
Improving transit service has been a top priority for Indianapolis's business community and many of the city's elected, civic and faith-based leaders, who recognize that investing in transportation options is vital both for connecting low-income workers to economic opportunity and for the competition for talented workers and new businesses.
"It's…a growth issue; employers and younger workers are moving to more walkable areas served by transit. Rapid transit also attracts people and investment," Indy Chamber President Michael Huber said in a statement after the council approved the measure.
As it happened, on the day that the city council vote took place, T4America Director James Corless was an invited guest at the Indy Chamber's quarterly policy breakfast, speaking about the challenges facing mid-sized cities like Indy and affirming the region's plans to invest in transit to help stay competitive.
James Corless of @T4America and Sean Northrup of the Indy Metro Planning Organization (MPO) talk @Transit4Indy pic.twitter.com/gKNDyh3hz8

— Michael Huber (@michael_j_huber) May 10, 2016
And that night, James got to watch the Indianapolis City-County Council debate the measure and ultimately vote to put it on this November's ballot:
Indy City Council voted tonight to put their transit tax on the ballot for Nov. 8th. A historic night for Indy! pic.twitter.com/uNQvuF8EzE

— Transport. 4 America (@T4America) May 10, 2016
The Indy Business Journal took a look at what lies ahead for the campaign to win at the ballot this Fall:
Now comes a months-long campaign to convince voters to vote "yes."

…"We feel very comfortable heading into November that if we're able to get our message out and speak to the different reasons people would support transit, polling does show we have a path for success," said Mark Fisher, Indy Chamber's vice president of government relations and policy development, to a room full of business leaders and government officials.
Fisher and a handful of other local leaders were supported and encouraged over the last year by the Transportation Innovation Academy, a program convened by Transportation for America and TransitCenter last year to train local leaders from three mid-sized regions on the critical role transit can play in their cities. The Indy Chamber convened a diverse team of community leaders that participated in the yearlong program, and today, we're so proud to see participants in the academy from Indy playing key roles in building community support for the ambitious vision for new transit service.
Though ballot measures are common in other parts of the country, it is a new tool for this region. A first step for regional transit champions was winning approval from legislators in 2014 to allow the local tax measure to go on the ballot. If successful, this will be the first time Indianapolis raises dedicated funding for public transportation through a ballot measure.
Along with a handful of other regions, we will be watching Indianapolis carefully this November.