Nearly all state legislatures have adjourned for the year. Here's our regular look at the progress made in states working to create more transparency, build more public trust in transportation spending, or raise new money.
Though most states have wrapped up their legislative sessions, transportation funding fights still loom large on the agendas for many of the states still in session. And one key issue to watch is the scores of local governments putting forward ballot measures for this November's election to approve new local funding.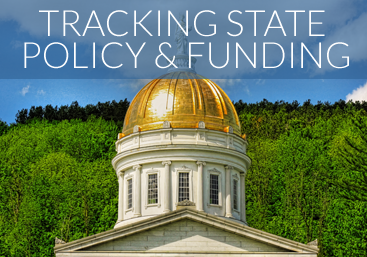 Our state policy bill tracker is the best way to keep tabs on the most current information about these states attempting to raise new funding in 2016, states attempting to reform how those dollars are spent and states taking unfortunate steps in the wrong direction on policy — all tracked in three separate searchable, sortable tables of that information.
In addition, our hub for state policy and funding related resources includes all past and current reports, bill trackers, and other state-focused resources.
STATE FUNDING
New Jersey faces perhaps the worst transportation funding crisis in the country with a trust fund that is bankrupt. Transportation funds will be shut off completely on July 1st unless state leaders find new funding.
Legislative leaders are reportedly developing a "tax fairness plan" that would raise new revenue for transportation and cut other state taxes. Negotiating a package that will pass the assembly and senate with bipartisan, veto-proof supermajorities would sidestep Gov. Chris Christie (R), who has not supported any new revenues for transportation. In fact, the governor and transportation commissioner have downplayed the crisis and put the obligation on the legislature to find new revenue.
A tax agreement would likely include income tax deductions and a reduction of the estate tax, resulting in cuts to the general state budget, while a fuel tax or other new revenue would add to the state's Transportation Trust Fund. Another possible funding source under consideration is adding new tolls on highways that are now free.
The state has the second lowest gas tax in the country and $30 billion in outstanding debt from past transportation projects. As a result, 100% of the dollars collected through the gas tax go to cover debt on past projects. The Transportation Trust Fund will run dry when it reaches a borrowing limit on June 30th.
Democrats are pushing for $2 billion in annual transportation spending; Republicans are looking for $1.6 billion annually, the average amount of state funding each of the last five years. The state's transportation needs — especially the need for expanded transit service — are growing. The population around rail transit stations in the state is booming.
Illinois Senate President John Cullerton (D-Chicago) proposed a per-mile driving charge (SB 3267) as an alternative to the state's per-gallon fuel tax. Though after receiving feedback he says he will not move forward with the proposal.
There's been little visible progress toward any sort of agreement on transportation funding in Minnesota, and other policy and budget issues stand in the way of a bipartisan agreement.  A bill (SF3211) introduced in the senate by Sen. Vicki Jensen (DFL-Owatonna) would direct the state DOT to develop a new, objective process to score and select projects. Moving in this direction could help steer the limited funds to the best projects while also building up public support for additional transportation funding.
The Colorado House passed a bill (HB1420) 39-26 to make budget changes that would allow additional state funds to flow to transportation. The bill faces an uncertain future in the Republican-controlled Senate.
The Oregon Legislature has named a new, special, bicameral, bipartisan study committee to develop a transportation funding package. The committee will begin regularly holding public meetings in May. This is a big improvement in transparency from the closed-door negotiation that resulted in a dead-end transportation funding proposal last year.
LOCAL FUNDING
Sacramento County, California, is moving ahead with a $3.6 billion, 30-year local sales tax. A deal struck by the Sacramento Transportation Authority will split these funds, with 70 percent going toward highways and streets and 30 percent toward transit. The county transit agency had reportedly anticipated as much as half of the new funding. In the first five years, three-quarters of the local road money would be used exclusively for repairing city streets. The proposal will need to be approved by the county board this summer and then supported by two-thirds of county voters in the November election.
We'll see the results when we are in Sacramento November 16-17 for Transportation for America's Capital Ideas state policy conference. Which reminds us…
Registration is now open for Capital Ideas, the premier conference on state transportation funding and policy, coming up this November 16-17, 2016, in Sacramento, CA. Sign up today to secure your seat and grab one of the limited number of discounted hotel rooms available.
As Sound Transit, the transit agency for metro Seattle, Washington, finalizes a $50 billion local funding plan to go before voters in November, free parking has become a major point of contention. The plan initially called for thousands of free parking spaces alongside new transit lines, but local leaders are calling for more housing and business development alongside transit stops, instead. Spokane-area voters will decide on a major expansion of transit service and the addition of a new bus rapid transit line at the ballot this November. Voters will consider a 0.1 percent sales tax increase in April 2017 with a second 0.1 increase to follow two years later and both running through 2028.
The county commission in Hillsborough County, Florida (which includes Tampa) voted 4-3 against putting a transportation sales tax measure on the November ballot. The long-debated measure would have raised new funding for highways and transit.
---
Stay up to date on all progress with state transportation funding and policy issues with our bill tracker.