The Shared-Use Mobility Center and the North American Bike Share Association are hosting a three-day conference September 28th-30th in Chicago focusing on the crossroads of technology and the emerging use of shared mobility services like bikeshare systems, car share networks and ride-hailing apps, and we've got a special promotional rate for T4America supporters interested in attending.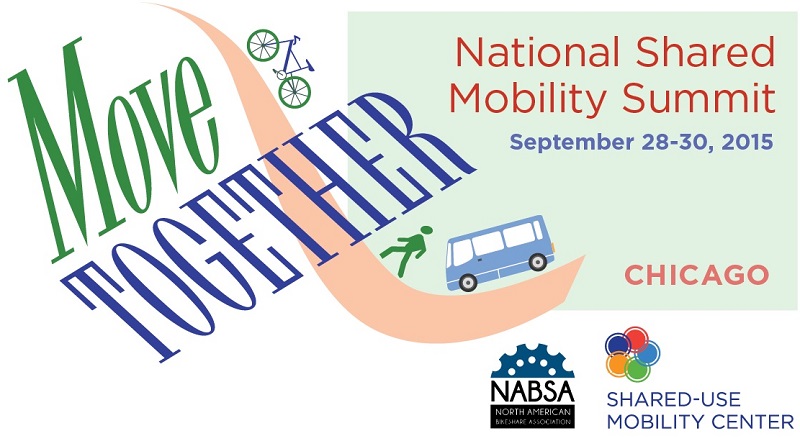 The Move Together: Shared-Use Mobility Summit will host talks and workshops by transportation professionals who work at city and state DOTs, non-profits and mobility companies like Lyft and Ridescout, among others. On tap to be discussed is a wide range of topics on shared-use mobility with practical applications, including how to integrate these new mobility options with transit, how shared mobility can help the disadvantaged, local and federal policy issues that affect shared-use mobility and autonomous vehicles, and how these new forms of transportation will affect cities and suburbs.
Also, don't miss T4America director James Corless speaking on the "Federal Policy and Funding for Shared Mobility" panel. There's still time to register for the conference and receive a 10 percent discount using the SUMCT4AMERICA promo code.
As giant companies like Google ramp up research on and investment in autonomous vehicles, ride-hailing apps like Uber and Lyft redefine what it means to be a part-time or contracted worker, and bikeshare networks proliferate across the country in cities big and small, cities and states are scrambling to figure out how to accommodate these untraditional modes of transportation. Shared-use mobility can provide access to transportation for areas often underserved by transit, as well as enable greater mobility in and around cities.
The public is embracing these modes of transport, often quicker than cities and towns can adapt. The National Shared-Use Mobility Summit is primed to offer some insight for both public officials and industry professionals on how to work together and what's coming next.
Register today to with promo code SUMCT4AMERICA to save 10 percent on the ticket fee and get the inside scoop on the future of transportation.