Louisiana passed a bill through the state House and Senate by unanimous votes last week that will make the process for spending transportation dollars more transparent and accountable to the public — a smart first step to increase public support for raising any new transportation funding.
At least 20 states have successfully raised new funding at the state level for transportation since 2012, a trend we've been tracking closely here at T4America. But all states are different, and in some states, raising new state funds for transportation can be a tough sell, especially if a skeptical public doesn't have any faith in the process for spending the money already available.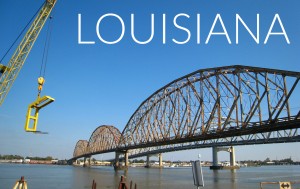 Louisiana is taking some first steps to fix that process while also trying to raise new money. A recent bill to raise the state sales tax by one cent to fund major projects fell short in the House, though a few other bills to raise gas and general sales taxes to fund transportation projects are still active this session. As our Capital Ideas report from earlier this year noted, it can be challenging to develop public support for new transportation funding when voters have no certainty that those funds will be put to the best possible use.
One emerging strategy to restore public trust and confidence in an opaque and mysterious process is adopting the use of performance measures, which can demonstrate to the public what they're going to get for their tax dollars.
The first step in a shift toward using performance measures is to establish what your goals are. And this just-approved Louisiana bill sponsored by Rep. Walt Leger, HB 742 (bill text), starts by laying out clear, understandable criteria in plain language "to prescribe the process by which the [Louisiana] Department of Transportation and Development (DOTD) shall select and prioritize certain construction projects."
From the bill text:
The legislature declares it to be in the public interest that a prioritization process for construction be utilized to develop a Highway Priority Program that accomplishes the following:

Brings the state highway system into a good state of repair and optimizes the usage and efficiency of existing transportation facilities.
Improves safety for motorized and nonmotorized highway users and communities.
Supports resiliency in the transportation system, including safe evacuation of populations when necessitated by catastrophic events such as hurricanes and floods.
Increases accessibility for people, goods, and services.
Fosters diverse economic development and job growth, international and domestic commerce, and tourism.
Fosters multimodalism, promotes a variety of transportation and travel options, and encourages intermodal connectivity.
Encourages innovation and the use of technology.
Protects the environment, reduces emissions, and improves public health and quality of life.
That straightforward list goes beyond what's currently being developed as part of MAP-21 and the typical measures of success used elsewhere.
This legislation is a marked improvement on the current state statutes governing how the Louisiana DOTD chooses transportation projects, which has been described as open-ended, unaccountable and a total mystery to the public. This bill represents one of the more ambitious overhauls of a state's decision-making processes and an important first step toward improving the transparency and accountability of distributing transportation funds, setting Louisiana on a path of ensuring every transportation dollar provides the greatest benefit.
The bill has cleared both House and Senate is is currently waiting for Gov. Bobby Jindal's signature. The Louisiana DOTD supported the bill, and starting in 2017, the department is expected to be utilizing the new project selection process.
The next logical step for Louisiana and other states creating goals like these above is to follow it up by creating measurable data points to serve as yardsticks. That way, the public can see this straightforward list of priorities, examine what the tangible, measurable (i.e., quantifiable) goals are, and then evaluate whether or not the state is spending their transportation dollars on the projects that can help them meet those goals.
T4America congratulates State Rep. Walt Leger, the chief sponsor of this bill, for constructing and pushing it through the legislature on unanimous votes. Rep. Leger is a member of T4America's State Advocacy Network (START), created to support efforts to successfully pass state legislation to raise transportation funding while improving accountability for spending it.
If you'd like to find out more about START, visit this page and get in touch.