Less than a week after the release of The Fix We're In For — our report on the nation's bridges showing that one in nine US bridges are structurally deficient — a key Senate committee passed a yearly funding bill that provides new money for repairing these deficient bridges across the country.
The Senate's Transportation, Housing and Urban Development appropriations bill reported out of the Appropriations Committee this week specifically provides more money to invest in repairing bridges on key corridors.
The $500 million in the bill dedicated specifically to bridge repair is a step in the right direction toward prioritizing the repair of our more than 66,000 structurally deficient bridges.
Transportation for America commends Senator Patty Murray, Senator Susan Collins and the rest of the committee for recognizing the importance of investing in all of our bridges — not just a small segment of them. That's a key difference between this $500 million and the policy created in last summer's transportation bill (MAP-21.)
As we pointed out in last week's report, 90 percent of the country's structurally deficient bridges were left behind by MAP-21, which made tens of thousands of deficient bridges ineligible for receiving repair dollars from the largest highway program.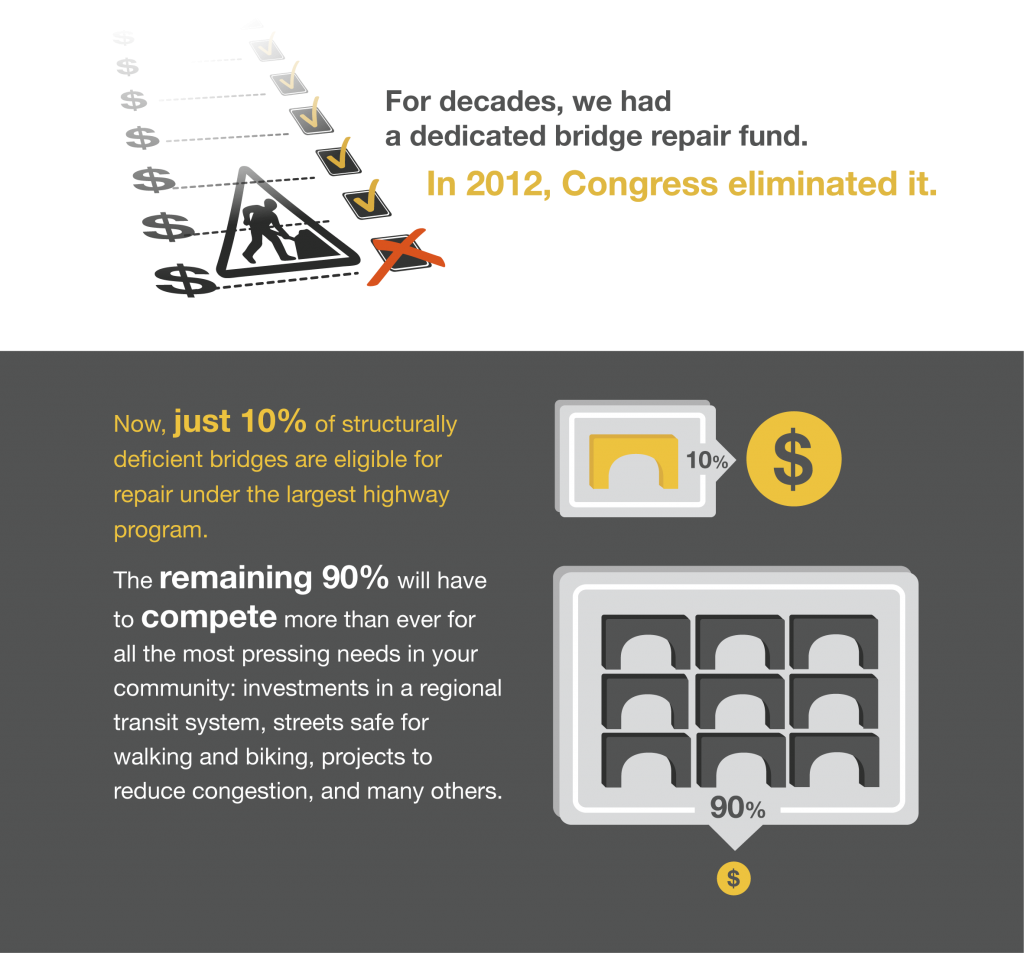 For the $500 million for bridge repair in this appropriations bill, almost all highway bridges are eligible to receive dollars for repair, not just a small slice of our country's bridges. The committee recognizes that the connections these other bridges make in our transportation network are often just as important as our biggest, busiest interstate bridges.
In addition, this money for bridge repair will be provided via a competitive grant program to ensure that it goes to the most vital needs on corridors that are crucial to moving goods and people, in urban and rural areas alike.
Yet new money for bridge repair is far from the only highlight in yesterday's appropriations bill. There's also $1.75 billion for rail programs, with $1.45 billion of that intended for Amtrak operations and capital investments – coming a year after Amtrak carried over 31 million passengers and grew their ridership more than 60 percent since 1998, according to the committee release, and another $100 million for passenger rail capital grants to improve service.
The competitive TIGER grant program also got another round of full funding to the tune of $550 million — grants for innovative transportation projects that often cross state lines and combine transit, freight, safety or other diverse uses, and are often hard to fund under older, rigid federal and state programs.
There is also almost $2 billion for investing in new or expanded public transportation across the country through the New Starts transit program.
This bill will head to the full Senate next, but there will be contentious negotiations ahead with the House, which has lower overall funding levels and drastically different ideas for some of these specific programs: No extra money for bridge repair, a significant cut for Amtrak, slightly less money for public transportation and zero dollars for the popular TIGER grant program.