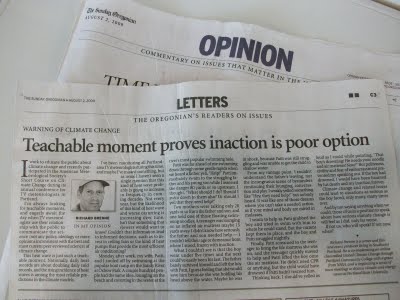 A pair of op-ed pieces published in the past week illustrate a clamoring for action on a transportation bill that invests in the future and expands travel options for all Americans – and a resistance to the deep cuts some are championing in Washington.
The head of a development firm specializing in green building and a key Northwest labor leader took to the op-ed pages of the Oregonian. In "Getting the best bang for our transportation buck," Gerding Edlen Development Inc. CEO Mark Edlen and Oregon AFL-CIO President Tom Chamberlain made the case for robust transit investment, and pointed to Portland as an example. "Not only does transit create jobs directly for workers such as bus drivers, but it also creates manufacturing jobs," they wrote, adding:
Oregon Iron Works manufactures streetcars in Clackamas. Businesses like that are poised to grow, add jobs and better support the region's economy if the country chooses to make more substantial investments in 21st-century transportation.
Edlen and Chamberlain also pointed out that planning and building more wisely through reformed and forward-looking transportation policy creates jobs today and a lays the foundation for a stronger economy in the decades to come.
Smart land-use planning and investments in affordable options like streetcar, light rail and bike networks make it easier to drive less here, and we do, about 20 percent less than Americans in other large cities. These household savings mean an extra $800 million circulating in our economy because spending less on imported cars and fuel means more money in local pockets to spend on local business.
In another part of the west, Missoula City Coucilmember Dave Strohmaier penned an op-ed on restoring Amtrak service in southern Montana. The piece was published in several of state's newspapers, including the Billings Gazette.
Strohmaier said passenger rail will be an essential component of a 21st century transportation system and urged Montana to lead.
For too long, Montanans have underestimated our ability to change national transportation policy. Sure, there have been those unflagging passenger rail advocates who have continued doing the good work of keeping this issue alive for the past three decades, but until now we've lacked both the political will at all levels of government and a coordinated effort to make passenger rail through southern Montana a reality.
Strohmaier has no quibble with high-speed rail, but he does insist that decision-makers in both Helena and Washington remember the diverse and dispersed benefits that all forms of passenger rail provide. Montana currently receives service from Amtrak's Empire Builder, but many residents live at great distance from the line and would benefit from additional service. "High speed rail certainly has its place in our national rail infrastructure network," he wrote, but these projects "should not overshadow the importance of knitting together the rest of the nation — particularly rural America and the American West."
With funding for public transportation in jeopardy, voices like these from outside of Washington are a needed boost for transit and an important reminder of the options the American say they want.