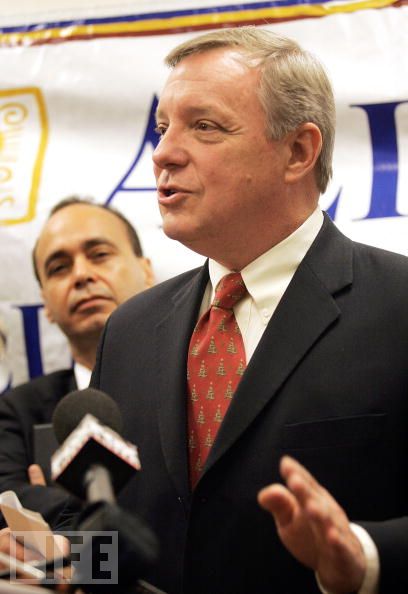 As the House continues debating a 2011 budget that threatens many of our nation's core transportation needs, some leaders are stepping up to defend these programs as critical to the lives and livelihoods of regular Americans.
This Monday, Senator Dick Durbin, Democrat of Illinois, will headline an event in the city of Moline, highlighting how the targeted transportation investments in TIGER have created jobs and revitalized communities.
Illinois has benefited enormously from the TIGER grants program, which would be eliminated completely under the House budget currently being considered. TIGER — an acronym for Transportation Investments Generating Economic Recovery — was initially created in the Recovery Act and later renewed. The premise was simple: reward the communities pursuing the most innovative projects that integrate transportation, economic development, environmental improvement and quality of life — projects that can have a hard time getting funding under our current outdated federal programs.
We profiled several recipients of the second round of TIGER grants late last year, including a new multimodal transportation hub along the Moline waterfront. The $10 million grant was to be combined with local funds to renovate a historic building in downtown Moline into a multimodal transportation hub bringing together Amtrak, commuter rail, buses and other local transportation services. The hub will also be part of a passenger rail connection from the Quad Cities to Chicago, with connections west to Iowa City and Omaha to be potentially added later. As Kathleen Woodruff, T4 America's Illinois organizer, described it in October:
The new hub will connect all transit services at one new central location in Moline, bringing together Amtrak, local buses, taxis and bicycle and pedestrian facilities, enhancing this area of Moline's waterfront and making travel easier for all Quad Cities residents. It is expected to support up to 825 new, permanent jobs and eventually, when the new passenger rail link from Moline to Chicago breaks ground, it will produce 1,600 direct and indirect jobs.
The project is similar to another multimodal hub underway in Normal, Illinois that received $22 million in TIGER funds.
The event with Senator Durbin will be held on Monday, February 21 at 11 a.m. at Moline's Central Station. The Senator will also be in Peoria, Illinois earlier in the day to highlight transportation projects there. If you're near Moline, we encourage you to go and show your support for this project and these kinds of transportation investments that TIGER has been making across the country.
Photo: Life Magazine