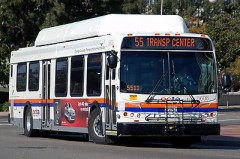 A recent California Supreme Court decision could restore billions in funding for public transportation in the nation's most populous state.
The Court's ruling late last week upheld a lower court decision declaring the state's $3.6 billion raid of public transit funds illegal and ordered that the money be returned to local transit providers.
Two months ago, Transportation for America released "Stranded at the Station: The Impact of the Financial Crisis in Public Transportation," illustrating the painful cuts transit systems have sustained at the state and local level. The cuts plateaued as unemployment reached 10 percent and Americans were demanding more transportation options, not less.
It is no secret that California has fallen hard as a result of the recession, but the severity of the cuts to public transportation in California was vastly disproportionate to the rest of the country. The reason for this was no mystery: the State was raiding dedicated transit funds every year in order to alleviate other budgetary shortfalls since 2007.
More than two dozen transit providers throughout the state enacted some combination of fee hikes and service reductions, according to our map of transit cutbacks. BART in the San Francisco Bay Area increased its base fare by 17 percent, and many transit systems in Southern California raised fares as much as 20 percent. The County Connection in suburban Contra Costa reduced its bus lines by 23 percent, and rural areas were hit hard as well. The California Transit Association, or CTA, an affiliation of local transit providers, logged 38 agencies facing cuts of some kind in their own version of our transit cuts map.
Last week's state Supreme Court's decision helps explain how things got this bad.
Since 2007, Gov. Arnold Schwarzenegger has successfully diverted $3.6 billion from the state's transit fund to deficit reduction, prompting a lawsuit from the CTA to get the money back. The CTA argued that the raided funds came from gas tax revenues specifically designated for public transit. By refusing to review a lower-court decision in favor of the association, the high court effectively ruled Schwarzenegger's raid illegal, ending the seizure of desperately-needed transit funds.
This is a huge victory and vindication for local transit providers. Randy Rentschler, director of the Bay Area Metropolitan Transportation Commission, told the San Francisco Chronicle, "everyone knows that the state's in a budget crisis, but that crisis also exists in local governments in part because the state has taken transit money away from local entities."
The case has broader implications for public transportation as well.
In tough budget years, Governor Schwarzenegger and the legislature are constantly looking for places to trim and local governments are an easy target. But money saved is not money earned, as local cuts tend to bite the state later through increased demand for social services and counties being unable to meet the basic needs of their citizens. The decision will hopefully lead to more caution.
Most importantly, California can no longer rob Peter to pay Paul.
But at this point, it remains unclear how much of the original $3.6 billion will be returned to the transit fund, and ultimately, to local providers to preserve vital service for riders. That money is desperately needed, not only because of the millions of Californians who rely on public transportation for their day-to-day mobility, but also because many communities are on the cusp of becoming success stories. Transportation for America's "Stranded" report profiles how efforts in Sacramento, Orange and Contra Counties have already improved quality of life and relieved congestion, highlighting the need to keep up the support.