Lessons from Recent Successes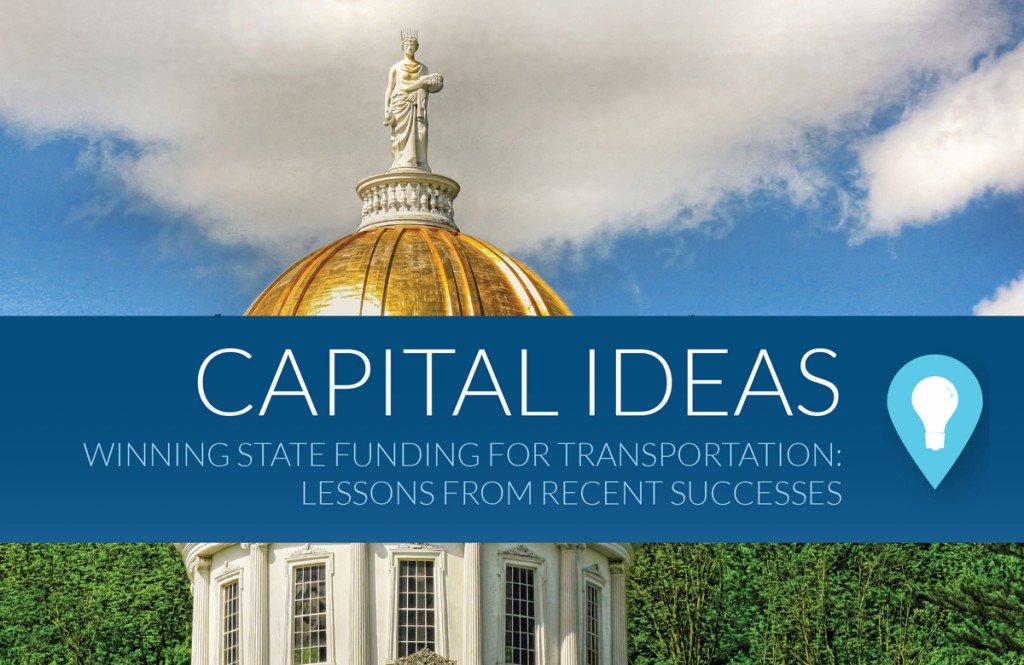 Learn more and read the report
Are you engaged at the state level?
Then you'll want to be part of our new state advocacy network supporting efforts in states to raise transportation revenue and ensure that it gets spent wisely. Find out more and how to join.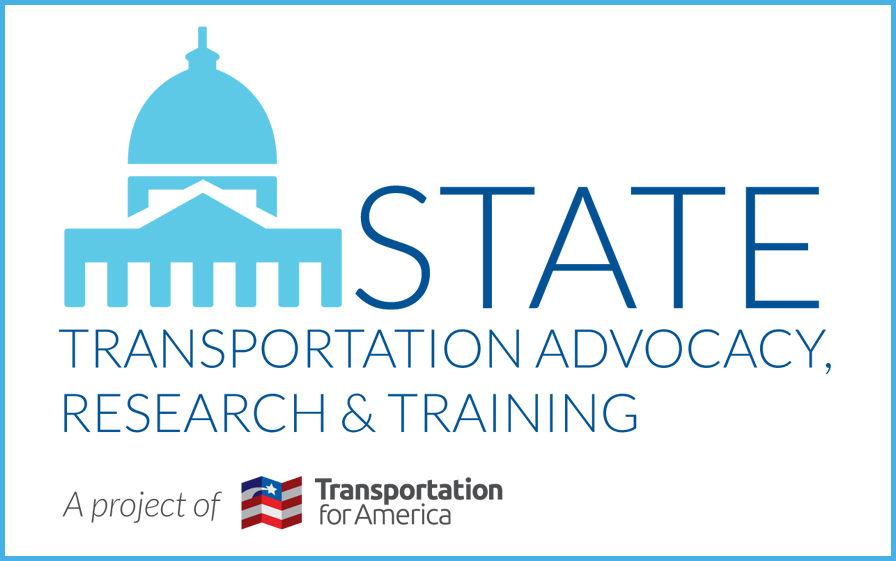 Does raising taxes for transportation = political suicide?
Not exactly. In at least five states where legislators raised gas taxes or other fees in the last few years to raise transportation revenue, voters have responded by sending almost all of the supportive members of both parties back to their state houses. Could it be that voters are more supportive of raising revenue than we think? Click here or on the graphic above to see our work chronicling the votes on these pieces of state legislation, and data on how the supportive politicians fared in their next primary.

Transportation-related measures we're tracking in the 2014 elections
This November a handful of measures and races will be decided at ballot boxes across the country related to new revenue for transportation at the local or state level. We're keeping a close eye on a few important issues over the next few weeks, and we'll be profiling a few at length on the blog (look for T4A summary links with issues below.)
T4A Analysis of Election Night: Important ballot measures decided yesterday
Despite the defeat Tuesday of some high-profile measures, transportation funding asks continue to be approved at very high rates – and a few key wins may have impact for years to come.
T4A Analysis of GOP Senate Victories: With important GOP victories, SAFETEA-LU team in line to chair Senate committees 
With last night's election, both the Senate and House will see leadership changes in key transportation committees. With the nation's transportation funding source running near empty and the current law, MAP-21, expiring in the spring, these new committee leaders will have an opportunity to make an impact in the very near term.
For an overview of all transit-related ballot measures and results from this year and past years, turn to the Center for Transportation Excellence, the authority on tracking such data.
Click a tab to see statewide or local issues
Massachusetts – Question 1 to repeal state's new funding for transportation
Question 1 would repeal the portion of 2013 legislation that indexed the gas tax to inflation. In 2013, the Massachusetts legislature passed a three-cent gas tax increase and indexed it to inflation for the future to raise necessary new revenue to care for one of the oldest transportation systems in the country. Question 1 on the 2014 ballot would repeal the indexing to inflation (though not the 3-cent increase). Voting no on the question would preserve the new revenue for transportation.
Rhode Island – Question 6 transit bond measure
Creating new transit hubs and modernizing the state transit infrastructure. Question 6 asks voters to approve $35 million in bonds to create two new transit hubs and improve and modernize public transportation hub infrastructure throughout Rhode Island. It is part of a larger $275 million bond package proposed by Governor Chafee.
Wisconsin – Question 1 for transportation
Creating a "lockbox" for transportation funds. This referendum would amend Wisconsin's Constitution requiring that any transportation-related revenues flowing into the transportation fund be non-transferable and non-applicable to any other projects; creating what is essentially a secure account to ensure that transportation revenues go to transportation spending. State legislators have been unwilling to raise gas taxes or registration fees to date. Worth noting that this proposal began in 2011 — state law requires it to pass as a joint resolution by two consecutive legislatures before it can be placed on the ballot for voters.
Maryland – Question 1 on transportation funding
Creating a "lockbox" for transportation funds. Similar to Wisconsin's proposed amendment, this would put state gas tax, vehicle registration fees, titling taxes, and transit fares in a fund that can't be accessed for non-transportation uses in the budget without declaring a state of fiscal emergency and getting a three-fifths vote from both houses of the General Assembly.
Texas – Proposition 1
Amendment to Constitution to redirect gas and oil tax funds into a fund for highways. Proposition 1 will amend the Texas state constitution to allow the diversion of half of the gas and oil tax funds currently going into the state's "rainy day" fund into a dedicated trust fund for highways. And only for highways — this money can only be used for road construction, maintenance, rehabilitation, and acquiring right of way, and can't be used on any toll road projects. It will also create a special committee to ensure an adequate balance for the rainy day fund.
Louisiana – state infrastructure bank
Authorize capitalization of a state infrastructure bank. The legislature has not yet established a state infrastructure bank or a funding source for one, but has put to voters a constitutional amendment to allow the state to capitalize such a bank. This comes as an independent commission studies revenue sources and precedes a 2015 legislative session and governor's race in which transportation funding is shaping up into a significant issue.
Clayton County, GA – One percent sales tax to join MARTA and re-start bus service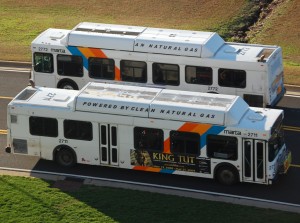 Joining MARTA system and restoring bus service cancelled in 2010. Made possible by "enabling legislation" passed by the Georgia General Assembly earlier in 2014, this referendum would approve a contract bringing Clayton County into Atlanta's regional transit system (MARTA), providing new bus service. The question would add a one percent sales tax to fund the services. Clayton lost their transit system in 2010, and though the bulk of the country's busiest airport is within their borders, the county currently suffers from high poverty and unemployment with difficult access to job centers. Half of the proceeds would go into funding bus services starting next year, while the other half would be put into escrow for future projects including rail extensions. Clayton would also have two members appointed to the MARTA board.
City of Seattle, WA – Proposition 1
Small sales tax increase to avoid historic transit service cuts due to begin in 2015. Proposition 1 will authorize a 0.1% sales and use tax to raise an estimated $45 million to be used primarily to expand bus routes with more than eighty percent of their stops within the city of Seattle. This will help avoid the 180,000 hours of Metro Transit service hours to be cut beginning in February 2015. It will also add an additional annual vehicle license fee of $60 (with rebates for low-income residents who qualify). A portion of these funds will be redirected to support regional transit service and improved access for low-income users.
Austin, Texas – Proposition 1 for transit
Proposition 1 is a $600 million bond to kickstart the construction of a $1.4 billion light rail line. Running through the city's east side, downtown and UT campus parallel to I-35 for much of its length, the light rail line would be the city's first. If the Proposition is approved, the City will also approve $400 million in additional bonds for road and highway improvements. To help cover the full costs of construction, the City will also apply for funding from the federal New Starts program. The support and opposition is breaking down along unusual lines, with some Austin transit advocates opposing it on the grounds that it's not the best route for the city's first line.
Pinellas County, Florida (St. Petersburg) – Greenlight Pinellas for improving transit service
A one percent sales tax to raise new money to fund improved bus service and a 24-mile light rail line. A new one percent sales tax would raise $130 million a year and the existing property tax for transit would be repealed. The new revenues would fund the improvement, construction, operation, maintenance, and financing of improved bus service, bus rapid transit lines, and work to create a 24-mile light rail line connecting downtown St. Petersburg to Clearwater.
Alameda County, CA – Measure BB for transportation
A half-percent increase in the sales tax to fund local transit and transportation priorities. Measure BB is a 0.5% increase on the existing 0.5% sales tax, essentially doubling it to help fund a range of improvements approved by the country supervisors: BART, AC Transit, local street maintenance, paratransit, highway traffic relief, bicycle and pedestrian safety, community development investments, and new technology. This 0.5% increase is estimated to generate $7.8 billion in revenue. This is a near carbon copy of a measure that failed in the last election by less than 800 total votes. One of the few major differences this year is a provision to sunset the tax increase after 30 years.
Gainesville, FL (Alachua County) – Sales tax for transportation improvements
One percent sales tax increase for a range of transportation improvements. Approval of Moving Alachua County Forward would institute a one percent sales tax for the next eight years to help fund transportation lists for Alachua County and the City of Gainesville. The tax is expected to raise $30 million annually. The County funds will go to a range of projects. According to the city, the funds break down to: 55% road projects, 40% bus operation, and 5% bike and pedestrian infrastructure.