Share this graphic with others:
State transportation funding plans
States are increasingly coming up with their own plans for raising additional transportation revenue — while hoping the federal government finds a way to continue being a strong partner in their efforts. View our full resource detailing considered and successful plans (current and recent) to raise revenue at the state level for transportation.
Click to view our home for tracking state transportation funding plans
Lessons from Recent Successes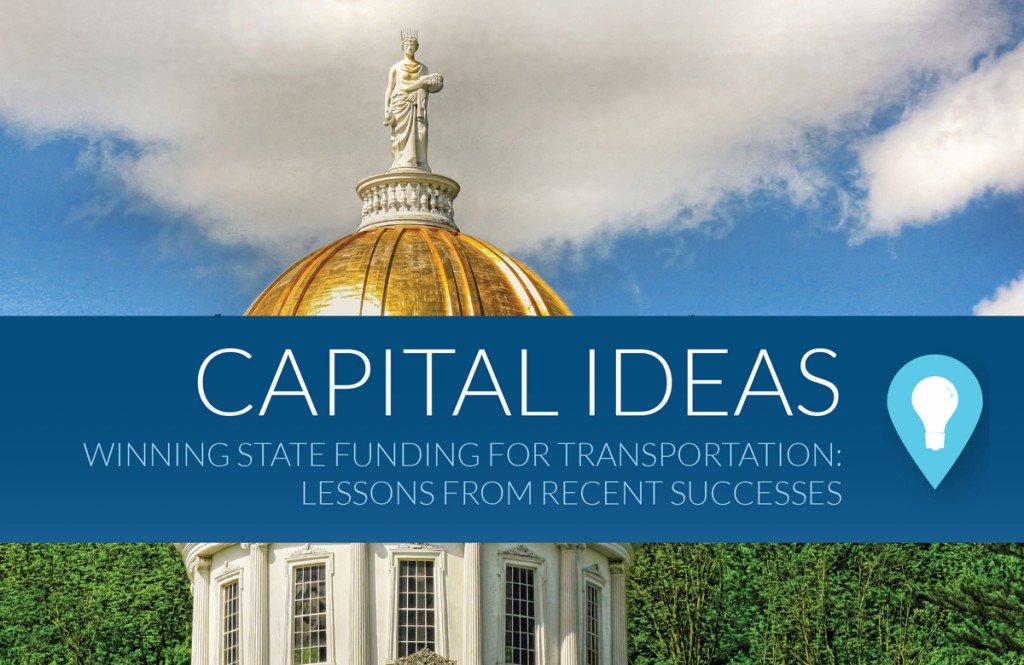 Learn more and read this February 2015 report chronicling the keys to success, featuring a closer look at six stories of successful attempts to raise state transportation funding.
Is raising the gas a political death sentence?
Well, not necessarily. Since 2012, state legislators have voted to increase gas taxes or other fees to raise new transportation revenue and voters have responded by sending almost all of the supportive members of both parties back to their state houses.
In the ten states that took direct votes* to raise new revenues, 98 percent of the legislators that voted for these bills and ran for re-election won their next primary, and 90 percent ultimately retained their seats. Could it be that voters are more supportive of raising revenue than we think?
States are finding it more and more difficult to find funding for transportation and other infrastructure. The 2012 MAP-21 law kept federal funding essentially flat, even as the lingering effects of the long recession have left states in desperate need of infrastructure repair and renovation. Meanwhile, gas taxes are not yielding what they once did, thanks to rising construction costs, growing fuel efficiency and a drop in miles driven per person. With no other solution in sight, some states have concluded they have little choice but to increase their gas taxes (or other fees) to maintain and build a 21st century transportation system.
In the last two years, at least ten states have done the "unthinkable" and either increased their gas tax or otherwise changed their revenue model to raise significant transportation funding through legislative action: Arkansas, Florida, Maryland, Massachusetts, New Hampshire, Pennsylvania, Rhode Island, Vermont, Virginia and Wyoming.*
Transportation for America has kept a close eye on those votes at the state level to raise revenue and the subsequent response from voters in the elections that followed. So how do the supportive representatives fare when they face their electorate for the first time? Check the tables below for the data (click each tab).
*Ohio passed a budget including new bonding authority to be repaid by increased tolls and Delaware raised tolls on a single highway.
Election data and recent votes on revenue-raising legislation
Click a tab