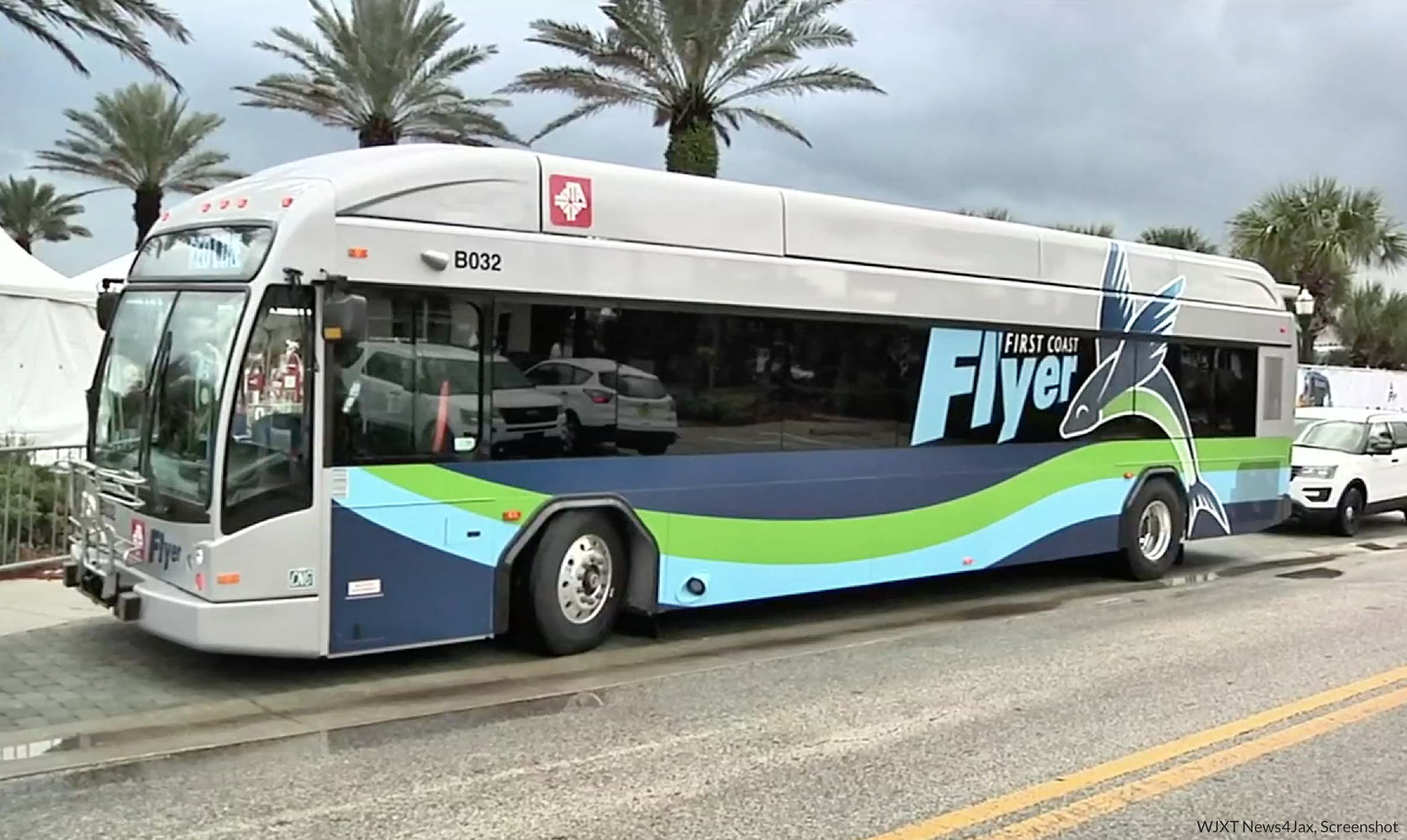 A First Coast Flyer BRT bus in Jacksonville. USDOT recently finalized a grant for another line of this service.
The U.S. Department of Transportation has finalized five grants to expand and build new transit lines. It's a stark departure from USDOT's history of stonewalling grants under Trump. This surge of grants could signal a shift in the agency's stance, but the whole mess definitely underscores both how our federal transportation system makes transit hard to fund and why Congress should increase funding and certainty for transit in new, long-term transportation policy. Transportation policy principles released in the House suggest that could be possible.
Five federal grants for transit projects around the country were announced over the last two weeks. If that sounds like a lot, that's because it is and it's a stark departure from the delays and obstruction that have characterized this administration's approach to public transportation funding over the last three years. Those preventable delays have resulted in a transit backlog, with dozens of projects currently waiting for federal grants to be finalized so they can get off the ground. 
But this new flurry of activity offers some hope that perhaps the administration is changing its tune on transit funding. Albany, NY, Jacksonville, FL, Portland, OR, and Spokane, WA all received smaller (<$100 million1), one-time grants to build bus rapid transit lines. The Federal Way Link Extension received a larger, multi-year grant to extend the light rail system in the Puget Sound region.
Unfortunately, many other transit projects are still waiting for federal grants to come through. The final phase of the Purple Line subway extension in Los Angeles has been in limbo for more than 14 months—the U.S. Department of Transportation (USDOT) has made two "allocations" to the project but inexplicably hasn't finalized an actual grant. Minneapolis is another community facing an extraordinary delay on a federal grant for their Green Line light rail extension. Projects in Phoenix, Milwaukee, Kansas City, and other communities are all still waiting. These delays aren't merely inconveniences: construction costs have gone up and timelines pushed back; people and businesses will have to wait longer to benefit from more transportation options.
It's unfortunate that federal funding to build and expand public transportation has been at the mercy of a hostile administration. But this is a product of Congress treating transit like a second-class mode of transportation for decades.
A system designed to fail
The vast majority of transportation funding in the U.S. is dedicated to roads. Over $40 billion a year is automatically divvied up among states primarily to build new highways and make them wider. (In theory, this is also supposed to fund maintenance, but most states don't.) By contrast, only about $2.6 billion is available for new public transit capital projects each year, and this funding is not guaranteed. And while the federal government will cover 80 percent of the cost of a highway project, it will only pay for up to 50 percent of the cost of a transit project. 
In essence, capital funding for transit is orphaned, kept largely separate from other federal transportation funds, while roads are treated to a geyser of funding (that includes billions in general tax revenues because the gas tax no longer brings in enough to pay what goes out). The Trump administration has been able to play games with transit funding because Congress treats it like an orphaned child, putting it in the hands of whoever happens to occupy the White House. 
While the current administration has been openly hostile to transit, even under administrations more amenable to transit, this second-class treatment has hampered its uptake. Fortunately, Congress has an opportunity to reform the federal program right now as they begin rewriting federal transportation policy. The next reauthorization should make transit a priority by funding transit at the same levels as highways, providing a higher federal cost-share for transit projects, and making operating support available. Future federal legislation should make transit safe, reliable, and convenient. 
It appears that some of this could be possible based on principles released by the House majority on the Transportation & Infrastructure Committee, but time will tell.
Cautious optimism
Building transit one grant at a time clearly isn't working, but for right now, this is the system that we have and we'll work to ensure it functions as intended. When it became clear that USDOT wasn't executing grants in 2018, we sounded the alarm: our Stuck in the Station resource was born and media headlines brought the obstruction in this obscure program to light. Our advocacy on Capitol Hill resulted in an oversight hearing in the U.S. House, which did its own investigation into delays.
But in light of these five new grant announcements, we'd like to believe that the administration is done blatantly obstructing transit grants. For one, all the misleading terminology about "allocating" grants (but not actually awarding them) is gone from these recent press releases—and hopefully future press releases will only be about finalized grants and not meaningless allocations. Second, USDOT approved more grants in the past two weeks than in the first 18 months of Trump's term. Third, as the administration begins its fourth year and priorities change, perhaps the hard-working career employees are being allowed to go about their jobs without interference from political appointees who don't like the idea of funding transit.
That's the optimistic view, but it's also possible that this is only a temporary reprieve. The administration has been asking Congress to eliminate transit funding (grants or otherwise) altogether since taking office, and last year Congress made a $500 million cut to transit grants—a direct result of USDOT slow walking these funds. Rewarding a bully only emboldens them, and that cut was a reward for the Trump administration. 
So we'll keep watching to see if USDOT is ready to get back to work helping build sorely needed transit infrastructure. If that's the case, we may be able to retire Stuck in the Station and focus our efforts on reforming federal transportation policy in Congress instead of babysitting a federal agency.