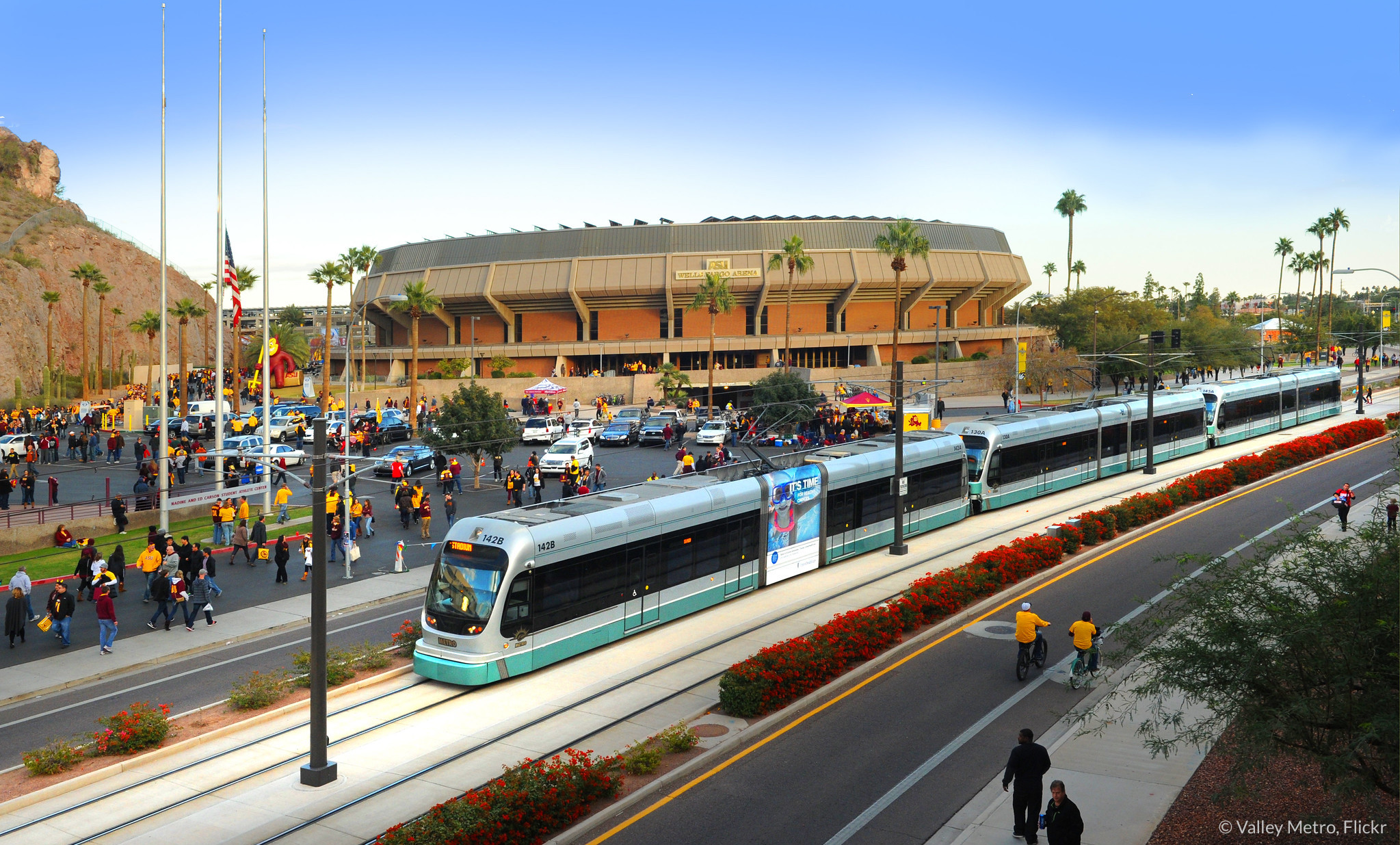 On Tuesday, voters in Phoenix resoundingly voted to reaffirm their support for the city's transit expansion plans. But while the city can now move beyond this threat to its transit ambitions, the region joins scores of others still waiting on the Trump administration for federal transit funding.
On Tuesday, Phoenix, AZ residents threw their support behind transit, quashing an effort to end all future investment in light rail with 63 percent of votes in favor of continuing the city's expansion plans. It's hard to overstate the importance of this vote and it marks the fourth time that Phoenix voters have gone to the ballot box and registered their overwhelming support for transit since 2000. Four years ago voters approved a 0.3 percent sales tax increase to move numerous transit projects forward, and last Tuesday, in even greater numbers, Phoenix voters reaffirmed that commitment.
But will USDOT follow through and match that commitment?
At least three light rail projects in the city can continue to move forward now that the results are in and the south/central extension and downtown hub is ready to begin construction as soon as October—but only if the federal funding comes through. The U.S. Department of Transportation (USDOT) has yet to sign a grant agreement and award the money to Valley Transit.
What USDOT has done is "allocate" the first portion of a $345 million grant for this project back in July, but as we've explained previously, USDOT "allocating" funds is simply moving around numbers on a spreadsheet. For Phoenix to actually receive their funding, USDOT must sign a final grant agreement, something they've been notoriously unwilling to do.
First the Koch brothers, now USDOT
The campaign against light rail in Phoenix was run by local activists but supported and funded by the conservative Koch brothers who have a long history of trying to derail transit investments around the country.
With the referendum out of the way and light rail back on track, the federal government could now be the city's biggest obstacle to completing the south/central extension on time. Under the Trump administration, USDOT has worked diligently and effectively to hamstring federal funding for transit.
Every time USDOT allocates funding to a project and puts out a press release, local media runs glowing stories about those local projects being "approved" or "advanced," while often failing to note that no money is actually awarded and projects still aren't cleared to start construction. There are currently 10 projects that have received funding allocations from USDOT but still have not yet received a grant agreement. Two of those projects were "allocated" money nine months ago. Phoenix received its allocation more recently, just days before a U.S. House oversight hearing into USDOT's (mis)management of the transit grant program in July.
During the hearing, the acting administrator at the Federal Transit Administration within USDOT, K. Jane Williams, said, "in our administration, when we make an allocation, it is our signal that we will sign a grant agreement."
The projects that have been waiting nine months might disagree with that statement. Though Phoenix is rightfully taking a well-deserved victory lap after a major win at the ballot box, it remains to be seen how long Phoenix will have to wait for it's funding.
See Stuck in the Station for more information about federal funding delays for transit projects.