USDOT has been slow-walking federal transit funding since the Trump administration took office and the U.S. House is finally undertaking an oversight hearing to hold them accountable. Here's a look at one major way USDOT is misleading the public about their lack of progress and some of the impact it's had on local communities.
Today at 10 a.m., the U.S. House is holding its first oversight hearing on the US Department of Transportation's (USDOT) efforts to undermine federal transit funding. (Live stream available at the above link.) Since taking office, the administration has inexplicably delayed federal grants for major transit projects, become less responsive, helpful and timely in shepherding projects through the application process, and radically scaled back the amount of information it releases publicly. And the information USDOT does release regarding capital transit grants is often very misleading, designed to make it look like the agency is doing its job when it's actually not.
Decrypting USDOT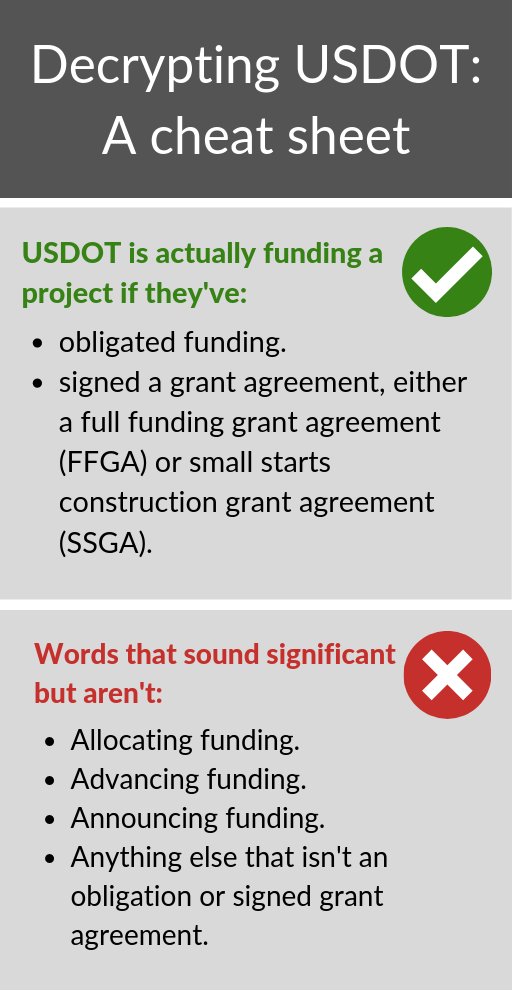 To understand how USDOT is misleading the public it's important to understand how these capital grant works.
Under previous administrations, USDOT would publish a list of projects it anticipated funding in the following year (it's a multi-year grant process) and then Congress would fund the program with the requisite amount intended for those projects. As grant applications were tweaked and finalized, USDOT would allocate funding to particular projects before a final grant agreement was signed—which usually happened soon afterward—and money was officially out the door to the project.
Under the current administration, USDOT has stopped publishing a list of projects it anticipates funding next year because they're ideologically opposed to funding any transit projects. But the transit capital program has bipartisan support and Congress has continued to appropriate funds for it—three times during this administration. Now USDOT—specifically the Federal Transit Administration (FTA) within USDOT—"allocates" funding to projects, they put out a press release lauding their work, newspapers announce USDOT has funded a project (they haven't), yet no money has changed hands. Getting an "allocation" today just means USDOT moved numbers around on internal spreadsheet, nothing more.
Communities experience real harm
The whole application process is designed to insulate the federal government from losses. Before signing a grant agreement everything has to be in order: local funding must be secured, land acquired, project design finalized, etc. But what happens when communities get their ducks in a row, have put out bids for construction, and then wait…and wait…and wait for a federal agency that doesn't want to do its job? Materials don't get less expensive with time (they get more expensive) and bids come with expiration dates; when they expire, the whole bidding process which can take multiple months has to be repeated. While dozens of projects are still waiting for federal funding, here is the impact on three different transit projects, each of which USDOT has "allocated" funds for but which have not received a grant agreement.
The Bay Area
The Transbay Core Capacity Project is a $3.5 billion package of improvements that will help purchase new rail cars for BART and increase capacity in the transbay tube that connects San Francisco and Oakland. According to Railway Age:
BART is ready to move the Transbay Corridor Core Capacity Project into the Engineering phase, and [BART General Manager Grace] Crunican said the agency cannot proceed without FTA funding. She said the project has been delayed by FTA for more than a year, and every year of delay will cost taxpayers an estimated $120 million. BART had been anticipating FTA approval for entry into the Engineering phase by late 2018.
FTA has recently "allocated" $300 million for the Transbay Core Capacity Project from 2018 funds—an unusually high amount—but this does not supply the agency with any funding. Annual grants usually top out at around $100 million (this is a multi-year grant), but FTA has broken with that practice, likely to avoid having to fund other transit projects with the other $200 million.
Los Angeles
The Purple Line Subway Extension, Phase III is the final extension of this subway line that is planned to be completed in time for the 2028 Olympics in Los Angeles. It will connect the Veterans Administration Medical Center and UCLA (which will host the Olympic Village) to the rest of the Los Angeles rail system. According to an editorial in the Los Angeles Times, the LA Metro was up against a clock last year with construction bids set to expire:
The construction bid expires Oct. 3 [2018]. If Metro doesn't get the funding commitment by then, the agency will have to rebid the contract. That could delay the project by nearly two years and increase the cost by $200 million, Metro officials say.
LA Metro did not receive a construction agreement by October 3, but they did get what's known as a Letter of No Prejudice (or LONP) just before the deadline that allowed them to begin construction using local funds (and with no guarantee of future federal funding). The project has since received two separate "allocation" of $100 million, one from FY 2018 funding and one from FY 2019 funding. While construction has begun, there is still no funding agreement in place.
Twin Cities
The Southwest Light Rail Extension will extend the Green Line—which connects downtown St. Paul & Minneapolis—from downtown Minneapolis to the southeast suburbs, connecting some major employment centers. After unexplained delays and approaching deadlines, the Star Tribune penned an editorial urging USDOT to act:
The Met Council pleaded for Federal Transit Administration (FTA) action before Sept. 30 [2018], when two key civil contractor bids were set to expire and while sufficient time remained in the current construction season for preliminary work to begin. Those pleas went unheeded, with no explanation. This week, Met Council officials asked bidders for a 45-day extension. Only the low bidder, Lunda/C.S. McCrossan at $799 million, agreed. That leaves Ames/Kraemer, which had bid $812 million, out of contention.
Due to federal delays, Minneapolis was left with only one bidder willing to build its light rail line. But USDOT still failed to act. With only days left before the bid expired—after the extension— Minneapolis received a Letter of No Prejudice and was able to begin construction. Like Los Angeles, there is still no grant agreement in place, which means zero guarantee of federal funding.
These are just three examples of how USDOT is harming communities and undermining their progress on the ground. While many others have experienced similar frustrations and unexplained delays, they are reluctant to speak out publicly for fear of drawing the administration's ire and further jeopardizing their funding.
These unexpected, unexplained, and unnecessary delays from USDOT are inexcusable and it's heartening that the U.S. House is holding an oversight hearing. Unfortunately, the hearing won't feature agency heads from any of those three cities or any other city that has been measurably harmed by these delays. It will feature a representative from the American Public Transportation Association, which represents agencies that must work with the USDOT, a representative from a road builders' association, and the director of the Kansas City Streetcar Authority, which has not experienced any delays from this administration (yet).
While we're hopeful that members of Congress will ask probing questions and hold USDOT accountable, the witnesses and their prepared testimony do not inspire confidence.