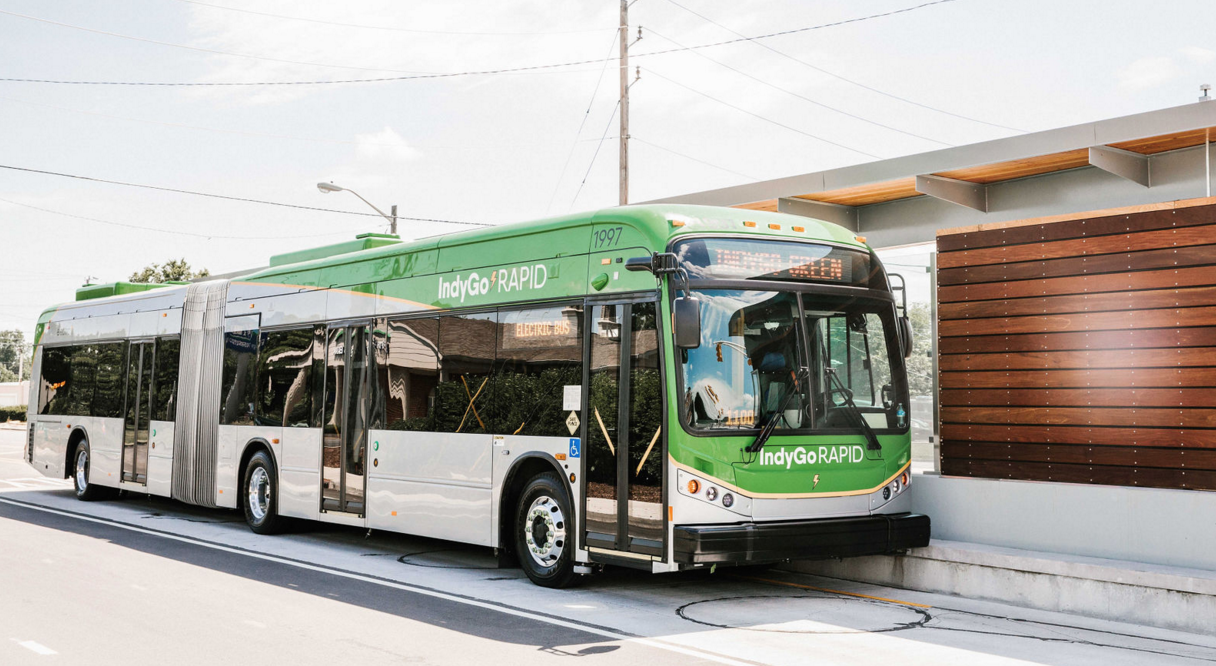 More than a decade ago, local business and civic leaders in Indianapolis realized that for the city to remain competitive it needed to be better at moving people. Today, after an exhaustive planning process, changes to state law, and a successful local referendum where local voters raised their income taxes to invest in transit, the first major piece of Indianapolis's transit upgrade is set to open.
This Labor Day weekend, the Red Line bus rapid transit (BRT) will start carrying riders across the city. It's the first of three planned BRT lines in this midwestern city that, according to transit provider IndyGo, will usher in a "bold, new era of efficient, rider-focused" transit.
The Red Line is the culmination of years of work by current and former elected officials, countless residents and advocates, and business groups representing higher education, healthcare, and IT sectors, to name a few.
"The expansion of transit service in Indianapolis is the collective result from a tireless coalition advocating under one theme: connecting people to places," Mark Fisher, chief policy officer at the Indy Chamber, told T4America. "It means making sure that our most underserved neighborhoods are as connected as our most established ones. The result is building toward a system for all, one that will boost economic benefits for both residents and businesses."
Better transit is "key to luring employers, attracting young families and urban-oriented millennials looking for more affordable alternatives to pricey coastal cities, and drawing Indy-born college grads back home," as we wrote a few years ago in an in-depth story about Indy's ambitions.1
Backbone of better transit
The Red Line runs north to south for 13 miles, connecting intown neighborhoods with downtown Indianapolis, forming the spine of the improved transit system. One in every four people who work in the county are within walking distance (a half-mile) of the new route and it serves all of the major colleges in the area—that's 133,000 college students. But this line won't just serve well-to-do business commuters; about 20 percent of households along the Red Line earn below the poverty rate.
The new Red Line service will bring higher-quality service for residents compared to a traditional bus. Dedicated bus lanes that cover more than half of the route will keep buses moving as will new traffic signals that ban left turns at many intersections and prioritize bus travel. Riders will also pre-buy tickets at the station and can then board through any bus door to speed the boarding process. And new stations in the road median provide protection from the elements, real-time bus arrival information, and flush access with the floor of the bus allowing easier access for people in wheelchairs and with strollers or carts. The Red Line also features electric buses, making it the first all-electric BRT line in the United States.
North or south we have you covered! 🤗 #RedLine pic.twitter.com/LO2qe9MZEj

— IndyGo (@IndyGoBus) August 21, 2019
The corridor was a logical route for the city's first BRT line: buses along the Red Line route already accounted for about 15 percent of IndyGo's boardings even though it only covers about one percent of its service area. The Red Line will greatly enhance service with buses running every 10-20 minutes every day; and this is only the first phase. Future phases will extend the line further north and south to reach even more people with high-quality transit.
Part of a system
While the Red Line will be the backbone of an improved transit network, it is not the first improvement that IndyGo has made nor will it be the last. Along with the launch of the Red Line—and funded in part by the same successful ballot referendum in 2016—a number of bus routes will be updated, and every bus route will now run seven days a week, with longer hours and more frequent buses. Many of these improvements began more than a year ago. After proceeds from the 2016 referendum started flowing, IndyGo identified which routes would not be changed with the Red Line rollout and they improved service on those routes as soon as possible. Those simple changes have already increased ridership.
IndyGo is also preparing to roll out a new payment system, MyKey, that will allow riders to use prepaid cards or their phones to pay the bus fare. MyKey will also cap fares to a maximum of $4.00 a day and $15.75 a week. Once riders hit that amount in the course of a day or week, subsequent rides will be free.
https://twitter.com/Indy_Austin/status/1164863518677639169?s=19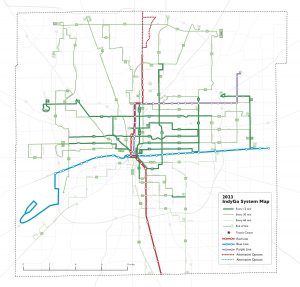 And of course there are also the two other BRT lines in the works. The Blue Line will connect some communities east of downtown with the airport to the west. The Purple Line will replace and improve one of the most popular routes in the IndyGo system that runs north from downtown and then east. While neither line has started construction yet, when complete, they will bring many of the same benefits of the Red Line—more service, greater accessibility, and ease of use—to even more communities.
The Red Line and other improvements have been a long time coming, but they're just the first taste of better transit that will be coming to Indy over the next few years.
"IndyGo is ready to move the city forward and make transit practical for all Indianapolis residents," said Bryan Luellen, IndyGo's vice president of public affairs. "The Red Line is a mobility enhancement to the city, and by implementing a reliable transit network, we will contribute to the long-term development of surrounding communities."
In Indy, better bus service is driving a better transportation system for everyone. With the Red Line's bus lanes, Indy is quite literally rolling out the red carpet for transit.