As announced earlier this week, Marcus Young, a behavioral artist, will be embedded within the Minnesota Department of Transportation for a year serving as an artist-in-residence in a program created by Smart Growth America. Marcus will be taking a fresh look at the agency's goals to promote economic vitality, improve safety, support multimodal transportation systems, and create healthier communities.  
With this announcement, the Minnesota Department of Transportation becomes the second statewide agency to host an artist-in-residence, following the launch of Washington State DOT's similar program last week. Marcus took a few minutes to answer some questions about the upcoming fellowship.
What was it about the MnDOT Community Vitality Fellowship that inspired you to apply? Now that you've been selected, what excites you most about the Fellowship?
When I saw the posting I knew this was a very forward-thinking opportunity created by MnDOT and Smart Growth America. A few years back I finished a nine-year tenure as City Artist in St. Paul where we helped define what was possible when artists work alongside government. Having a chance to develop the idea at the state level seemed like a natural next exploration. It's an opportunity too intriguing not to jump in and see what happens.
This type of creative endeavor comes with a good dose of mystery. I look forward to moving along the borders of known and unknown, grateful for what we already have in Minnesota yet seeking the hidden possibilities for change. Bringing a creative spirit to this everyday context, I hope to engage our desire to live a good life and everyone's yearning for a more just world.
While you'll have a lot of time to formulate project ideas once the Fellowship starts, what are your initial thoughts on how you'll approach the Fellowship?
Beginner's mind. The concept articulated by Shunryu Suzuki that says the beginner's mind is full of possibility. I sometimes joke that my nine years at the position in St. Paul was a practice in always being the dumbest person in the room, the one who knew the least. That person, however, has the outsider perspective and maybe the beginner's mind too. That person can help bridge ideas across a long distance. To go a long distance is a meaningful journey, a powerful lesson. I will come to the Fellowship with as open a mind and heart as possible, open to all possibilities. At the same time, I hope that my more than 20 years as a professional artist in music, theater, and behavioral art ─ things that on the surface may not appear to connect to transportation ─ will serve me well. That is the distance I will enjoy traveling.
Tell us about one of your recent projects that you feel is relevant to the Fellowship.
I created Everyday Poems for City Sidewalk, a work of art that started in 2008 and is ongoing because it's woven into the city's infrastructure system. The project takes the $1 million maintenance budget to repair 10 miles of sidewalk each year in St. Paul and, without disturbing the original function of sidewalk repair, has added the function of publishing poetry.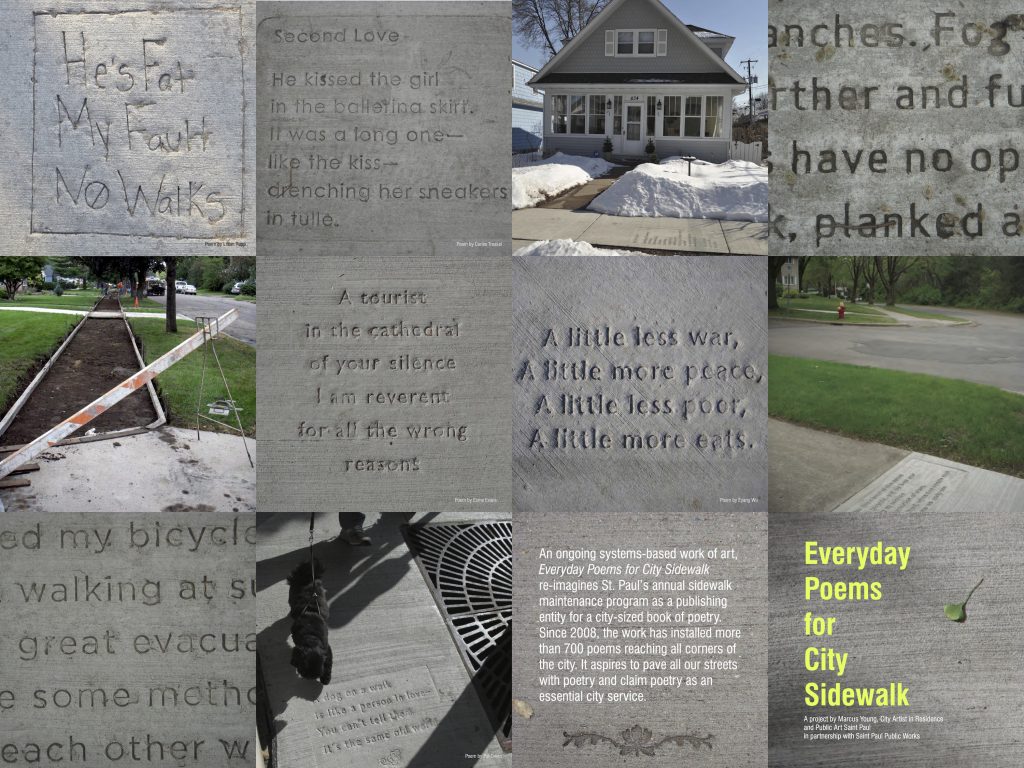 More than 10 years since it premiered, the project has created more than 1,000 installations, with more than 20 percent of city land within a 2-minute walk radius of a poem created by this one project. The city is a book, a very large book. The project created a new platform for the creative voices of local residents. The dream is to pave all the streets in St. Paul with poetry.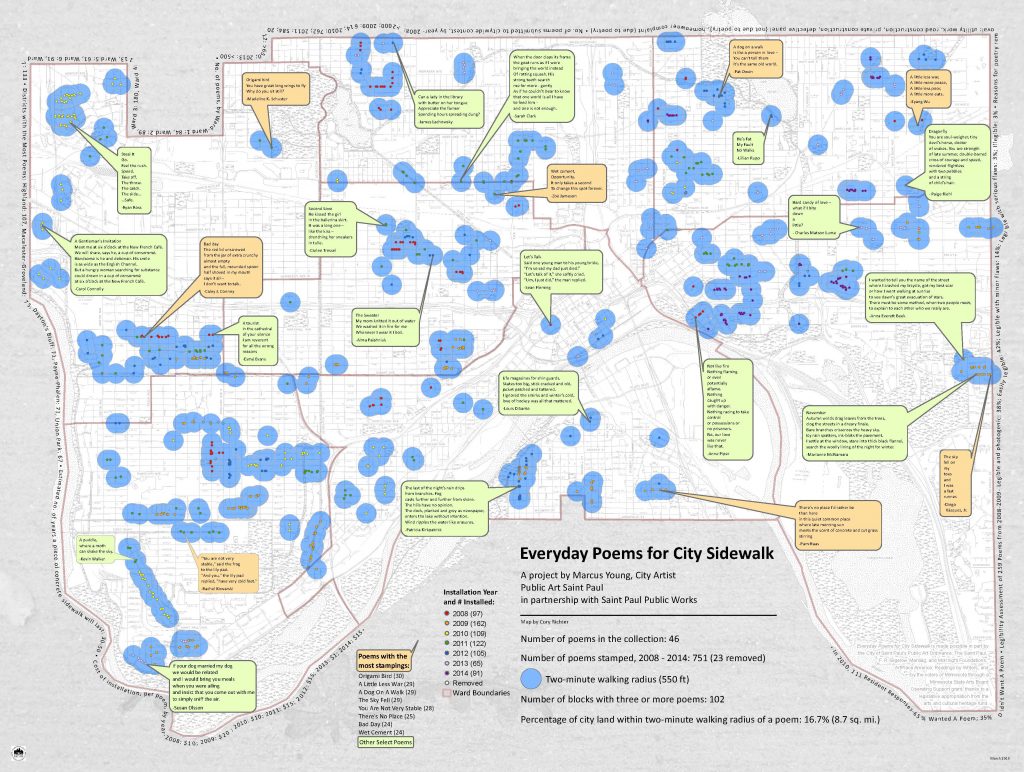 In our Arts, Culture, and Transportation Field Scan, we profiled seven roles that artists play in solving transportation challenges, from generating creative solutions to healing wounds and divisions. How would you describe your approach as an artist working on transportation projects and how might your work resonate with or expand beyond those seven roles?
I think my role will be to ask a lot of "what ifs," and probably most of them won't be practical. Hopefully, however, getting used to asking playful, creative, even far-fetched questions can itself be helpful. Beyond that I will look for even just one far-fetched "what if" that becomes a "yes, it's possible."
What kind of professional or personal experiences do you have in work that might be specific to Minnesota state? What lessons from your work outside of Minnesota do you hope to bring to the residency at MnDOT?
Do you know of Mierle Laderman Ukeles? She has been the artist-in-residence at the New York City Department of Sanitation for more than 40 years. She's very inspiring, and I think everyone working in this exciting and elusive business of pairing artists with government should know her story and her work. She created the concept of "maintenance art." To maintain, to keep things alive, to keep us all alive and going, is art. I can think of no more creative act than to inspire, shape, and fulfill our basic, everyday lives beautifully. How can we make the everyday things we do across the state a work of art?