A few weeks ago, leaders from 16 cities met in Los Angeles for the last of four meetings in our inaugural yearlong Smart Cities Collaborative.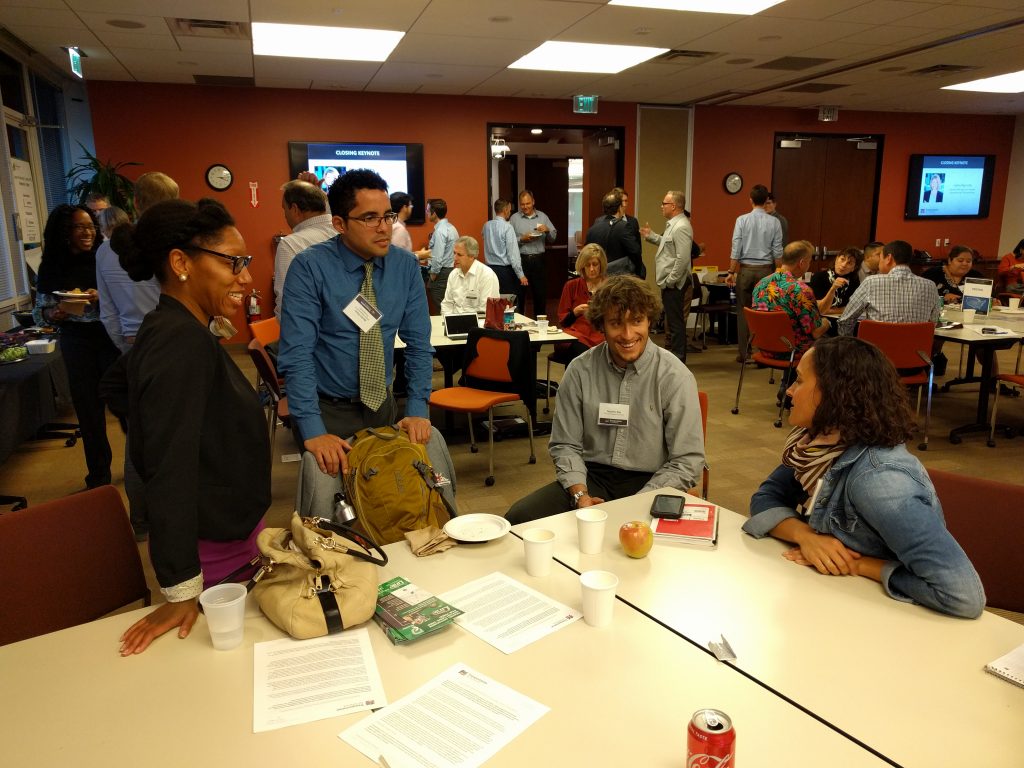 Automated vehicles are testing without drivers as we speak on the streets in several cities. Five separate bikesharing companies that don't require docks launched in Seattle and Washington, DC (and several other cities) this summer. New toll roads have started dynamically pricing their rates to ensure free flowing traffic. Transit ridership is down slightly in many major metro areas as they're struggling to adapt their services to a world where anyone can hail a ride with their smartphone. But all of those cars are also adding up — clogging curb spaces and making traffic even worse, according to recent research from UC Davis.
We're in the midst of the most dramatic shift in urban transportation since the advent of the interstate system. And for more than a year now, transportation leaders from 16 cities — ranging in size from small suburban communities all the way up to Los Angeles — have been gathering together to find ways to collaboratively tackle these challenges and harness all of these changing technologies to enable better, safer, more equitable cities.
At it's core, that's what the "Smart Cities" moniker is really about.
But that term is tricky. It's a clever marketing term that means little, or worse, means something different to everyone. In this meeting (and our last meeting in Miami), we started discussing what makes a city "smart." Inspired in part by how smart growth was codified and defined by the movement, but also more recently by cities like Seattle who released their groundbreaking New Mobility Playbook earlier this year.
Like Seattle, we started with the premise that "smart" cities are those that guide themselves by a set of core values. These values inform the foundation of their work and how they approach challenges and opportunities as they come along. People-Oriented. Entrepreneurial. Connected. Equitable. Those were some of the values we started with and through these long conversations we developed a much better sense of what each of these values meant to our participants, which values are the most important, and some of the actions cities can take to illustrate their commitment to them.
One of the other realities facing cities is that they don't always control all of the policy levers required to take those actions and shape this technological transportation revolution.
With many state legislative sessions ramping up in the beginning of 2018, we talked about the specific policies that could or should be developed at the state level so these cities can harness new and emerging technologies in service of their residents. What authorities do cities need to test out new pricing or tolling projects on roads controlled by their states? How can procurement processes be changed to be more flexible and adaptive? How do motor vehicle codes need to be updated or adapted to test and deploy automated vehicles?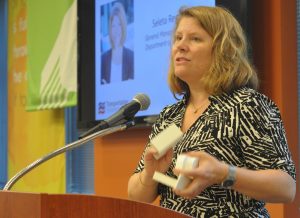 Much of that conversation centered on how cities can drive the discussion and lead at the state level on those policies that will have the largest impact on our cities. Keynote speaker Seleta Reynolds, the head of the LA Department of Transportation, reminded the participants that, no matter what policy levers are controlled by the state, cities still have an enormous amount of leverage — if they're willing to work together and think outside of the box.
"We're cities — we move markets," Reynolds said. "If we're all together and we're pushing together, we can get the change we seek. But we can't get it in the ways we've normally been accustomed to doing business. …It's not enough for us to say it or to state our principles. We have to find ways to nudge the markets in the ways we have at our disposal."
After the last day of the convening, we gathered up the whole crew and headed over the LA Arts District where the LACoMotion event was taking place later that week.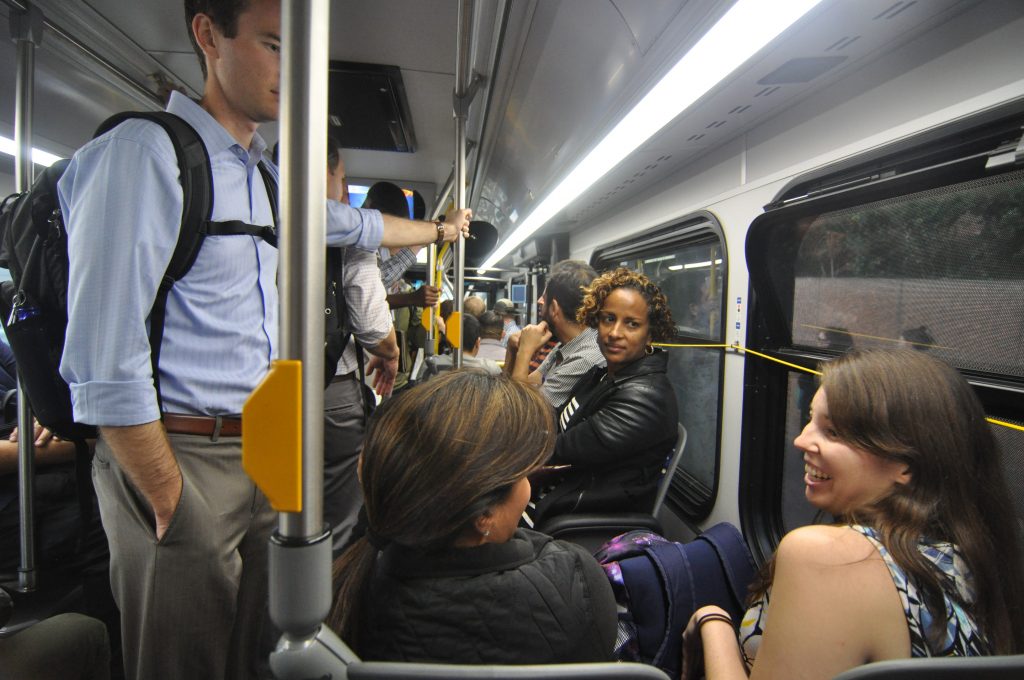 Transdev invited our participants to take a ride in their new autonomous EasyMile EZ10 shuttle. While the route was fairly simple — traveling back and forth in a straight line — it was a stirring reminder of how quickly these new technologies will be on our roads and how much there is to do to prepare.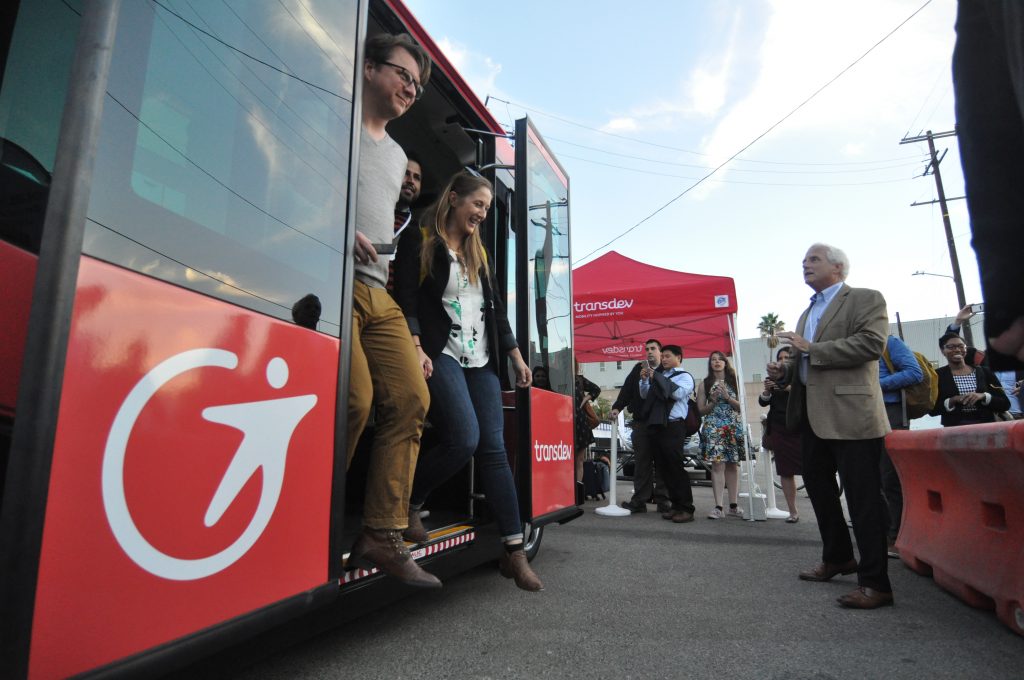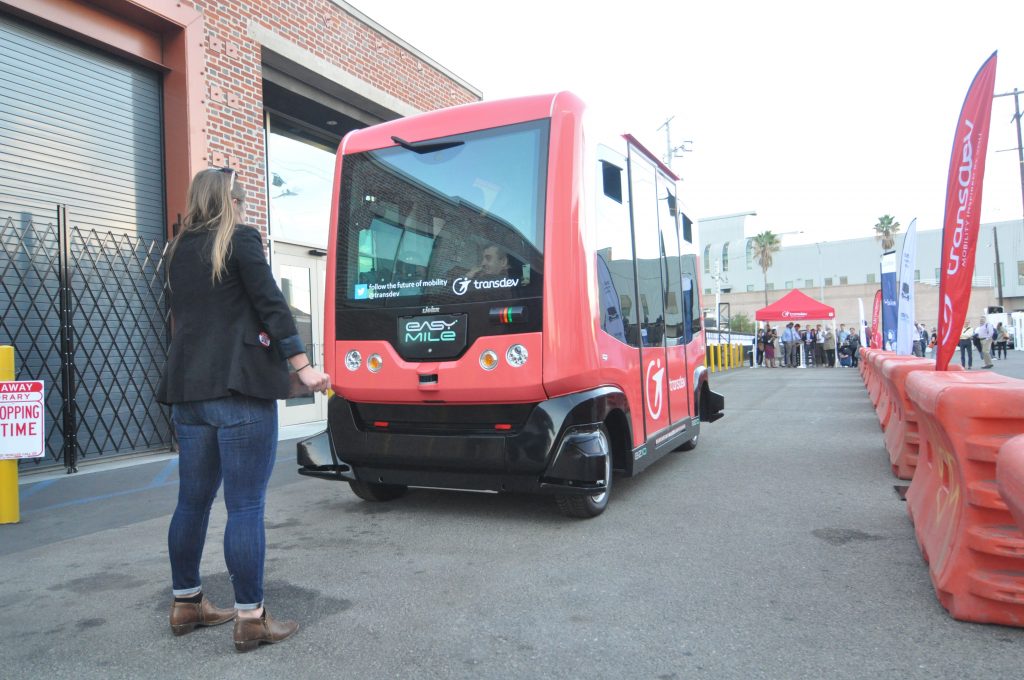 Throughout the course of this year, it has been powerful to see the collaborative spirit that started on a cold morning in Minneapolis on the day after last November's election continue to grow. These cities have realized that, unlike USDOT's Smart City Challenge where they were all hiding their applications from one another in the quest for the winner-take-all prize of $50 million, working together with other cities is actually the most powerful recipe for success.
We'll have more to share about that as we conclude the year with a few reflections before the end of 2017, so stay tuned.