Though overshadowed by the President's budget proposal to make deep cuts to passenger rail, there's encouraging momentum for the opposite, including a commitment by Amtrak to restore long-distance service to the Gulf Coast, and the broader freight-dominated rail industry speaking out for the expansion of passenger rail service.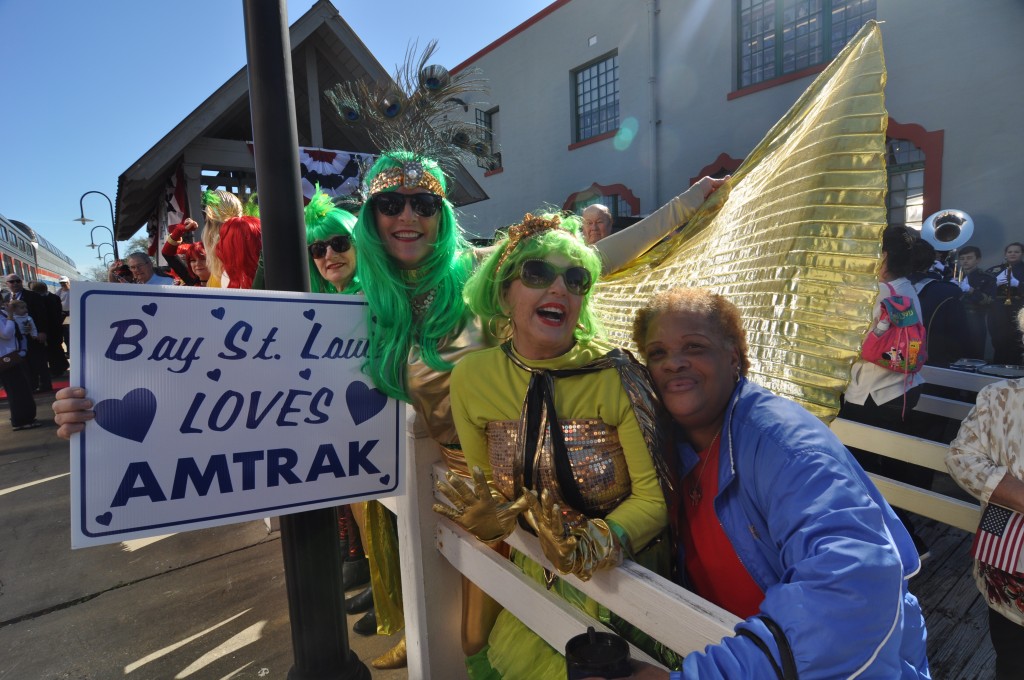 All aboard? The future of federal passenger rail funding. Between the President's budget proposal & Congress' appropriations process, what possibilities are on the table, and what do local advocates need to know and do in the days ahead? Join us Tuesday, March 28 at 2 p.m. Eastern as T4America experts and guests discuss the scenarios, the potential impacts for passenger rail and steps you can take to support the important projects in your community.
Hurricane Katrina wreaked havoc on all aspects of the Gulf Coast's transportation network in 20o5. After months and years of rebuilding, including a five-month rebuilding effort of the CSX-owned freight rail line (also previously used by passenger trains) to reconnect the region, every one of the region's transportation modes was eventually restored, except for the passenger rail service from New Orleans to Florida along those same CSX tracks.
There's been an incredible grassroots movement afoot to bring this service back, which we got to see firsthand on a special inspection train about a year ago, where we were greeted by thousands of residents eager to bring passenger rail back as a viable transportation option. It's due in part to the work of the Southern Rail Commission, a Congressionally established tri-state rail compact with members appointed by the governors of Louisiana, Alabama and Mississippi.
Amtrak's new president has taken notice:
New @Amtrak CEO letting Gulf Coast states know he's on board w/relaunching NOLA-Florida route. https://t.co/NtahOlcK8m

— Lauren Gardner (@Gardner_LM) March 3, 2017

In this letter sent to the Southern Rail Commission a few weeks ago, Amtrak President Wick Moorman — a freight rail veteran as the former CEO of Norfolk Southern — outlined the railroad's commitment to restoring passenger rail service to the Gulf Coast corridor, connecting New Orleans to Orlando.
It is thanks to the Southern Rail Commission that the Gulf Coast project is now approaching realization. Amtrak has supported the project throughout, and will continue to do so as we move through the process to inaugurate the service together. We are committed to operating both the long-distance and corridor services on the Gulf Coast route as soon as the necessary funding can be arranged, and the necessary agreements are in place to implement the service.
While the President's budget proposed to chip away at the idea of a national system by terminating funding for long-distance passenger rail service and preserving funding for the Northeast Corridor — bifurcating rail funding — there's a lot of momentum for making new investments in rail overall, including passenger rail.
Just a few days after the above Amtrak letter, the CEO of the Association of American Railroads, an industry group largely dominated by freight railroads, sent a letter to President Trump about their big-picture priorities when it comes to any big infrastructure package, and what's one of their priorities?
A key focus of any infrastructure package will include adequate support for underfunded commuter and passenger railroads. Freight railroads back this, particularly if done correctly, infusing direct and indirect support, including streamlined permitting and public-private partnerships where the project provides significant public benefits or meets public needs. With the population steadily increasing, there is a unique opportunity to realize the power of intercity passenger service and moving people via train generally. As Amtrak CEO Wick Moorman stated on Capitol Hill in February, this means upgrading assets such as cars, locomotives, bridges and tunnels. Boosted support for Amtrak and other passenger services means greater economic opportunities for workers, including professional service personnel that use these rail networks to conduct business, as well as those that construct and manufacture related equipment and infrastructure.
The Southern Rail Commission agreed:
Thank you @AAR_FreightRail Infrastructure should include support for underfunded commuter & passenger railroads https://t.co/Wm9NHxLcOd pic.twitter.com/0xVOFRg0DZ

— Southern Rail Cmsn (@SouthernRailCms) March 6, 2017