Though 77 cities will leave USDOT's Smart Cities competition empty-handed later this summer, T4America is looking to help many of those cities advance the great ideas still deserving of help.
Seven cities were selected two weekends ago as semifinalists in the first-ever Smart City Challenge from USDOT, a competition that will eventually award $40 million to just one of those seven cities to help them rethink urban mobility, powered by innovative new technologies. Which means that 77 of the 78 will ultimately walk away empty-handed without any funding. (Save for the $100,000 that the seven semifinalists received to further develop their initial proposals.)
After reaching out over the last few months to all of the cities that applied, T4America held an invite-only conference call earlier this week to offer advice and support for advancing parts of their applications forward; applications with interesting responses to the question of how to rethink the future of transportation within cities of all sizes.
USDOT was a guest on our webinar, offering ideas, suggestions about other possibly little-known federal programs that can be used to advance certain ideas, or more information about grant programs like TIGER or the new freight grant program that can meet the need.
One of the most interesting things that USDOT shared with everyone was this graphic showing a list of 13 challenges facing cities. (There are certainly others, but this is fascinating summary of some of the most pressing.)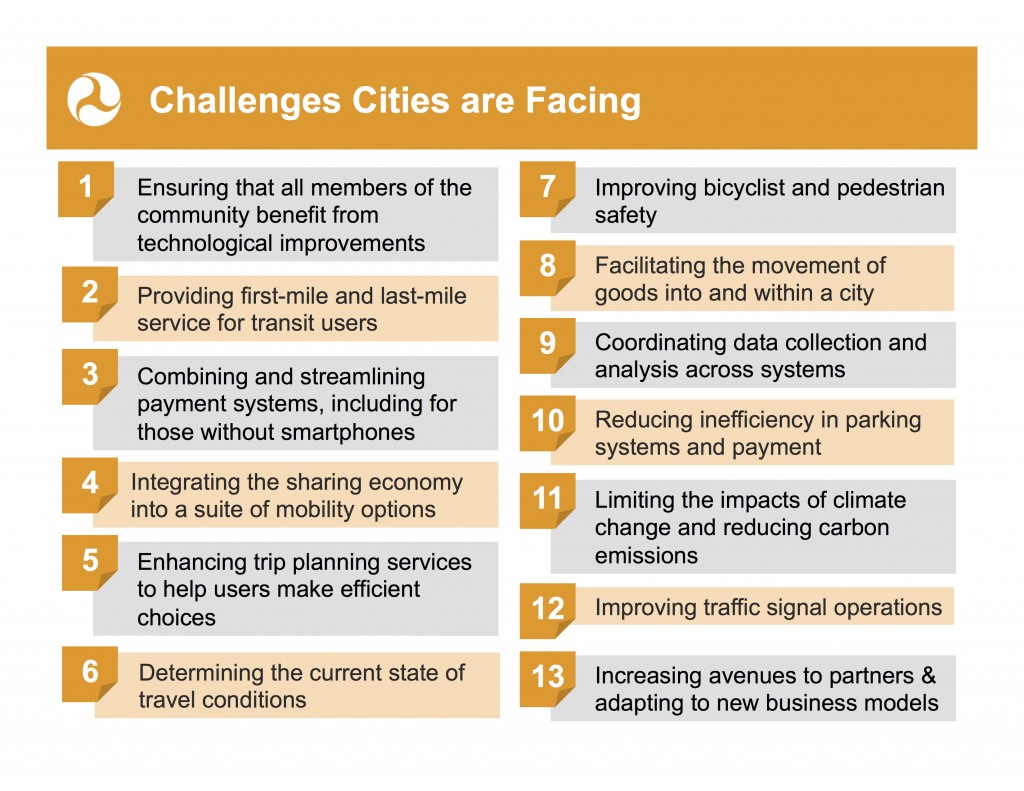 Win or lose the Smart Cities Challenge, these issues above are ones that cities of all size face today or will be facing in the future for years to come as the landscape radically changes due to the impact of new technologies, consumer preferences and new mobility options.
We at Transportation for America are excited to find ways to support these other cities that are eager, engaged and motivated to become smarter cities and ask big questions about the future of mobility in their communities. This week was a small step forward, and we're hopeful for more chances to help support cities that are ready to rethink the status quo when it comes to transportation.
Are you associated with one of the cities that applied (or chose not to for whatever reason) and missed the invite-only conference call this week? Email us at smartcities@t4america.org