The House transportation bill that's beginning debate on the floor this afternoon is a major missed opportunity for giving cities, towns and local communities of all sizes greater access and control over federal transportation dollars. But there's still a chance for the House to include an amendment to fix that, but it needs more support to move forward.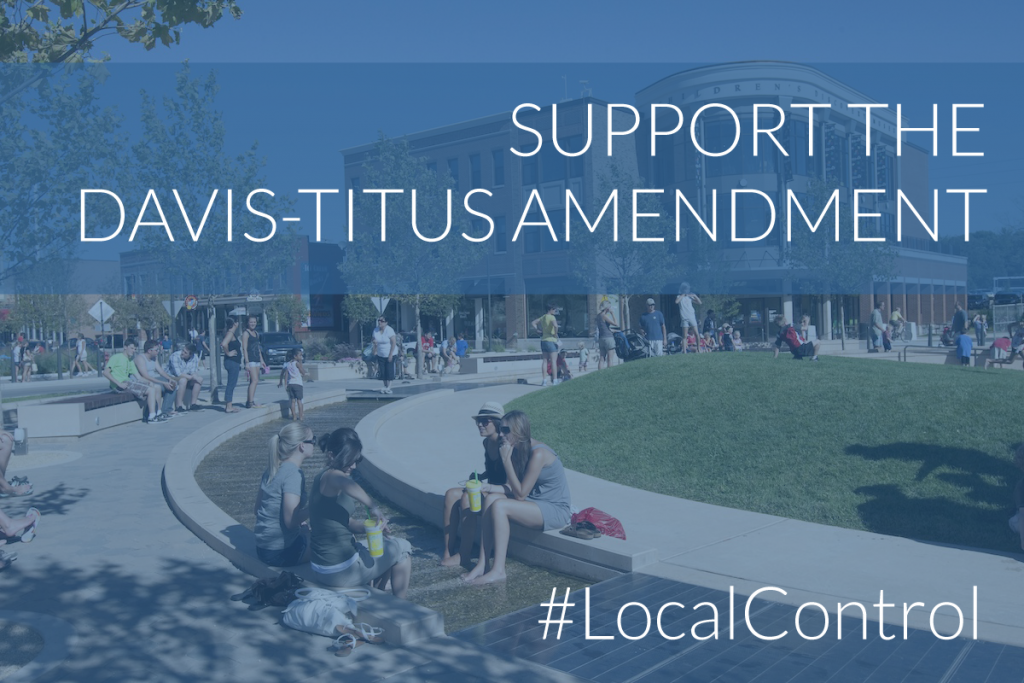 First up, we're holding an open conference call tomorrow (Wednesday) to discuss the House transportation bill as they begin debate today. Join us on November 4th at 12 p.m. EST for a short call along with Smart Growth America to discuss what's happening in the legislative process, what advocates need to know, and to answer your questions about this version of the bill. Negotiations are happening quickly and the House is likely to approve their bill by the end of the week.
Wherever you live, send a message to your representative and ask them to cosponsor the Davis-Titus amendment to give towns and cities of all sizes more access to and control over federal transportation dollars to invest in the smartest local projects.
But if you live in one of these districts listed below, your representative is one of just 13 that will ultimately decide today if this amendment can even be considered on the House floor. The House Rules Committee approved 29 amendments last night to move to the floor today, and they will decide on the rest of the 200-plus proposed amendments today. Without their approval, amendments will not reach the floor for a debate and vote. If you live in any of the thirteen districts listed below, call your representative today and urge them to move the Davis-Titus amendment to the House floor for consideration with the short script below:
"I'm calling to support amendment number 131 to the House's transportation bill from Representatives Davis and Titus.
It would return more funding and control over federal transportation dollars to local communities like mine. More funding for local communities paired with greater transparency for how those funds are spent is exactly what we need from Washington right now. Amendment #131 from Representative Davis and Titus is endorsed by countless local officials and Transportation for America, the U.S. Conference of Mayors, National League of Cities, National Association of Regional Councils, Association of Metropolitan Planning Organizations, and the National Association of Development Organizations.
I thank you for your consideration and respectfully ask for Rep. [NAME] and the Rules Committee to advance this amendment today to the House floor for consideration. Thanks for your time."
House Rules Committee Members

Michael Burgess
TX-26
(202) 225-7772
Dan Newhouse
WA-4
(202) 225-5816
Bradley Byrne
AL-1
(202) 225-4931
Jared Polis
CO-2
(202) 225-2161
Tom Cole
OK-4
(202) 225-6165
Pete Sessions
TX-32
(202) 225-2231
Doug Collins
GA-9
(202) 225-9893
Louis Slaughter
NY-25
(202) 225-3615
Virginia Foxx
NC-5
(202) 225-2071
Steve Stivers
OH-15
(202) 225-2015
Alcee Hastings
FL-20
(202) 225-1313
Rob Woodall
GA-7
(202) 225-4272
James McGovern
MA-2
(202)-225-6101
This is our very last chance to get this smart proposal into upcoming negotiations between the House and Senate on a new multi-year transportation law, which will lock policy into place for at least three and as many as six years. We've got just a few hours until the House decides what amendments can be voted on, so send a message now.
And join us tomorrow at noon for a short call discussing what you need to know about the House bill.