As November approaches, voters in a majority of Utah's counties will be weighing a decision to approve a 0.25-cent increase in their counties' sales tax to fund transportation projects in those counties. This is just one of many notable ballot measures for transportation on the horizon for this fall and next year.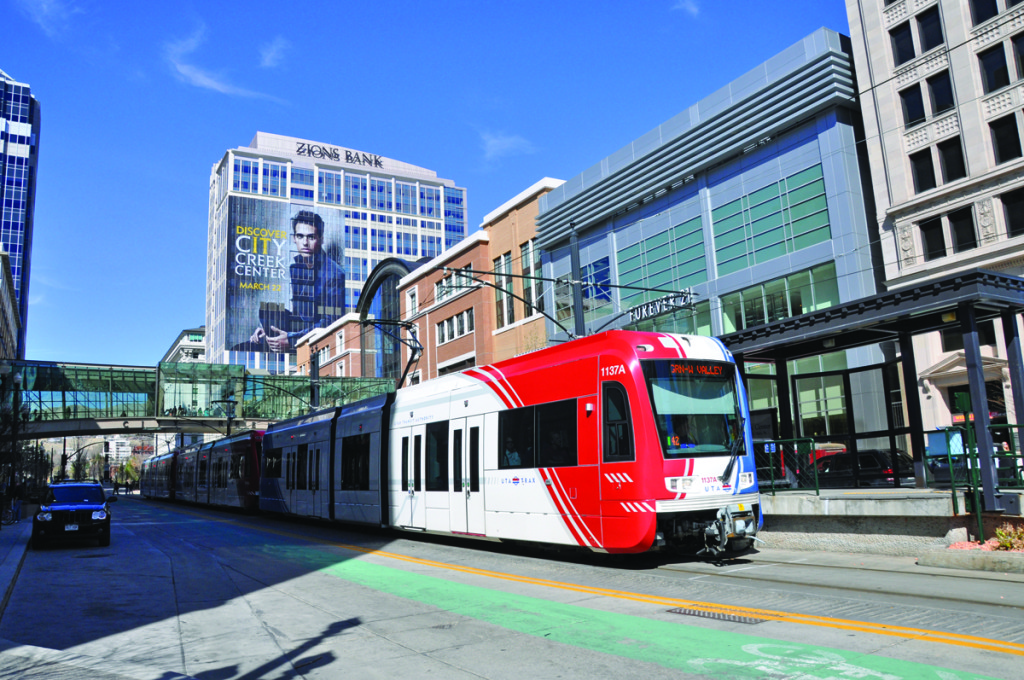 Utah's legislature acted earlier this year to increase the state's gas tax, tie it to inflation, and provide individual counties with the ability to go to the ballot to increase sales taxes to fund additional local transportation priorities. As of this writing, 17 out of 29 Utah counties have decided to put those measures on their ballots.
The state hadn't increased its gas tax — the most significant funding source for the state's roads and bridges — since 1997. Gas tax revenue in Utah, however, is constitutionally limited only to road projects, which requires other source of funding for transit and other important local transportation projects. Utah legislators addressed that concern with a bipartisan compromise to let local voters decide whether or not to raise sales taxes, which are entirely flexible and can be spent on nearly any local transportation need.
With the elections a little over a month away, a statewide advocacy group affiliated with the Salt Lake Chamber of Commerce has embarked upon a massive education campaign to educate voters about the benefits of raising new local money for transportation. The group, called Utahns for Responsible Transportation, is launching ads on TV, radio, and the internet, as well as in newspapers and on billboards. The group is also calling and mailing voters directly.
State leaders expect the state's population to double by 2050, flooding the state's most populous areas with new residents. This makes sound transportation investments of all types across the board – light rail, commuter rail, bike trails and new, safe pedestrian infrastructure – even more imperative as Utah's cities add new residents and keep their economies chugging along.
In Salt Lake City's core counties — including Salt Lake County, Weber County, Davis County, and Utah County —  if the ballot measure is successful, a portion of the revenue will go to UTA, the regional transit system that runs light rail, buses and commuter rail in those counties, in addition to funding other local priority projects of any type.
Several others worth watching
Utah isn't the only place where local voters will be deciding whether or not to tax themselves to raise new money to invest in transportation.There are several significant issues being decided in the Pacific Northwest this year and next.
This November, Seattle voters will decide on a $900 million levy to fund five new bus rapid transit lines and complete streets projects throughout the city. In November 2016, residents in the three counties of the Seattle metro area will decide whether to allocate $16 billion dollars to Sound Transit for an extensive expansion of the region's light rail network.
Just north of Seattle proper, on November 3rd, Snohomish County voters will decide on a 0.3 percent sales tax increase for Community Transit to improve service frequency, add commuter service to Seattle and the University of Washington, and add new bus routes, among other things.
In Oregon, voters in the Salem-Keizer Transit District are voting in November on a new payroll tax, the proceeds of which will be used to restore bus service on nights and weekends for service between Salem and Keizer.
Outside of the northwest, voters in Indianapolis counties will decide in November 2016 whether to increase local income tax rates to fund an ambitious transit expansion throughout the city and into surrounding counties, focusing first on new bus rapid transit lines.
We'll be watching the results of these ballot initiatives closely, so stay tuned for updates. We're beginning to collect a list of other notable measures worth watching, so if there's one you know of that we should keep our eyes on, let us know in the comments.