Just a few hours after receiving a letter with 150 signatories from across the country in support of the TIGER program, late yesterday the Senate Commerce Committee removed the language from their bill that would have essentially ended that popular program of competitive transportation grants.
After many of you combined to send in over 1,700 letters to your Senators over the last 48 hours and we organized a letter of more than 150 elected officials, DOTs, MPOs, chambers of commerce and others, Senate Committee Chairman John Thune (R-SD) amended the bill late yesterday before the committee markup and removed the language that eliminated the TIGER program as we know it.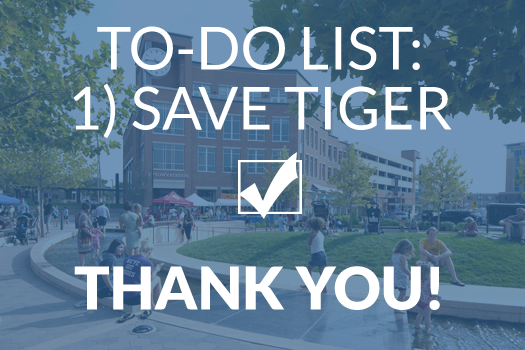 This is a big win and it wouldn't have happened without your help! Thanks to everyone who got involved and made your voice heard in support of the TIGER program.
The win does come with an asterisk, however.
The original version of the Commerce bill wasn't eliminating competitive grants entirely, it just repurposed the funds currently used for TIGER to create a smart competitive multimodal grant program explicitly for freight projects.
While a competitive program to help direct funds to the smartest freight projects is the direction federal transportation policy should be heading in, that shouldn't happen at the expense of TIGER. We need more transportation dollars, not fewer, awarded competitively on the merits to the best projects.
Also, TIGER still lacks the permanent authorization of a program like New and Small Starts for example, which is why we're constantly fighting battles to keep TIGER funded each year. Appropriators can choose not to fund it in any given budget year, and it's an uphill battle to change that. Senators Patty Murray (D-WA) and Susan Collins (R-ME) introduced a bill that would authorize the TIGER program and enshrine it as a permanent part of the federal transportation program — which will hopefully be considered on the Senate floor now that the bill has cleared the committee.
Logged-in members can read our summary of the TIGER Act (S. 1748) below.
There are other provisions to applaud in the Committee's bill — some of which we'll go into detail on in today's open conference call— including the Railroad Reform, Enhancement, and Efficiency Act from Senators Wicker (R-MS) and Booker (D-NJ). That bill will make numerous improvements to the country's passenger rail policy, but most importantly, by virtue of its inclusion in the full Commerce bill marked up yesterday, would be fully authorized as part of a long-term transportation bill if it remains there.
So we applaud the Committee for hearing the outcry and making the change to TIGER, but there's still work to be done and our full request from yesterday's letter still stands:
We request that the Commerce Committee authorize a strong, multimodal freight policy and freight investment grant program, as well as pass a complementary, authorization of the TIGER grant program separate from the multimodal freight discretionary grant program at or near equal funding levels.
We're looking forward to working with the rest of the Senate as they continue putting together the long-term transportation reauthorization that we so desperately need.
Update: Read Smart Growth America's post covering some of the bill's provisions for complete streets, transit-oriented development and passenger rail, including a great summary of what to expect next — exactly the kind of topics we'll be covering at length on today's open conference call!
Senate leaders will combine this with other bills from the Committees on Environment and Public Works, Commerce as well as Banking, Housing, and Urban Affairs. That combined bill will then go to the full Senate for consideration—possibly as early as next week. Senate leaders are also working with the Finance Committee to agree on how to fund it all.

Meanwhile, the House of Representatives yesterday passed a five-month extension of the current transportation bill, MAP-21. Questions remain as to whether the Senate will be able to pass a long-term bill or accept the House's short-term extension before MAP-21 expires at the end of the month.
---
Don't forget to register for today's open conference call discussing everything that's happening with regards to transportation in Congress.