Drawing from experience across the nation, a new Transportation for America report attempts to assess the full range of potential economic benefits from the planned Red and Purple transit lines in Maryland. The key finding: With benefits that far outweigh the costs, these two lines would help position Maryland for economic success in ways that few other investments are likely to do.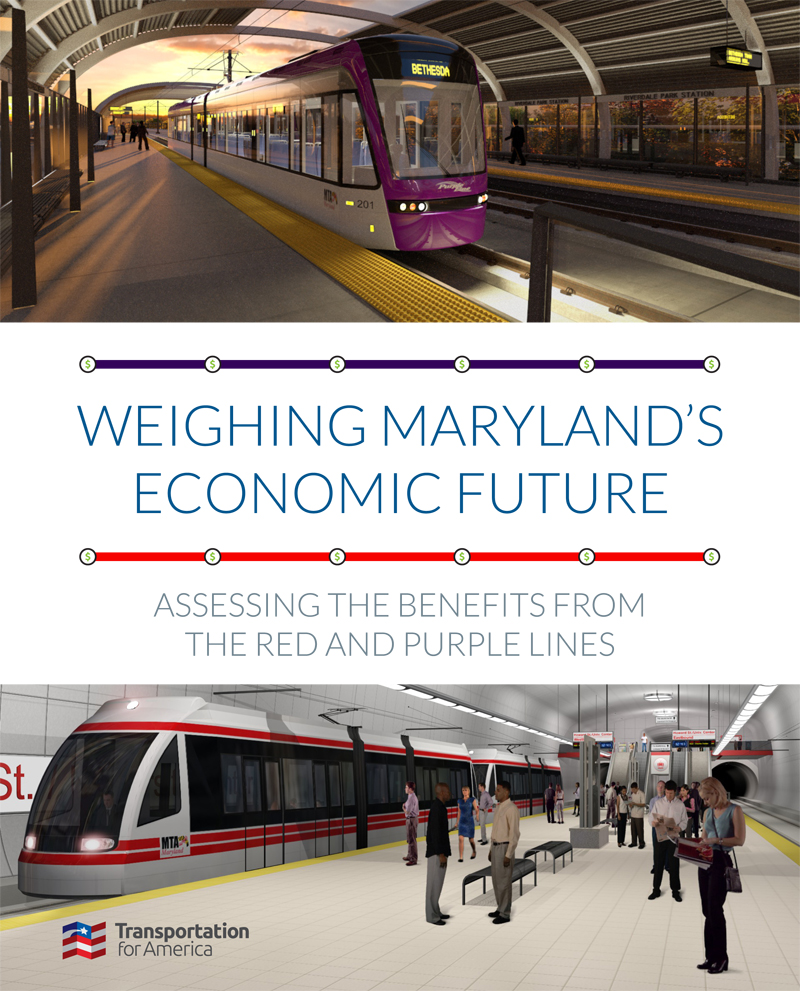 Send a message to Governor Hogan urging him to approve the two projects.
At a time when competitor regions are moving forward with their own ambitious transit plans and companies and workers alike are being drawn in increasing numbers to walkable locations with high-quality transit, Maryland Governor Larry Hogan will soon be deciding the fate of two long-awaited transit projects in Baltimore and the suburbs of Washington, D.C.
Much ink has been spilled on the costs of the projects, but what about the potential benefits?
There are the short-term benefits as construction starts, workers are hired, materials are produced and sourced, and these large multi-year investments get underway; and there are the long-term benefits like the tens of thousands of additional jobs newly accessible by transit, the tens of thousands of people that have access to high-quality rail transit that did not before, and the development made possible by the dozens of stations on these new lines.The benefits to both the Washington and Baltimore regions are significant:
Building the projects would give 174,000 additional Maryland residents access to frequent, high-quality transit.
These two lines will help dramatically expand the labor and customer base for Maryland businesses. 540,000 jobs will be accessible via high-quality rail transit following construction.
The two new transit lines would generate 35,440 direct & indirect jobs and make a total $9 billion economic impact.
Gov. Hogan has stated his commitment to making Maryland "open for business" and prioritizing economic development around the state. How better to do that than by taking strong steps to keep the two largest regions in the state competitive for decades to come?
In March, the CEO of Marriott International, currently headquartered in Bethesda, Maryland in Montgomery County, shared the news with the Washington Post that they would be looking to relocate when their current lease is up.What's their primary prerequisite for their new location? "I think it's essential we be accessible to Metro, and that limits the options," said CEO Arne Sorenson. If the Purple line gets built as planned, Montgomery and Prince George's counties would see their total number of Metro stations nearly double, from 26 to 47. Wouldn't it be smart for Maryland to double the options to retain employers like Marriott?
This is a recurring theme we've heard in meetings with mayors, chamber officials, and other civic leaders across the country. Making smart investments in transportation, and especially in transit, is a crucial part of their strategy to stay competitive and attract the talented workforce that is increasingly seeking out jobs and homes in walkable, connected cities and neighborhoods.
In Baltimore, the east-west Red Line would help turn a disconnected pair of existing transit lines into a proper system, connecting the hub of jobs at Johns Hopkins, the University of Maryland Baltimore County, the downtown office core, and the residential neighborhoods all along the line — including some of the West Baltimore neighborhoods that could use the investment and connection to opportunity that a new transit line provides.
There's nothing else in the plans in Maryland's future that could bring the kind of long-term economic benefits to the state as these two transit projects could. Yes, both are expensive, but the benefits of each will far outweigh the costs — to say nothing of the heavy costs of inaction.
Several years ago, with the Purple line delayed once again, the Washington Post ran these ads in D.C.
Thanks to Richard Layman for the use of this photo. http://urbanplacesandspaces.blogspot.com
It would be a shame to see ads like these again in ten or 20 years as we regret these missed opportunities. Tell Governor Hogan that you support both of these projects by sending him a letter.