How can a place like the Cleveland region attract and retain talented young people, and how can good transportation options help? That was a core question posed to our Beth Osborne when she was invited to keynote a multimedia event dubbed "Cleveland Connects: Getting Around."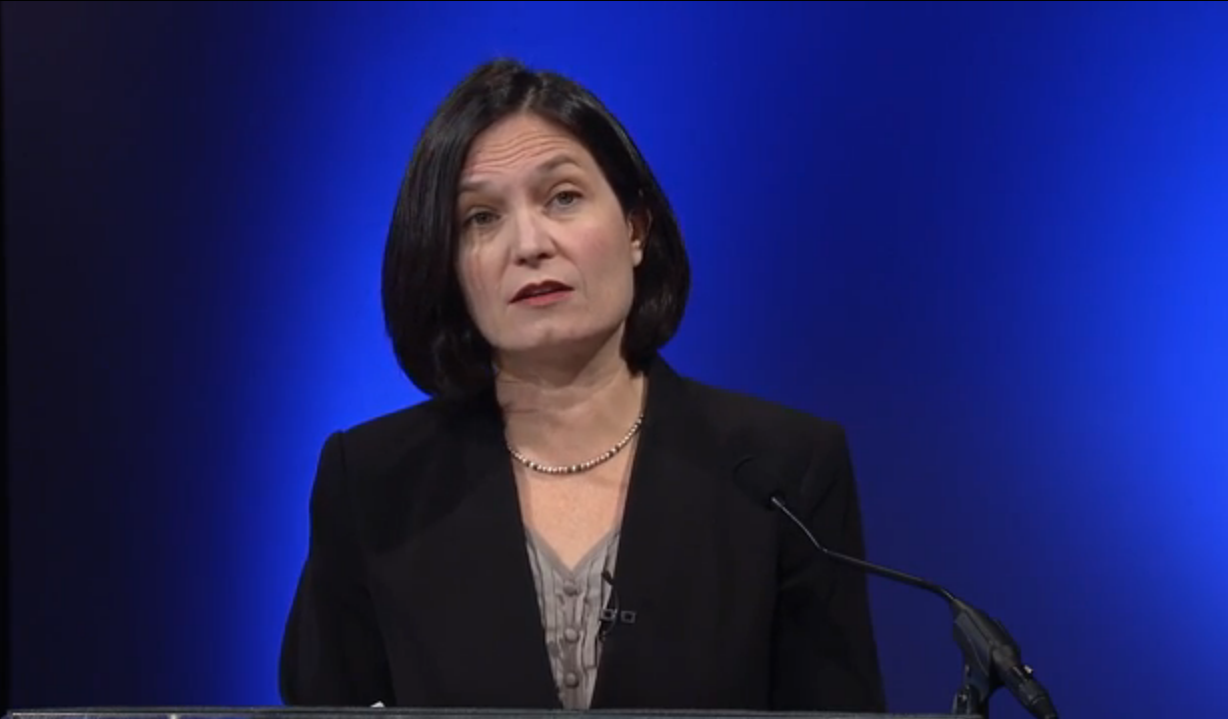 Osborne, T4America's vice president and senior policy advisor, noted that many younger professionals want to live in cities that offer a variety of transportation options. Many seek walkable neighborhoods that offer everything from restaurants and bars to local grocery stores and schools all within the same half-mile.
"When those kids decide they want to go find a job, they actually look for a place they want to live first, and then look for a job, which is a little different than the way people did things when I started looking for work. And that means jobs are following the talent. They're looking for where the talent locates. And where talent tends to locate these days in places where they can access their needs, and fun, like restaurants and retail and bars on their own two feet. And that is a very different situation from what we had a few decades ago."
The Nov. 24 event also presented local speakers from across the region and was featured in the Cleveland Plain Dealer and the local NPR affiliate.
Cities and suburbs alike should acknowledge and respond to the big market and demographic changes that are afoot, she said. Chief among them are the dramatic growth in the share of single-person households and the coming wave of empty nesters among the Baby Boom generation.
"Those people have different needs and different desires in terms of transportation. Especially when you look at the younger generation. Many of them weren't able to get their drivers' license until they were close to 18 years old."
While the car still dominates as Cleveland's main mode of transportation, the region also offers a robust transit system recording an average of two million rides a year — including Cleveland's popular HealthLine bus rapid transit. The region is considering adding 50 to 100 miles of bicycle lanes and improved bus and streetcar service, but officials are unsure of how to pay for it all when they can barely keep up with the required maintenance and repair.
"We've seen people show a great willingness to pay for transportation of all kinds when they have a good understanding of where their funding is going to go and what they're going to get for it," Osborne said. "The ballot initiatives for transportation have a success rate that is enviable for any area of over 70 percent, especially when it's at the local level. Where, like I said, they have a good sense of where that money is going."
Businesses, too, are learning just how profitable being near a transit stop, or in a walkable neighborhood can be. Osborne said her neighborhood in Washington, D.C., is home to one of the most profitable Target stores in the country. However, before Target agreed to build near the Columbia Heights Metro station, the company demanded the city build a "massive parking lot" beneath the store in a garage.
"They didn't believe that people would go to a Target on foot. … It's one of the most profitable in the country now, but the parking lot beneath it is empty. And the city is losing millions of dollars a year off of the ownership of an empty parking lot – money that should be going to other infrastructure like our schools."
Local communities need to decide what works best for them when it comes to planning long term transportation needs and how to best fund them. With people driving less in their own cars in recent years, Cleveland officials acknowledge their need to focus their transportation policies and investments on meeting the changing needs of its region. Here's hoping that our visit is the first step in an ongoing collaboration on behalf of the region's economy and quality of life.