As we noted in our statement after the State of the Union address Tuesday night, it was good to hear the President again cite the need to steer new revenue toward "rebuilding our roads, upgrading our ports, unclogging our commutes". He didn't say much beyond that, of course, but given other developments in the background, we have reason to be somewhat encouraged.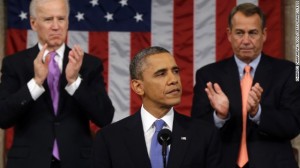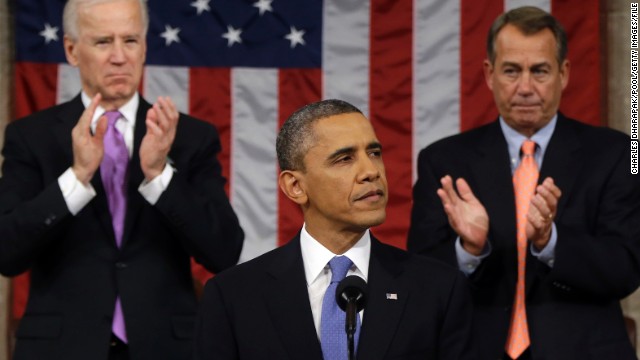 Though his transportation remarks were limited, what he did propose was a bit more concrete than past references to diverting billions saved from winding down various wars. This time, he called for making changes to corporate taxes – moves with at least some support in both parties – that could yield a temporary infusion for infrastructure investment.
It would be a welcome near-term boost, but as his transportation secretary has repeatedly pointed out, we need a long-term fix for the ongoing shortfall in our beleaguered transportation trust fund. The U.S. DOT will run out of money to reimburse states before the end of the fiscal year, with deep cuts likely in following years. Simply put, rising construction costs and falling gas tax revenues from an increasingly efficient vehicle fleet have us on course for a "transportation fiscal cliff".
As the President surely knows, this bodes ill for much of the strategy he outlined for easing the burden for work-a-day Americans. It won't do much good, for example, to train a low-wage worker for a job in the suburbs if he or she can't get to it. Efforts to revive manufacturing will falter if producers can't move their goods through bottlenecks on overburdened and deteriorating urban highways.
As the expiration of MAP-21 nears this fall, we are hoping the Administration will put forward a transportation bill that lines up with Obama's economic strategy. But when it comes to raising the revenue to boost the trust fund to levels sufficient to repair and modernize our infrastructure, the President cannot go it alone.
The good news is he may not have to.  In recent days, the chairs of two key infrastructure committees, Rep. Bill Shuster (R-PA) and Sen. Barbara Boxer (D-CA) – representing both chambers and both parties – have sounded the call to save our transportation fund from insolvency and make smart investments for America's future.
"This problem must be addressed in this Congress," said Senator Boxer, who chairs the Environment and Public Works committee. "A strong transportation system is vital to ensuring our nation's economic competitiveness, and this requires maintaining federal investments in our infrastructure."
Rep. Shuster, chair of the House Transportation and Infrastructure Committee, also has been bold and articulate on the need for a "strong federal role" in creating the infrastructure to sustain our economy and quality of life, and the need for local leaders to speak up for it. In opening a hearing this month on "Building the Foundation for Surface Transportation Reauthorization", he said: "We can't afford to be stuck in the past or we'll be left behind. We should encourage our federal partners to think outside the box on how to address our transportation challenges [and] promote innovation."
We couldn't agree more, and we can't imagine that his Democratic counterparts would disagree. We recognize that finding agreement on the revenue source will be a steep climb. We have suggested several possible sources. Perhaps tax reform offers another vehicle to find new revenue for transportation needs.
Meanwhile, "We need your help in educating members of Congress," Chairman Shuster told the U.S. Conference of Mayors this month. Those members need to hear from elected, business and civic leaders from around the country that there is support – and a demand – for congressional action to provide the infrastructure funding our economy relies on. That's our mission at T4America: to rally those voices across the country and bring them to their members of Congress. If you can help – either by speaking yourself or by reaching out to a community leader – please let us know!