In San Diego, a region facing significant growth on a congested transportation system, the two mayoral candidates signaled their commitment to expanding transportation options throughout the region in the years to come — but shrinking transportation funding will test that commitment.

This post is one of our Transportation Vote 2012 series, looking at the role of transportation in local and state elections this fall.
Like most other metro areas across the country San Diego is facing major transportation challenges. Over the next 40 years the region's population is expected to grow by 1.3 million, 42 percent, with the city itself absorbing half of that increase.
With regional freeways and roads already straining to deal with the congestion that threatens economic competitiveness, health, and quality of life, San Diegans need and are demanding more and better options for getting around where they need to go day-to-day. While the city is making plans to significantly expand their public transportation systems and invest in making streets safer for walking and biking, the limited transportation funding available in the years to come will test its leaders' commitment to prioritizing these investments over more of the status quo.
And just who that leader will be is a decision voters will make this election season.
Last week in San Diego, Transportation for America partners Move San Diego, WalkSanDiego, and the San Diego County Bicycle Coalition held a mayoral debate titled "Walk Bike Move Live" between the two candidates for mayor. Congressman Bob Filner and San Diego City Councilman Carl DeMaio, both put forth their visions for improving transportation and quality of life in San Diego.
"We want San Diego residents to know the candidates' plans on how to improve transportation alternatives that support smart growth, and what those plans are for improving our environment, the local economy and preserving and enhancing the quality of life that defines America's Finest City", said Elyse Lowe, Executive Director of Move San Diego.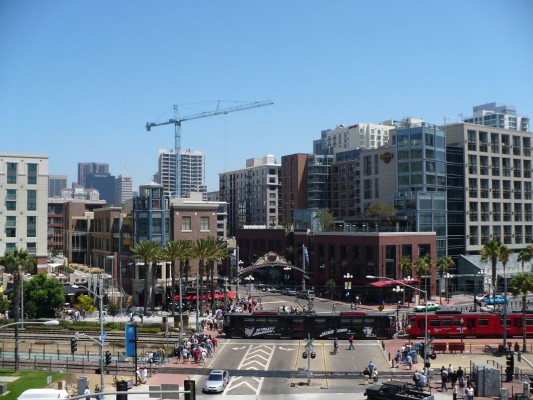 Though accelerating public transportation improvements were emphasized, most of the energy of the debate focused on how to make San Diego one of the most bikeable and walkable cities in the country.
Both candidates stressed their commitment to making San Diego's communities safer for biking and walking with Councilman DeMaio saying it is in an investment in making the city more competitive, creating jobs, and "the San Diego way of life."
Congressman Filner stressed that this would be one of his top priorities and that he sees San Diego's future as a "city of villages" connected by walkable and bikeable streets that promote the arts, community, and the economy.
Biking and walking are gaining significant traction as transportation options in San Diego. The regional transportation planning organization SANDAG is planning to invest more than $3.5 billion in bicycle and pedestrian infrastructure by 2050. This investment will make streets safer as more people travel by foot and bicycle and enhance access to transit, jobs, and housing while reducing the cost of transportation.
"Making our communities more walkable is one of the best ways to make the San Diego region a better place to live", said Jim Stone, Executive Director of WalkSanDiego. "Walkable neighborhoods lead to healthier people, lower healthcare costs, higher real estate values, better retail sales, less air pollution, and an improved quality of life. Walkability is a winning proposition."
Even as both candidates repeatedly trumpeted their commitment to this approach — certainly easy to do in debates typically long on promises and short on specifics — questions remain as to how they'll achieve this vision given the fiscal realities facing cities today and in the days to come.
The federal programs that fund the majority of bicycle and pedestrian projects was significantly cut in the recently passed federal transportation bill, (MAP-21) and state revenues for transportation funding have remained flat and sometimes decreased.
"The San Diego County Bicycle Coalition is looking for a bold leader who will commit to join us in our quest to become the nation's most bicycle friendly city", said Andy Hanshaw, Executive Director of the San Diego County Bicycle Coalition.
"Working together we can change the way we think and get around by taking the initiative to provide safe and accessible bike connections throughout our city."
—
You can watch a full video of the debate below.