Last week, we released Aging in Place, Stuck without Options, documenting the more than 15.5 million Americans 65 years and older who, by 2015,  will live in places with poor or non-existent public transportation.
The report ranked metro areas according to the percentage of seniors projected to face poor transit access, and asked: How do we address the shrinking mobility options of baby boomers who wish to stay in their homes and "age in place?" What happens when people in the largest generation in American history outlive their ability to drive for everything?
The discussions we saw in the comments of blog posts and newspaper articles were very interesting. It's an immediately relatable story, because almost everyone has a parent or grandparent currently dealing with or facing the prospect of getting older and staying mobile.
Accommodating seniors who want to age in place  — most of them do — will be a challenge for our nation's transportation system. But there is a lot that we can do. We can increase funding for bus routes, paratransit, vanpools and ridesharing. We can provide incentives for community non-profits to operate their own systems. We can encourage states to involve seniors more intimately in the planning process and ensure officials are still able to "flex" federal dollars for transit projects. We can also prioritize "complete streets" that meet the needs of all users, including older Americans on foot, in wheelchairs or on their way to a transit stop.
All of these ideas can — and should — be folded into the next transportation bill currently being drafted in Congress.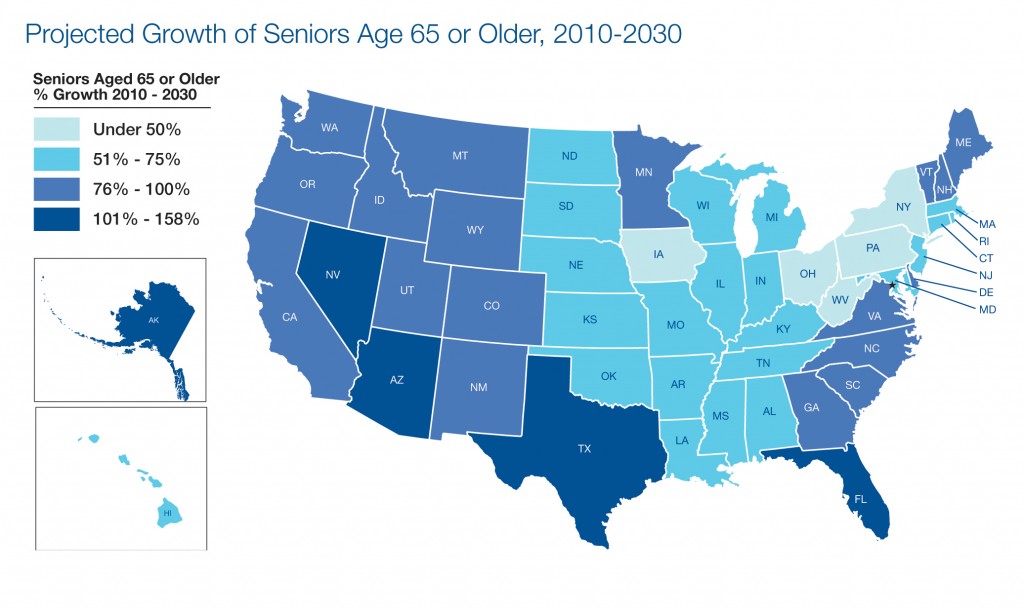 The report generated widespread coverage and discussion. In response to the report's findings, the San Francisco Bay Area gave itself a pat on the back for its top rank, with the San Francisco Chronicle referring to the region as "a good place to retire the car keys," while the Kansas City Star reacted to its region's poor ranking. The Wall Street Journal's Smart Money offered a nice summation of the report's overall findings.
Some argued that our recommendation to meet seniors where they are is backwards. Rather than extending transit out, they said, we ought to encourage older adults to move to places that already have robust transportation systems. Tanya Snyder surveyed both sides of the debate, which also played out in the comments section and on Twitter, at Streetsblog Capitol Hill:
Those recommendations might help geographically isolated seniors reach services, but is it really the responsibility of the taxpayer to subsidize the decisions people have made to live in places that explicitly reject transit accessibility? Should those inefficient, low-density, sprawling areas be retrofitted with transit now that their populations are aging?

Cristina Martin Firvida, who works on these issues for AARP, said helping seniors marooned in those areas helps everybody. And besides, the suburbs were built through federal policies encouraging outward development after the second world war, she said – it's not just that one person built a house on top of a mountain and then demanded that taxpayer-subsidized transit come to them. "The suburbs is where our economy and our entire society has moved to since the fifties," Firvida said.
No one took more umbrage with our report and conclusions than the Cato Institute's Randal O'Toole, whose response to the growing mobility needs of America's seniors was a glib: "So what?" While O'Toole is dismissive of the desire for greater options, AARP's research found that public transportation use among older Americans increased by 40 percent since 2001 (see graphic below). And this is despite the fact that many live in areas with spotty and less-than-reliable service to begin with. T4's David Goldberg responded to O'Toole last week.
You can still check out the full report and see how your area ranked here.