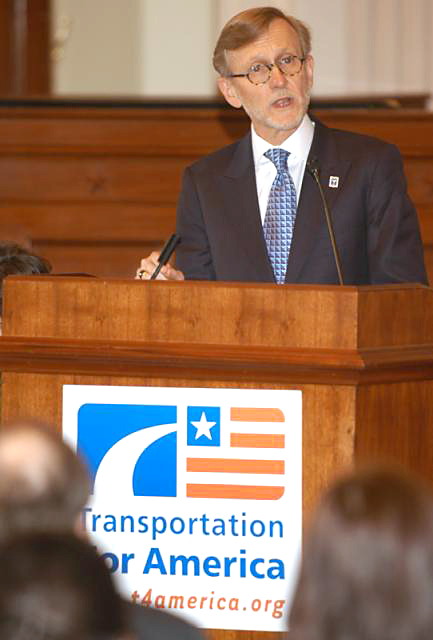 T4 America co-chair John Robert Smith encouraged members of the House Transportation and Infrastructure Committee to enact "bold new policy" to repair our nation's crumbling infrastructure, increase transit options and demand accountability for results, in testimony delivered on Capitol Hill today.
Smith, the former 16-year Republican mayor of Meridian, Mississippi and President and CEO of Reconnecting America, was one of 40 transportation experts testifying before the Subcommittee on Highways and Transit this week.
Pointing to today's release of our report assessing the condition of the nation's bridges, Smith emphasized T4 America's dual mission of repairing the infrastructure we have while building a transportation system for the 21st century.
He spoke about his own experience leading Meridian and seeing first-hand how improved transportation options improve quality of life in smaller cities and rural areas. "It may come as a surprise to some, but Americans who live in small towns have the same transportation needs as those that live in big cities," Smith said. "They need access to their jobs, healthcare, education and services. Long commutes, rising gas prices, and shifting demographics all impact the prosperity of these communities and the people that live in them."
During his tenure as mayor, Smith leveraged a mix of public and private investment to restore Meridian's historic train station and build the South's first multimodal transportation center. The station was "a catalyst for transforming our main street, increasing public transportation ridership, and helping to generate millions of dollars in private economic development in the surrounding neighborhoods," he told the Subcommittee.
"Livability" has become a loaded and sadly partisan term in Congress, but as Smith pointed out, it describes something that really shouldn't be controversial at all. He said:
When I came to Washington, D.C. almost two years ago, I realized as I heard this new word, livability, that that was just what we were doing in Meridian. The transit connections and ensuing economic development that occurred in my sixteen years as Mayor were empowering people to make decisions without being hindered by distance and gas prices.  You can put whatever label on it you want – but people should be able to live where they want to live, work where they want to work, and get there in a cost-efficient and timely manner.
Congress has the opportunity to heed Mayor Smith's vision for repair, increased options and higher quality of life as the Subcommittee and full Committee consider a six-year, transportation reauthorization in the coming months.
You can read Mayor Smith's entire testimony here.