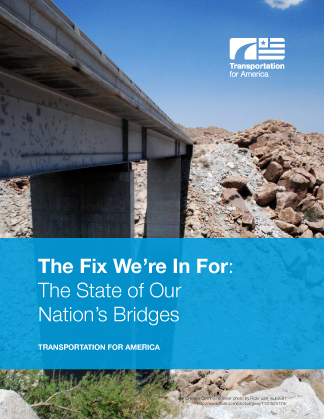 A report being released Wednesday by T4 America chronicles the state of our nation's bridges, with accompanying data and reports for all 50 states and the District of Columbia. Our country is facing a backlog of deficient bridges that need repairs and maintenance to stay open and safe, with needs far greater than what we're currently spending.
If you've been paying attention to stories about our infrastructure at any time in the last few years, it won't come as a surprise to you that our transportation infrastructure isn't in the best shape. Every year, headlines are made when the American Society of Civil Engineers rates our roads or bridges with grades that we'd ground our children for bringing home on their report cards. Most of the year, though, transportation infrastructure isn't at the forefront of our minds, even though we depend on it every day.
But no event in recent memory jolted us into paying attention quite like the collapse of the I-35W bridge in Minneapolis three years ago this summer. After that event, there was renewed interest in assessing the condition of our bridges from governors demanding audits down to everyday drivers avoiding deficient bridges. But as the months went by, we went right back to taking these vital pieces of infrastructure for granted. So where do we stand today, almost three years later?
Wednesday's report will answer questions such as:
How many bridges are in urgent need of repairs or maintenance?
What states are the best and worst when it comes to the condition of their bridges?
What counties in each state are the best and worst?
How much money are we spending on repairing our bridges, and is it enough?
Are we fixing our existing bridges before we spend money on new roads and highways?
We've already released the state-level reports in California, Florida, Illinois, Michigan, Minnesota and South Dakota. The rest of the states will be released on Wednesday with the national report, as well as a nifty interactive mapping tool that will allow you to find all the bridges near you and see how they rate. Check right here on Wednesday morning first thing for the report and the interactive mapping tools. Follow us on Twitter to get a stream of statistics about bridges throughout the week.
Reporter or media? Email David Goldberg for information about the national telebriefing and report details.