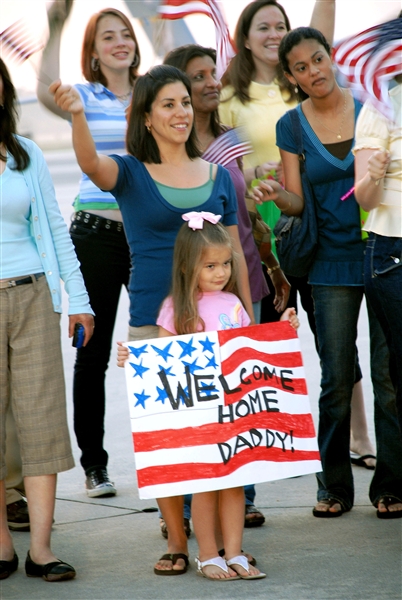 Photo courtesy of the U.S. Department of Defense.
Just as America's veterans rely on transportation options to access crucial health care, military families face unique travel challenges as well.
One challenge is getting kids to school and recreation in new locations. The average child in a military family moves and switches schools three times as often as a civilian child. Many military bases and installations are located in remote areas and surrounded by restricted land use zones, making it difficult for families living on base to connect to regional transportation networks.
In the 1970s, roughly half of all school-aged children walked or biked to school. Today, this figure is less than fifteen percent. By working to make our streets safer and more accessible for biking and walking, we can ensure the children of military families are able to get to school and increase physical activity at the same time. The Safe Routes to School National Partnership has done important work highlighting these needs for all families.
Expanding local transportation options would also help military families to visit friends and family members off-base, or to go shopping or take their kids out for recreation. The existence of more travel options would save military families money, since households located near transit save an average of $9,000 per year.
As Congress moves toward reauthorizing a comprehensive surface transportation law, let's push for programs that honor the sacrifices of military families by increasing their options for getting around.