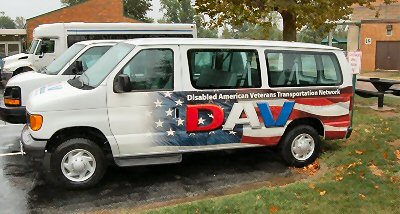 Disabled American Veterans is a key provider for veterans' transit.
As we celebrate the birth of our country this Fourth of July, we should also honor the men and women who have served in uniform. Keeping our promise to America's veterans means giving them the resources they need when they return home, and that includes their transportation needs.
All veterans rely on a diverse network of travel options, but disabled and rural veterans in particular need a transportation policy that increases their mobility to find employment, commute to work and access regular medical care for both chronic and acute conditions.
Access to automobiles and driving are strongly correlated with employment opportunities. Among veterans with spinal cord injuries, only 16 percent of those unable to drive were able to obtain permanent employment, compared with 58 percent of those who could drive themselves to work. These disabled and injured veterans need other options to get to work – and a new transportation bill can help them get there.
Many veterans endure chronic medical conditions or face long recoveries that require specialized medical care. In rural parts of New Hampshire and Vermont, for instance, 29 percent of veterans reported that travel considerations impacted their decision to access routine medical care, while 28 percent of veterans said transportation issues had impacted their access to care for chronic conditions.
The same study found that increased distance from health care treatment facilities was a statistically significant factor in explaining "care-seeking behavior." Across several key categories, longer travel times from health care locations had a negative impact on a veteran's ability to receive care. This included older veterans' outpatient care, outpatient and inpatient care for veterans with spinal cord injuries, outpatient care after myocardial infarction, aftercare for substance abuse treatment and mental health resources.
The absence of other meaningful transportation options was even a factor in health categories such as routine immunizations and dental care. In a study analyzing why older veterans at risk for influenza did not comply with recommended vaccination protocols, 13 percent of respondents reported transportation difficulties as a major factor in their decision not to pursue immunization. With dental care, 55 percent of veterans who could drive independently or had access to public transit had visited the dentist within the last year, whereas 25 percent of homebound vets had not been to the dentist in more than five years.
There are many existing programs to help veterans get to VA hospitals, but it is clear these programs fall far short of the need. More than 37,000 men and women in uniform have been injured in Iraq and Afghanistan. Today more than ever, our veterans need America to invest in flexible, efficient transportation networks to allow access to crucial services.
Our veterans shouldn't have to choose between driving to the VA or missing the medical care that they need and have unquestionably earned. That's no choice at all.