Every year, winter storms highlight the failings of our car-first approach to infrastructure. And as climate change worsens, the need for change intensifies. Cities and states must do more to make sure people are able to access the goods and services they need regardless of weather conditions.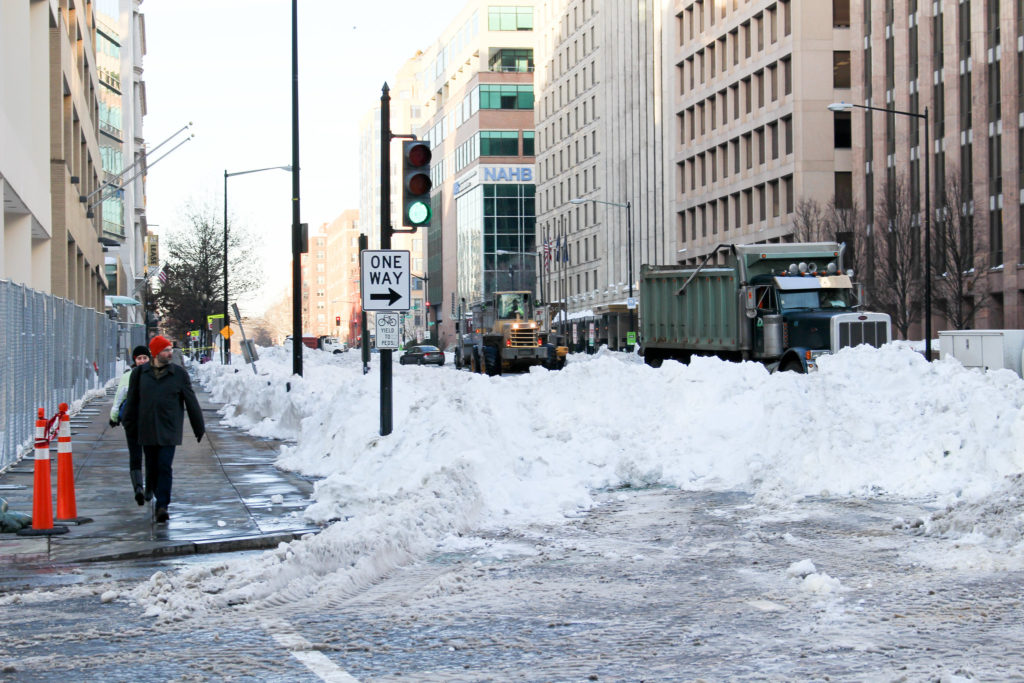 During winter storms, millions have no choice but to to drive in dangerous conditions because they have no other, or no safer, option. Without a better way to get to work, purchase food, or access other necessary resources, people must drive in bad weather or in sloppy road conditions, a factor in nearly half a million crashes and more than 2,000 deaths on our roadways every winter. Millions more get stuck because sidewalks, steps, and crosswalks are the last places to get cleared of snow.
People who live in rural areas experience this problem severely, as increasing distances from work, school, and services and the lack of other transportation options requires them to drive further to access what they need. In bad weather, rural residents can find themselves driving in particularly treacherous conditions on roads often overlooked in favor of busier interstates or nearby highways or roads in need of repair. Those without cars, or without key winter weather features like four-wheel drive, can be completely cut off from the goods and services they need.
And that brings us to the additional risk, beyond crashing, that people face in winter weather conditions: getting trapped, as was the case in early January when Virginia-area commuters found themselves nearly stationary on I-95 for over 24 hours. Other high profile incidents occurred in Atlanta, Texas, Raleigh, even Buffalo (even earlier this week abroad in Greece and Turkey). In these severe examples of the danger of winter travel, the state DOTs described the difficulty of keeping up with the intense snowfall and icy conditions. As climate change worsens, DOTs will find it increasingly difficult to prepare for snow and manage snow removal, especially if roadways continue to widen and destinations continue to spread further apart.
Places with good public transit and ample sidewalks well connected to destinations are more resilient when snow starts to fall, as residents have other options to avoid risky car travel. But even then, those municipalities tend to prioritize car travel at the expense of these other forms of transport, so necessary snow removal for sidewalks, bus routes, and bike lanes is often delayed or entirely forgotten while high-speed, high-volume roadways are always taken care of first. (Or in the case of most cities, sidewalk snow removal is left entirely up to residents, something that some cities are reconsidering.)
Even when bike lanes and sidewalks get snow removal treatment in communities (i.e. using traditional plows to clear protected bike lanes and bus stop sidewalk extensions), there is an inherent risk of the infrastructure being damaged. By ignoring these other modes of transport and failing to maintain them properly, even multimodal cities can ultimately force more drivers onto dangerous roads as residents lose their access to safer options.
It goes beyond bike lanes and bus routes. Many bus stops lack shelters, forcing people waiting for their bus to stand in the storm. Shelters that do exist aren't prioritized for snow removal, and leaving removal up to third parties can further complicate the process. In DC, for example, the bus shelter advertising concessionaire is supposed to clear the shelters, meaning the city has to contact a third party to get the snow removed. This makes removal inconsistent, so it's more difficult for bus riders to count on their stop being well-maintained.
Newer modes in cities, like bikeshare and micromobility systems, face their own challenges in winter weather. Bikeshare stations and other micromobility vehicles can be buried in snow from snow plows and sidewalk snow clearing efforts—not to mention that when bikeshare stations run on solar power, their solar panels have to be kept clear from snow as well.
Snowy sidewalks are a constant dilemma, as many municipalities leave snow removal on public sidewalks up to the adjacent residences, leading to patchwork removal at best. This is a particular problem for people who use wheelchairs, walkers, or strollers, who rely on well-maintained sidewalks to get around.
The problems revealed by snowfall aren't isolated to severe weather conditions. Year round, speedy car travel is prioritized over the safety of drivers and pedestrians. People who cannot drive have few other options for travel, and those that can drive are finding themselves driving more and more, on roadways in need of attention and repair. Climate resilience is necessary outside of winter months as well. In places facing extreme heat, providing shade could be an important way to serve the people who aren't in personal vehicles.
To tackle these concerns, states and municipalities must prioritize, both in their investments and operations, other forms of transportation beyond car travel, so that more people can travel safely and conveniently to access goods and services in dangerous weather. They also need to address land use, as sprawl continues to pull people further away from the services they need, lengthening trips at the same time that climate change worsens travel conditions for everyone.