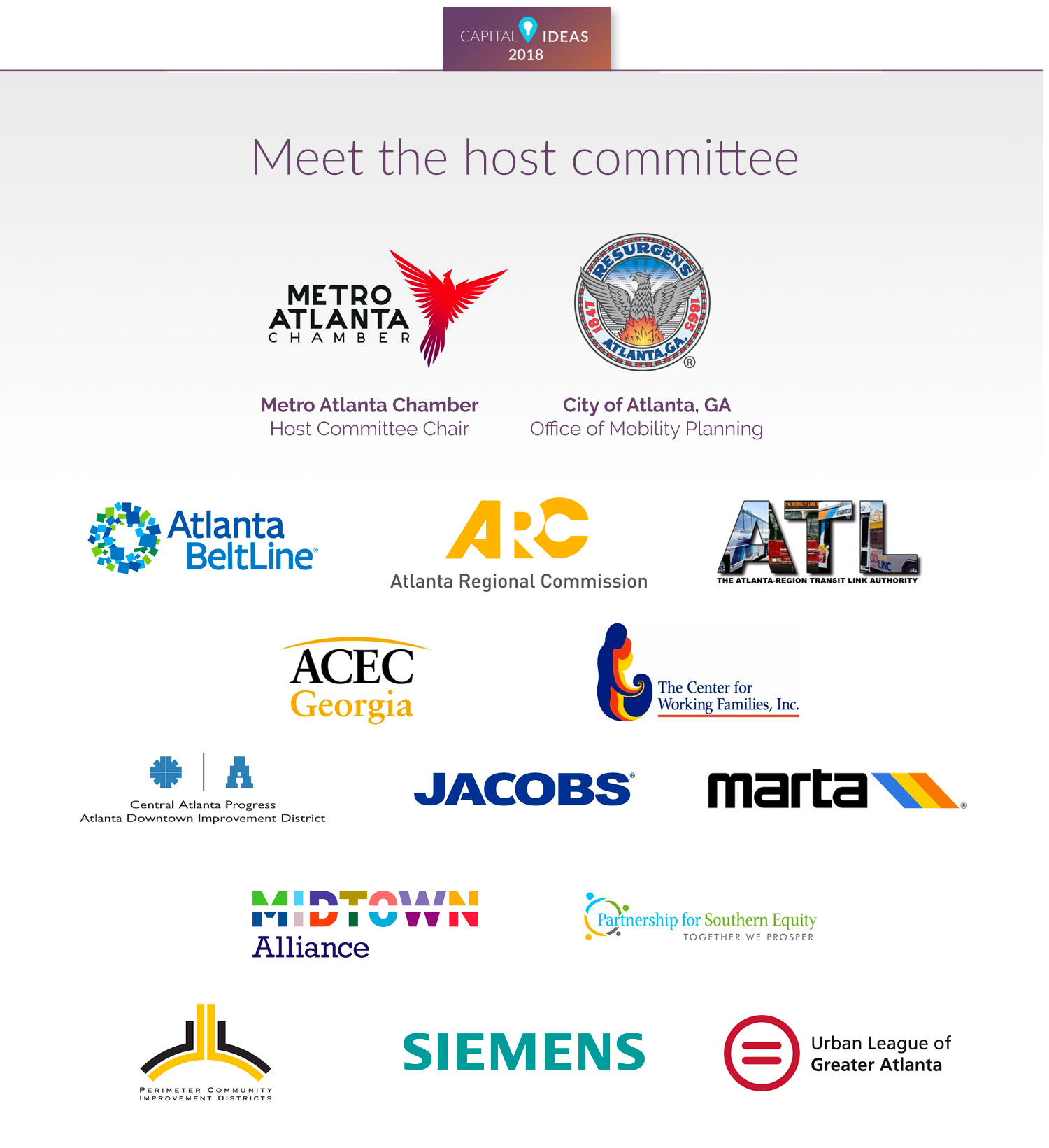 Atlanta, GA isn't just the location of Capital Ideas 2018 — the region itself is part of the agenda.
Atlanta's work to build a more walkable, bikeable, transit-accessible city has lessons every city can learn from. Expanding their transit system, creating multi-use trails, investing in light rail, expanding bike share, funding bus rapid transit, and raising new funds for projects in the future are just some of the Atlanta region's recent successes.
This work takes partnership, and we are proud to have more than a dozen organizations working for a more connected Atlanta region serving as our Host Committee for this year's conference.

The full committee includes the Metro Atlanta Chamber of Commerce (our Host Committee chair), the City of Atlanta's Office of Mobility Planning, Atlanta Beltline, Atlanta Regional Commission, Atlanta-Region Transit Link Authority, American Council of Engineering Companies of Georgia, Center for Working Families, Inc., Central Atlanta Progress, JACOBS, MARTA, Midtown Alliance, the Partnership for Southern Equity, Perimeter Community Improvement Districts, Siemens, and the Urban League of Greater Atlanta.
You might notice that several of these organizations do not work directly on transportation. Why is state transportation policy important to them?
"Ensuring modern, multimodal and well-maintained transportation infrastructure is essential to the long-term quality of life and economic vibrancy of Downtown Atlanta. We are focused at the hyper-local level to encourage targeted transportation investments, policies, and programs that strive to balance jobs and housing in Downtown, support Downtown attractions and events, and promote equity. As a bridge between the Atlanta's private sector business community and local government, we convene people, catalyze change, and provide leadership for mobility issues facing the center city." — Central Atlanta Progress
"The Atlanta metropolitan region's inadequate state of transportation infrastructure, access, and funding exists largely as a result of a legacy of detrimental policies deeply rooted in race and class. The Partnership for Southern Equity (PSE) believes that an equitable approach to transportation requires the collaboration of all governments within a region, including state government, and coordinated transportation and land use planning. PSE seeks to offer equitable and innovative approaches to regional transportation in order to confront the Atlanta metro's inequitable, racialized past and to create the conditions necessary for shared prosperity." — Partnership for Southern Equity
Join us in Atlanta in December to learn about creating cross-sector partnerships for transportation innovation in your own state. Register for Capital Ideas 2018 today.