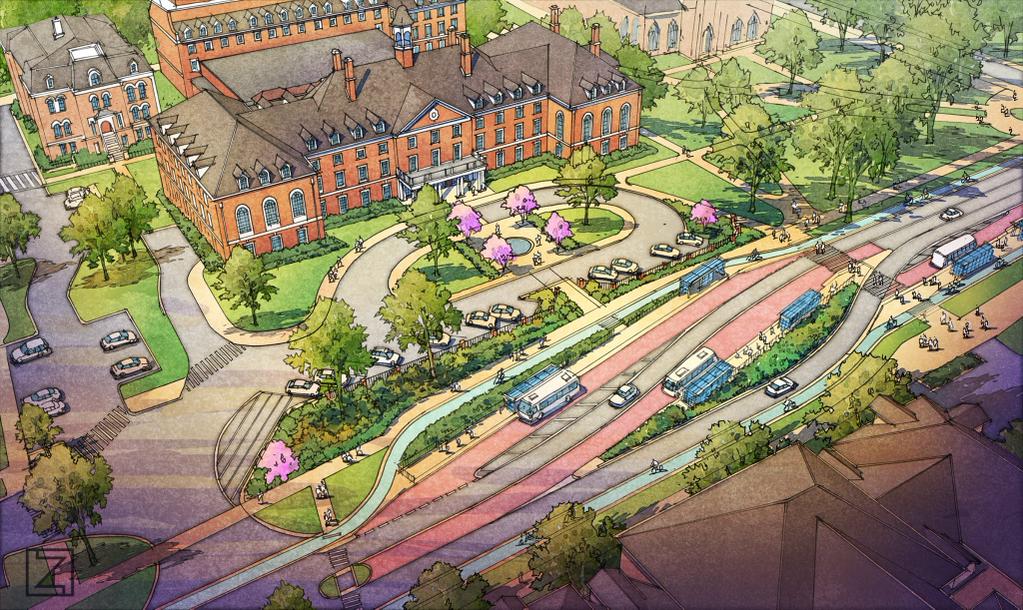 A rendering of the Multimodal Corridor Enhancement Project (MCORE) in Urbana and Champagne, Illinois is a complex street safety enhancement project that involved two city governments, the local transit agency, the University of Illinois, and the state. It wouldn't have been possible without a TIGER grant.
Today, the U.S. Department of Transportation (USDOT) released the FY 2018 Notice of Funding Opportunity (NOFO) for the program formerly known as Transportation Investment Generating Economic Recovery (TIGER). The NOFO declares that USDOT has rebranded TIGER as the Better Utilizing Investments to Leverage Development or "BUILD" program. The criteria for funding under BUILD and TIGER are essentially the same—with one big caveat. Under BUILD, USDOT is putting a new emphasis on securing and committing new, non-federal revenue for projects requesting funding.
USDOT defines new revenue as "revenue that is not included in current and projected funding levels and results from specific actions taken to increase transportation infrastructure investment." And any local or state revenue authorized before January 1, 2015 is not considered new revenue and cannot be applied as matching funding for BUILD projects.
Examples of "new revenue" according to USDOT are asset recycling, tolling, tax-increment financing, or sales or gas tax increases. Under this definition, bonds do not qualify as a new revenue source.
If this sounds familiar that is because it is! The criteria for funding consideration under BUILD is a lot like the requirement that the Trump administration included in their proposed infrastructure package earlier this year. As T4America's analysis of the infrastructure package revealed, this criteria penalizes states and localities who have already raised more local revenue for transportation projects. Why are we penalizing states and cities who acted first?
Since 2012, 31 states have raised new transportation revenues and 12 of those states raised revenue before 2015—mostly by raising or otherwise modifying their gas taxes. Beyond states, many localities like Clayton County, GA and Alameda County, CA raised local funding before 2015 through ballot measures. Even if the taxes or other funding tools are producing new revenue today, if it happened before 2015, the Trump administration doesn't care. Many of those cities (and the 12 states) would have to raise even more new funding to meet this criteria.
Asking localities to simply kick in more money would do little to guarantee better projects—it'll just occupy more of the local funding that states or cities could invest elsewhere or spend on long-term maintenance. And the feds shouldn't be pointing fingers about raising more money. Unlike these states and cities, the federal government hasn't raised the gas tax (the largest source of federal transportation dollars) since 1993.
Rural communities get shortchanged by BUILD
This is especially problematic for rural communities who already have a difficult time raising new revenue. Many of the sources of new revenue suggested by U.S. DOT—asset recycling, tolling, tax-increment financing—are not feasible in rural areas because there is little to no private demand to finance infrastructure in rural areas because it's not profitable.
The administration has talked a big game about the need to improve infrastructure in rural areas and this NOFO is on message, saying that's a priority for this year's BUILD program. But this new criteria actively makes it harder for rural areas to be competitive for funding because they will struggle to raise new revenue.
With this big change, the BUILD program has already built something: another obstacle to rural communities getting the transportation funding they need.
Background on TIGER
The FY 18 omnibus package enacted into law last month tripled the size of the Transportation Investment Generating Economic Recovery (TIGER) program from $500 million to $1.5 billion. The omnibus rejected the president's proposal to eliminate the TIGER program. This NOFO makes available the $1.5 billion from the omnibus and requires applications to be submitted to USDOT by July 19, 2018.
The TIGER program was one of the only ways that local communities could apply for and directly receive federal dollars for their most needed transportation projects. TIGER enabled the development of complete streets and walkable communities, expanded intermodal access to our nation's ports, improved our public transit network, made our highway and railway systems more efficient, and helped to strengthen our passenger ferry network. TIGER routinely had requests for three to four times more in funding than was available—making it a very competitive program—and raised $3.6 in additional funding for every dollar appropriated through TIGER. In short, TIGER has been a widely successful and popular program.
T4America members recently got the inside scoop on this next round of TIGER/BUILD via an exclusive webinar with USDOT.
Not yet a member? T4America regularly offers members more in-depth summaries of USDOT actions like this NOFO. In the days ahead, we will be helping members to make their applications more competitive.