T4America is eager to help communities better integrate artistic and cultural practices into the planning and construction of transportation projects, and is now offering free workshops to help three communities build their capacity to do so.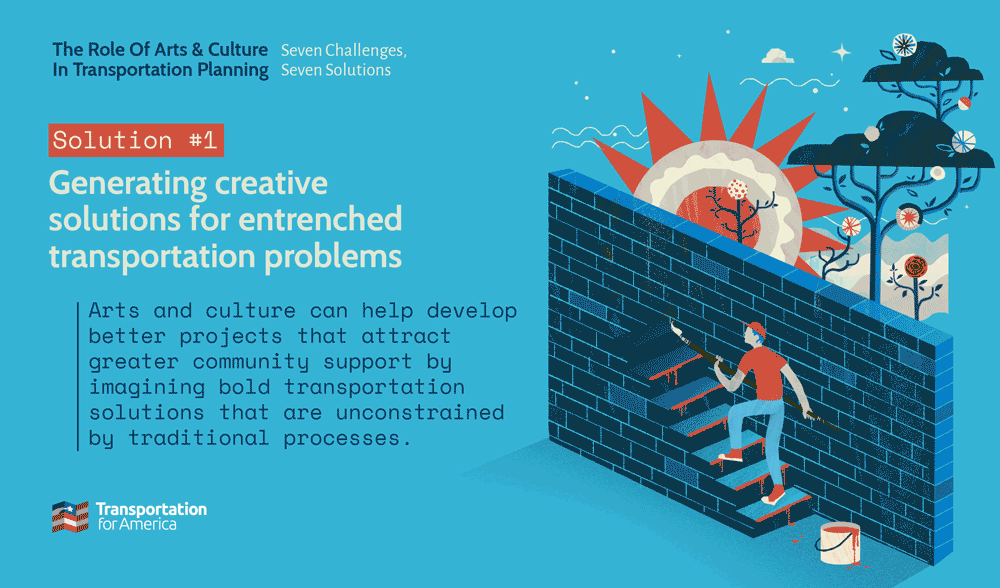 Transportation for America is pleased to announce State of the Art Transportation Training, an exciting opportunity for local transportation agencies to learn about creative placemaking and obtain technical assistance in using artistic and cultural practices to address local transportation challenges.
With funding from the National Endowment for the Arts and in partnership with Americans for the Arts, T4A will award technical assistance to three communities in 2018 in the form of workshops to help them build capacity in artistic and cultural practices.
LEARN MORE & APPLY
This is an excellent opportunity to learn how your community can integrate creative placemaking in transportation projects, receive hands-on technical assistance geared towards addressing your community's unique challenges, and put into practice the concepts T4America explored in our recent Creative Placemaking Field Scan. We are especially committed to funding collaborative projects that expand transportation opportunities and local control for low-income people, recent immigrants, and people of color living in communities that have experienced disproportionate disinvestment.
Transportation systems can and should be a powerful tool to help people access opportunity, drive economic development, improve health and safety, and build the civic and social capital that bind communities together. And when artists team up with transportation professionals at a project's outset, their collaboration can lead to new, creative, and more comprehensive solutions to today's transportation challenges. Learn more and apply today for this free technical assistance opportunity.
Applications are due by February 23, 2018
The application process is online and can be completed via this form at https://t4america.org/creative-placemaking-workshops/. We recommend downloading the full application information (pdf) and preparing your responses before submitting the online form.
The application deadline for this opportunity is Friday, February 23, 2018 at 5:00 p.m. EST.
We are planning for an informational webinar about the opportunity on February 6, 2018. Register here.
Note: Unfortunately, due to our previous work with projects in Los Angeles, Dothan, Indianapolis, San Diego, Nashville and Portland, OR, proposals from those cities are not eligible.