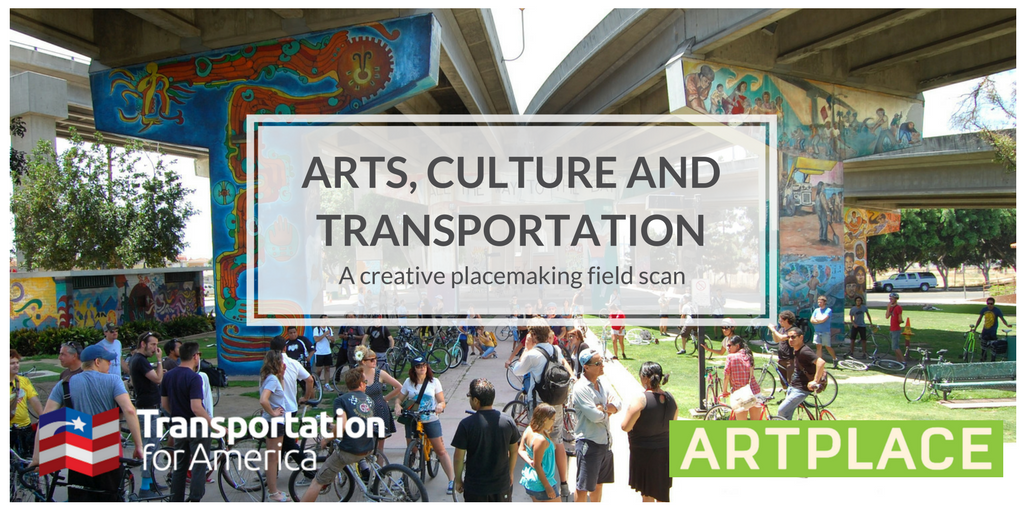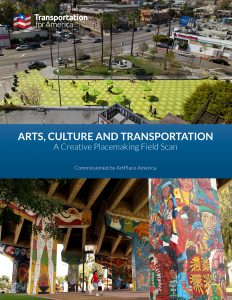 Transportation systems can and should be a powerful tool to help people access opportunity, drive economic development, improve health and safety, and build the civic and social capital that binds communities together. Unfortunately, a historic, top-down, technocratic approach to transportation planning and design has failed to achieve these goals for everyone. This has resulted in transportation systems that do not equitably serve communities of color, low-income people, and other disadvantaged communities.
But there's reason for optimism.
Eager to find a better way, scores of communities are collaborating with artists for new, creative approaches to planning and building new projects and solving pressing transportation challenges. This process known as creative placemaking is unfolding in communities across the country and transportation professionals are eager to know: what are the key trends and best practices?
Arts, Culture and Transportation: A Creative Placemaking Field Scan is a rigorous national examination of creative placemaking in the transportation planning process. Released in partnership with ArtPlace America, this new resource identifies ways that transportation professionals can integrate artists to deliver transportation projects more smoothly, improve safety, and build community support.
---
Seven Challenges, Seven Solutions
This field scan explores seven of the most pressing challenges facing the transportation sector today, and identifies how arts and culture contribute to solutions.
1. Generating creative solutions for entrenched transportation problems.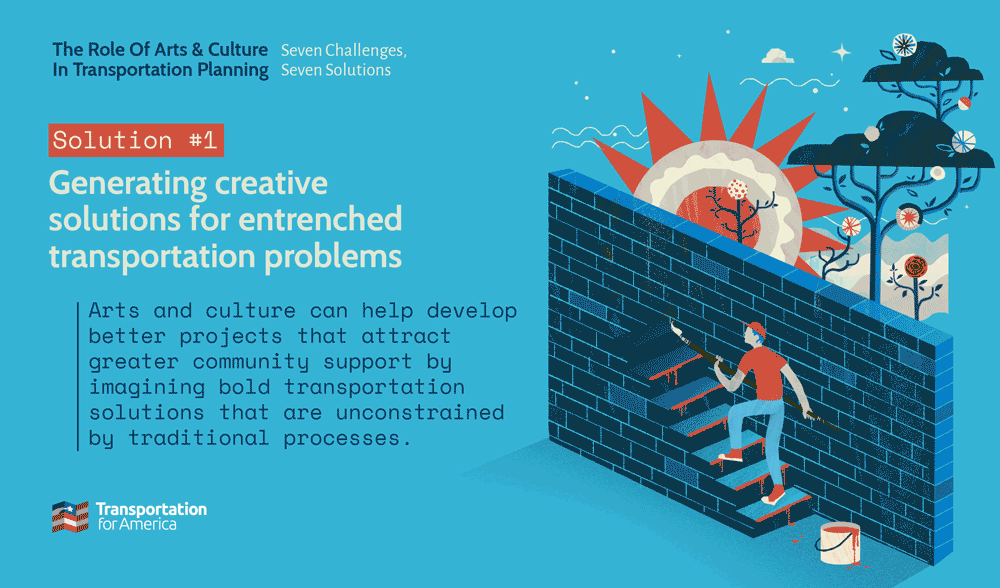 Arts and culture can help develop better projects that attract greater community support by imagining bold transportation solutions that are unconstrained by traditional processes.
Read the El Paso, TX case study from the field scan, published on the blog as a preview during Arts & Culture month:
El Paso's Transnational Trolley: How art can help imagine creative transportation solutions
2. Making streets safer for all users.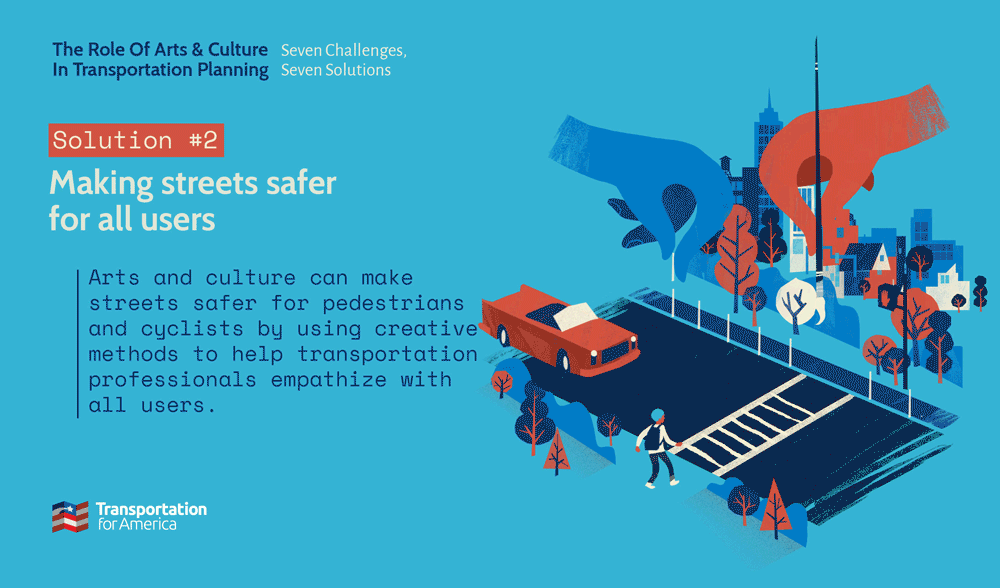 Arts and culture can make streets safer for pedestrians and cyclists by using creative methods to help transportation professionals empathize with all users.
3. Organizing transportation advocates.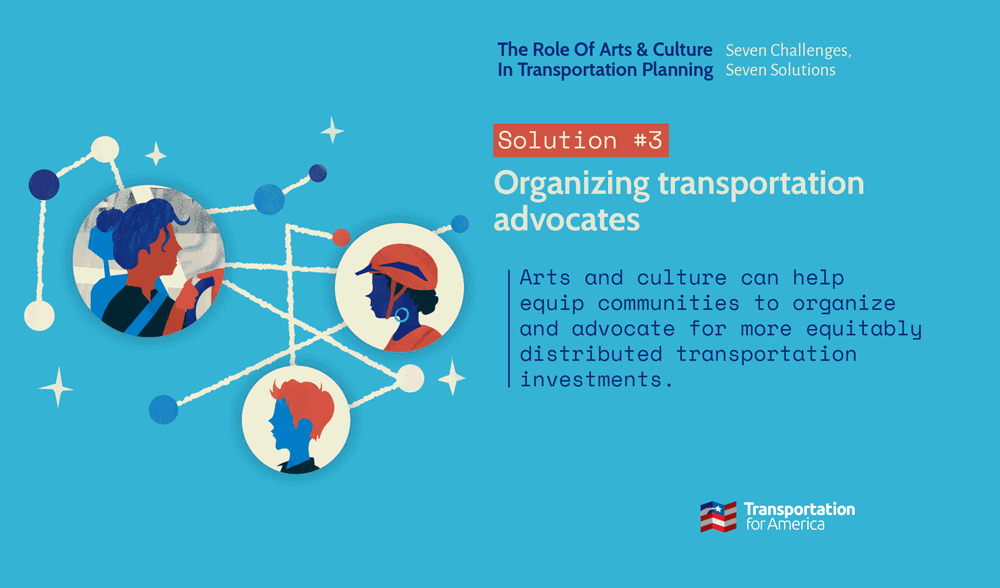 Arts and culture can help equip communities to organize and advocate for more equitably distributed transportation investments.
4. Engaging multiple stakeholders for an inclusive process.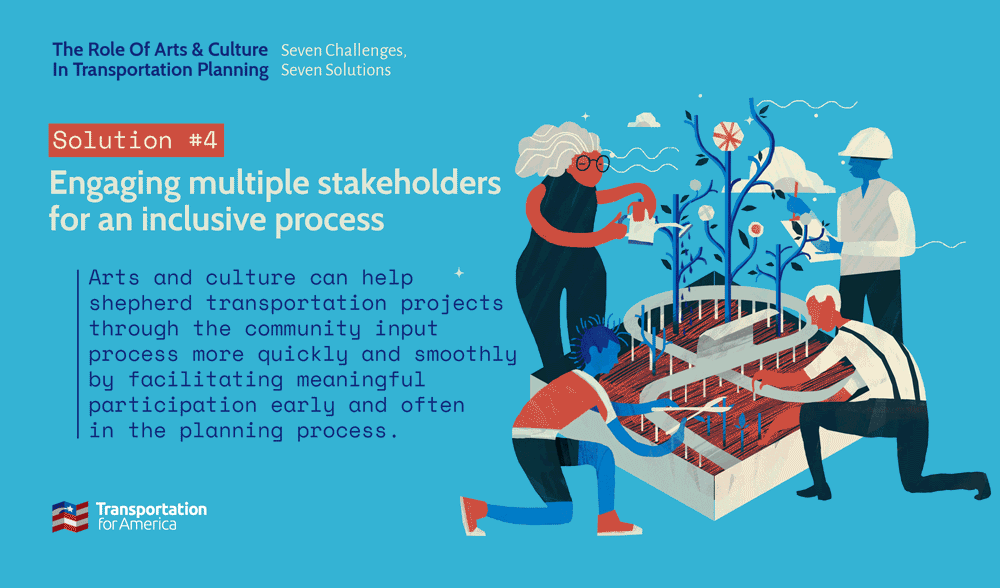 Arts and culture can help shepherd transportation projects through the community input process more quickly and smoothly by facilitating meaningful participation early and often in the planning process.
Read the Jade/Midway case study from the field scan, published on the blog as a preview during Arts & Culture month:
Engaging east Portland to plan a more inclusive bus rapid transit line
5. Fostering local ownership.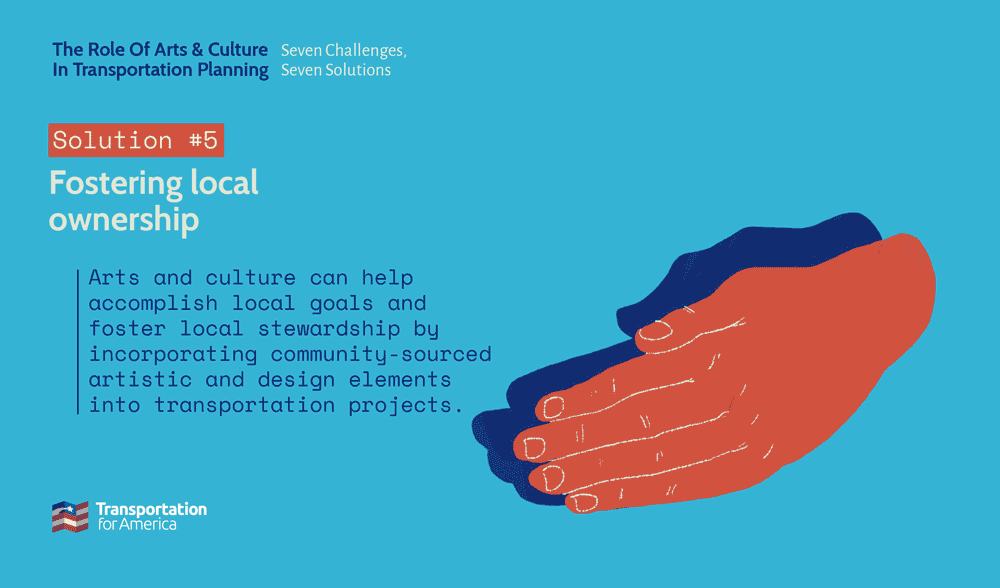 Arts and culture can help accomplish local goals including improving health, encouraging walking and biking, or increasing transit ridership by incorporating community-sourced artistic and design elements into transportation projects to foster local stewardship and use.
6. Alleviating the disruptive effects of construction.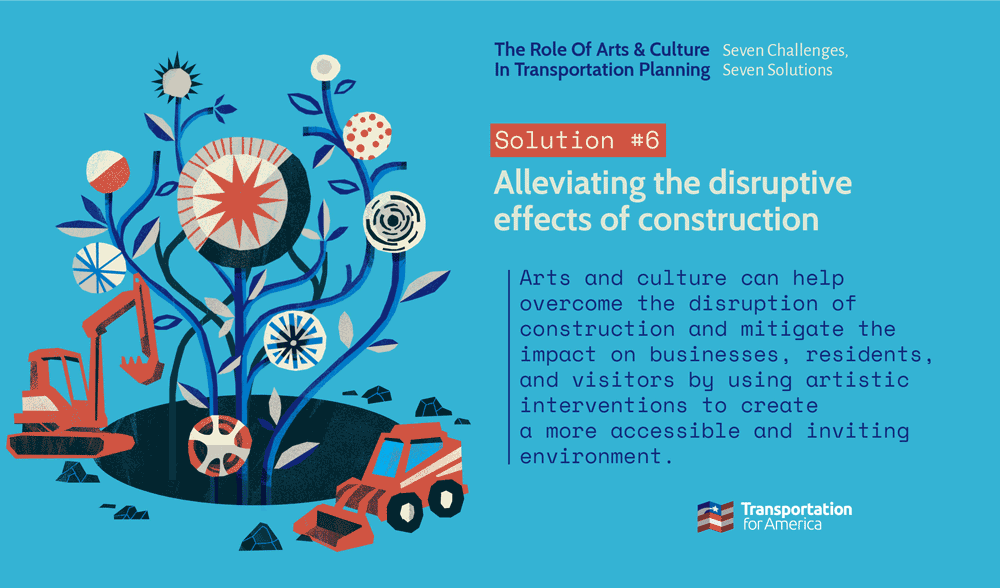 Arts and culture can help overcome the disruption of construction and mitigate the impact on businesses, residents, and visitors by using artistic interventions to create a more accessible and inviting environment.
Read the Irrigate case study from the field scan, published on the blog as a preview during Arts & Culture month:
Irrigate: Turning a huge Twin Cities construction project into an opportunity
7. Healing wounds and divisions.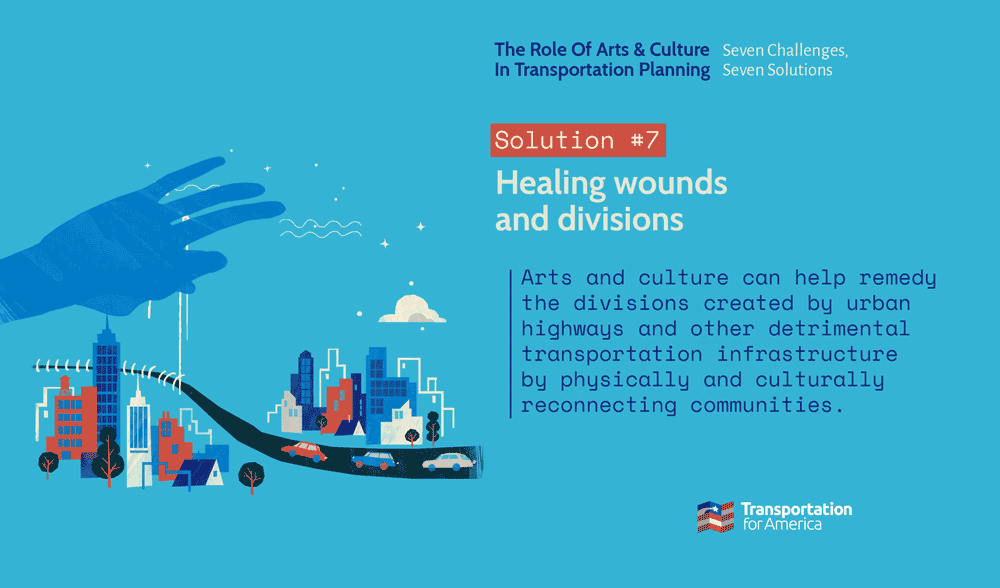 Arts and culture can help remedy the divisions created by urban highways and other detrimental transportation infrastructure by physically and culturally reconnecting communities.
Sign up for email
Fill out this short form below to sign up for our new arts and culture-focused email list from T4America and Smart Growth America. All fields are required.
Watch the launch webinar
For a deep dive into Arts, Culture and Transportation: A Creative Placemaking Field Scan, catch up with a recording of the launch webinar on October 13, 2017 from 1:00-2:00 p.m. EDT.
The guests were Ben Stone, Director of Arts & Culture at Transportation for America, Jamie Hand, Director of Research Strategies at ArtPlace America, and Peter Svarzbein, an artist and El Paso City Council member whose work is featured in the field scan.
Read The Scenic Route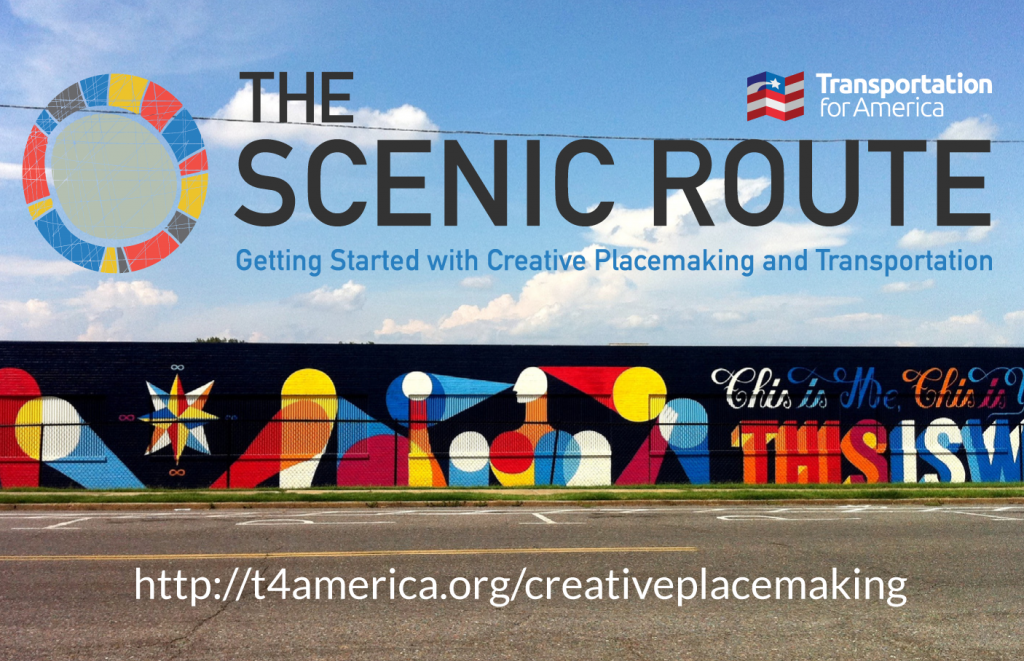 Read our interactive primer on creative placemaking in transportation here, published in 2016.