Transportation for America, a program of Smart Growth America, is pleased to announce today the hiring of Ranata Reeder as outreach director, helping to spearhead the organization's work to build partnerships, grow our memberships and extend our growing alliance of local elected, business and civic leaders across the country.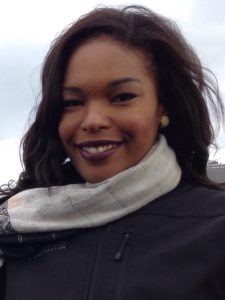 For the better part of the last year, Ranata led a participatory budgeting process in Greensboro, NC, a groundbreaking, bottom-up effort to give citizens greater control in how a share of their tax dollars are spent. (Learn more about that process and Ranata in a short Q&A below.)
"With T4America continuing to transition away from a sole focus on federal policy and toward empowering the inspiring changes happening at the local level, we're excited to bring someone on board with such impressive local experience," said James Corless, director of Transportation for America. "Greensboro's first foray into this idea of participatory budgeting represents a smart way to get citizens not only more involved, but to make government more responsive and build trust in both directions."
"Whether by using arts and culture or more creative public meetings, more engagement with the communities that are affected by transportation projects can result in better projects that work better for all people. And in a day and age with limited transportation dollars, we need to ensure that the things we build bring communities together rather than divide them; that they give more people access to opportunity, rather than fewer."
As we continue building partnerships with groups and individuals all over the country, T4America is delighted to welcome Ranata to the team.
---
Read on to hear a little bit from Ranata about her interest in transportation and her experience in Greensboro.
What are you passionate about, and why are you steering those passions into a national transportation organization? Why transportation at all?
I am passionate about people, and I am passionate about community. I have always been fascinated with how people interact with one another, and over the last few years I have learned more about how transportation, infrastructure and planning impacts how people live their daily lives in a community. Everyone has a part to play when it comes to investing in transportation, and bringing firsthand knowledge about how local municipalities make decisions and engage citizens is valuable experience for T4America's efforts to build a strong national network of local leaders and citizens alike.
Secretary Foxx has been talking a lot lately about how our transportation infrastructure too often cuts people off from opportunity, when the stated purpose was actually the opposite. Did you see places in Greensboro still reeling from decisions made long ago?
Absolutely — existing transportation infrastructure often fails to support community members the way they need it to. But, given the chance, they often know just what needs to be fixed. In Greensboro, when residents were allowed to directly decide on how to spend a portion of funds from the city's general fund budget on capital improvement projects they largely chose streets, sidewalks, and other transportation projects. This means more opportunities to safely cross the street, better transit on major thoroughfares, or fewer people standing outside in the rain waiting for the bus.
Ah yes, "participatory budgeting!" Tell us a little about this concept that Greensboro experimented with while you were there. What is it? How does it work?
Participatory Budgeting (PB), most simply put, is a process that allows people to directly decide how to spend a portion of a city's budget.
One year and one cycle through the process, how did it work out? I'm sure you learned a lot on the first try for such a new process, yes?
Greensboro was the first city in the South to launch a PB process. Perhaps, the greatest lesson learned was that, given the proper tools, people do indeed have the wisdom and know-how to improve their communities. The process brings great benefits for both residents and government alike because it's a solution-driven and transparent way to set priorities — building trust both ways between citizens and government. Everyone can see what the outcome will be and the return they'll receive for the investment of their time. PB also builds community, trust, and understanding through dialogue, deliberation, and collaboration.
Were there any transportation-related ideas that were selected? What seemed to be important to people when it came to transportation?
Most of the projects selected were transportation-related. Residents were most excited about crosswalks, street improvements, bus benches and shelters, and a citywide mobile bus tracking application. Residents know how important transit and transportation is to them each day, and given the chance, they know how to improve things.