While many Senate members are focused on the conference committee deliberations on a new long-term transportation bill, the Senate committee that doles out transportation money each year released an updated proposal for this fiscal year, and the news is mixed for several important transportation programs.
Update: While the Senate was expected to consider this bill on the floor Thursday, debate over Syrian refugee issues derailed any further consideration of the bill this week.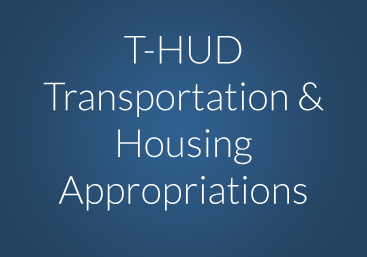 Most transportation spending comes from the trust fund and the levels are already set (for the most part) by the current authorization — like the long-term transportation bill currently being debated. But important discretionary programs that aren't "authorized" receive their funding each year from House and Senate appropriators.
Yesterday, the Senate Appropriations Committee released a revised proposal for all transportation and housing programs for the next fiscal year, known as the T-HUD spending bill.
The committee had agreed to an earlier version of the bill this summer, which never made it to the floor. The new bill is a substitute for that earlier bill, and includes higher funding levels as a result of the two-year budget deal passed in late October that increases federal spending by $80 billion total over the next two years.
Though when compared to the first version of the committee's spending bill from this summer, this bill provides about $3.5 billion more funding for this year (FY 2016 started Oct. 1) and increases competitive TIGER grant funding up to $600 million, it still makes cuts to the sole program that communities across the country depend on to help them build new transit service to meet the booming demand.
Logged in T4America members can see a detailed chart comparing the Senate bill to the House version and 2015 funding levels.
The TIGER competitive grant program is incredibly popular in part because it's one of the few ways that local communities can apply for and win funds for their priority projects; helping to get smart, locally-supported projects with a high return on investment off the ground. The TIGER competition ensures the best projects receive funds, and provides a level of accountability and transparency not currently available in many statewide transportation programs. While any funds for this vital program are needed and appreciated, the volume of applications for each annual TIGER round shows that the program is underfunded to fulfill the need.
Good news: the new bill proposes no changes to what kinds of projects can apply for TIGER funding, and increases funding for the program by $100 million this year.
The Senate's initial bill introduced this summer provided $500 million for TIGER — the same amount as the just-ended fiscal year — and the House version of this bill provided far less at $100 million. It's encouraging to see the Senate appropriators increase funding for this important program in the newest draft proposal, and that there are no changes to what kinds of projects can apply. This is a hopeful sign that for future House-Senate negotiations on the final transportation spending bill for 2016.
The funding for building new transit service — New Starts, Small Starts and Core Capacity — was increased by more than $300 million from this summer's Senate THUD bill up to $1.9 billion, just $24 million less than the proposed House levels of $1.92 billion. That sounds like good news, but it's still represents a $200 million cut from last year for this program.
Amtrak funding was unchanged: $289 million for operating and $1.1B for capital projects, which is slightly more ($39 million) than this year.
The Senate was expected to consider this bill Thursday before departing for Thanksgiving vacation today, but it was sidelined by Syrian refugee and ISIS-related debate.
In any case, it's unclear if this week's actions on this lone individual spending bill will have any measurable impact on what observers expect to be another omnibus spending bill for all federal agencies upon the members' return in early December. We'll keep you posted.