BlueIndy, a new all-electric carsharing service in Indianapolis launching today, is evidence of Mayor Greg Ballard's open-minded approach to transportation innovations to improve options in the city for residents.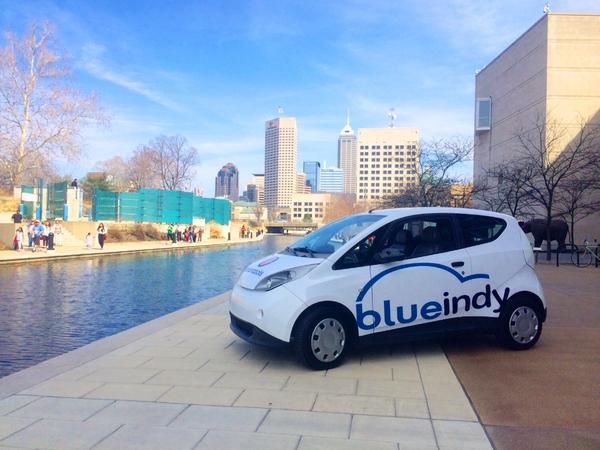 This brand new system is a cross between a bikesharing service (cars can go one-way between numerous locations), a service like Zipcar (the parking spots are reserved) and Car2Go (smaller compact cars for one-way use) with one major exception: All of the cars are 100% electric and charge via small hubs installed next to each parking spot that are wired into the electric grid. In addition to keeping the fleet charged, anyone with an EV can also pay a small membership and hourly fee to charge their own cars at the hubs scattered around downtown.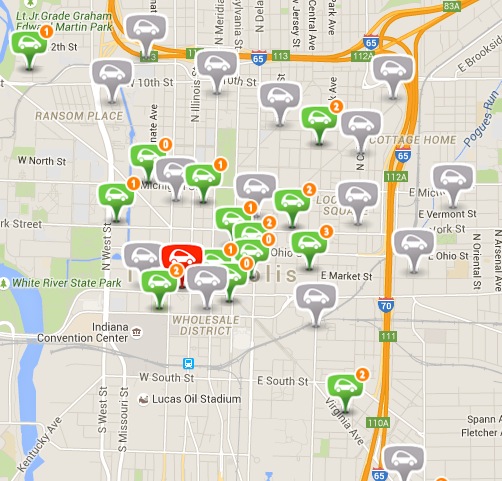 The system is launching with 50 vehicles and 25 charging stations (doubling as the reservable parking spots) around the city, with a plan to soon expand up to 500 electric cars and 200 stations. The city is paying $6 million in dollars earmarked for infrastructure projects, with the French company that owns the service investing somewhere over $40 million.
The new system ties into two of Mayor Ballard's key goals: to improve energy security by reducing dependence on foreign oil and to provide innovative new mobility options for Indianapolis residents. BlueIndy comes several years after the opening of the economically successful Cultural Trail through the city, closely on the heels of the launch of the Pacers bikesharing system, and in the midst of the city's effort to dramatically expand and improve public transportation.
It was a long time coming, but now Indianapolis has a new option for getting around their city, and a range of travel options are one of the things most coveted by the younger, mobile workforce that Indy is desperate to retain (and attract) as part of their economic development goals.
As Time Money wrote today, "Without knowing any better, it would be reasonable to assume that a cutting-edge program like this would first appear in a city that already stands out for green initiatives and electric car adoption." While some cities (Washington, D.C, Seattle and others) are known for a booming number of transportation startups disrupting entrenched systems due to favorable regulatory environments, BlueIndy is a testament to what can happen in other perhaps less likely cities that have civic leadership committed to improving transportation options for their residents (and often visitors) by any means necessary.
Whether by raising new money to expand and improve a transit system that hasn't kept pace with the growth of the city, by building a downtown walking and biking path that's the envy of other cities, or encouraging new mobility companies like BlueIndy or Car2Go to set up shop, Indy's "more is better" approach is already reaping economic dividends.
Mobility is changing incredibly fast and cities that open themselves up to these exciting changes will be much better positioned to reap the rewards. It's encouraging to see a place like Indianapolis on the list of places stepping forward into this future of new, different, exciting mobility options. Regardless of how well BlueIndy fares going forward, this step is one they'll be glad they took for years to come.