Building on the range of new ideas for metropolitan planning organizations outlined in our Innovative MPO report, join us for the third in a series of online discussions to help MPO staff, board members, and civic leaders find smart ways to use their funding and planning authority to get better outcomes for their regions.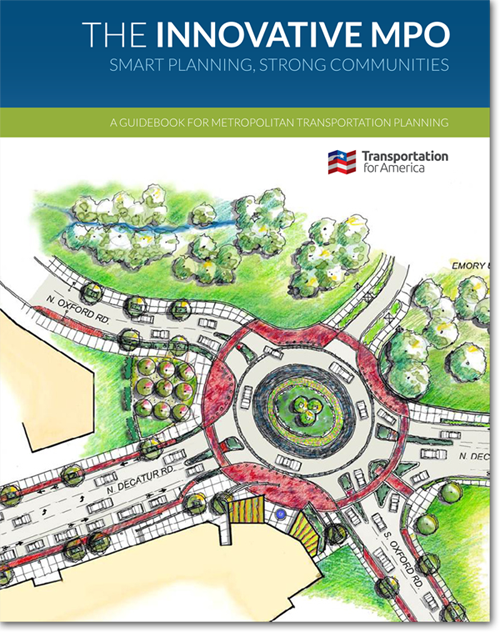 First, if you're asking, "What's The Innovative MPO?", it's a great free resource we released in late 2014, so the first thing to do is to cruise over to this page and get your copy immediately.
With your guidebook now in hand, join us next Wednesday (July 8) for our third online discussion on the content of the guidebook. This time out, we'll be focusing on a range of tools and techniques that MPOs can use to get to or stay on the leading edge of smart transportation planning in regions small and large.
Specifically, we'll be looking a few provisions in the Senate's recent proposal for a six-year transportation authorization that will create some new opportunities for innovative MPOs prepared to capitalize, how one region is taking advantage of an amazing wealth of data to better measure the performance of their transportation dollars, and an emerging placemaking and planning approach that leverages arts, culture and creativity to foster more inclusive economic development in communities of any size.
Register for this informative webinar on Wednesday, July 8th at 3 PM EDT and join the following experts:
Joe McAndrew, T4America policy director, will discuss a few key provisions in the Senate's long-term transportation bill, and the opportunities it will create for the MPOs best prepared to take advantage.
Monique De Los Rios-Urban from the Maricopa Association of Governments (MAG) will touch on performance measures and data collection. MAG has an amazing online suite of data research tools that you can test drive right here.
Erin Evenhouse, T4America Midwest outreach manager, will discuss the emerging practice of "creative place-making," and share stories of how some metro regions are using this inclusive approach to planning — as well as some details on a forthcoming T4America toolkit for MPOs and others on the practice.