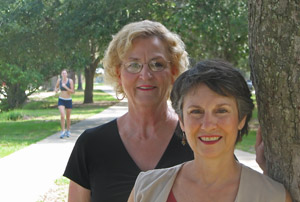 With the echo of the latest pedestrian fatality figures still ringing, a city in the deep South became the latest, albeit unlikely, place to adopt a Complete Streets policy. To paraphrase the song: if it can happen there, it can happen anywhere.
When people think of "infrastructure," images of roadways and grids tend to come to mind. But there's another kind of infrastructure — support from key people and players on the ground — that is equally crucial to how we build our communities.
Wendy Allen and Charlene Lee (pictured at right) of Smart Coast, an advocacy group aimed at strengthening and revitalizing the Alabama coastline, understand the importance of that support structure. Without their coalition-building skills, it's unlikely the Mobile City Council would have passed a Complete Streets policy this year.
Smart Coast was founded a decade ago to encourage smart and sustainable development in the face of increased population along the coast. In 2009, the Mobile region's poor ranking on pedestrian fatalities prompted the group to host an event to raise the profile of safe access for all road users.
"We were working in an area that did not have a groundswell or clamor saying 'my God, this is unacceptable that my area is unsafe,'" said Lee, the programs director for Smart Coast. "We were trying to build that groundswell."
Allen and Lee cited the recommendations in Transportation for America's Dangerous by Design report, and T4 Communications Director David Goldberg attended and spoke at the event. Mobile had 138 pedestrian fatalities from 2000 to 2009, according to our most recent report, and the state of Alabama was the fifth most dangerous state overall for people walking.
In January 2010, Smart Coast presented its Complete Streets recommendations to the Mobile City Council for the first time, a meeting Allen described as "a big lovefest." Prior to the presentation, Allen and Lee had solidified support from Councilmember Gina Gregory, who has a professional background in media and public relations. They also built relationships with business groups, city engineers and other key stakeholders.
The outreach resulted in a "foundational infrastructure with enough people in enough places that cared," according to Allen, Smart Coast's Executive Director.
"We had a perfect storm of things happens," added Lee.
The measure languished for over a year in the council's Public Safety Committee, but the backing of the Mobile Medical Society, coupled with increased activity among local bicyclists and the full backing of Leadership Mobile, a civic group, helped to finally advance the complete streets proposal to the full Council this year. Growing awareness of the public health implications of unsafe streets was particularly resonant in a state that consistently ranks among the highest in adult obesity.
As the Press-Register reported this week, the measure passed in Mobile is non-binding and lacks an enforcement mechanism, but Lee emphasized that it was important to "get the policy done first" so that advocates would have something to build upon.
Smart Coast is already at work on implementation, with plans to identify three potential Mobile streets that could accommodate a "road diet" that includes bicycle lanes and wider sidewalks. Mobile citizens would be invited to weigh in on where they would prefer to see these changes happen.
"If we can get an early success on the ground, we think that will parlay into this incredible engagement that's already occurring," Lee said.
Mobile is the sixth city in coastal Alabama to adopt a complete streets policy, following the lead of Fairhope, Daphne Chickasaw, Mount Vernon and Orange Beach.
Photo courtesy of Smart Coast.