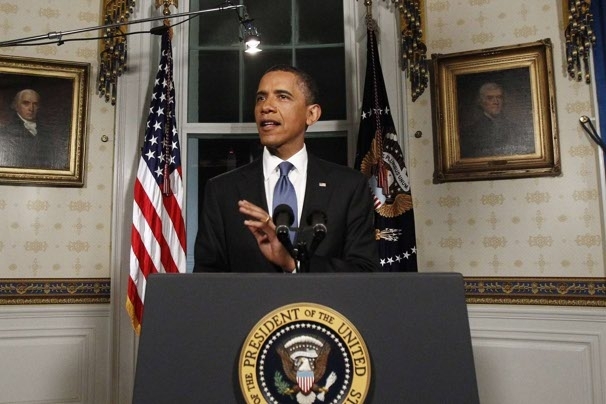 Down-to-the-wire negotiations late last night between President Obama, House Speaker John Boehner and Senate Majority Leader Harry Reid resulted in a budget deal containing about $38 billion in reductions from current spending levels and the prevention of a government shutdown.
With the Federal Government slated to close at midnight, the House and Senate passed a final one week stop-gap measure to allow the details of the agreement to be ironed out. The continuing resolution itself contains $2 billion in cuts that largely hit the U.S. Department of Transportation and Department of Housing and Urban Development.
By next week, Congress is expected to finalize its fiscal year 2011 budget — which runs through September — at the agreed-upon funding levels. President Obama made brief remarks on the budget compromise at the White House shortly after 11pm last night.
The cuts to transportation and housing passed last night were deemed largely non-controversial because they matched closely with the funding levels requested in President Obama's fiscal year 2012 budget.
The High Speed and Intercity Passenger Rail program will receive $1 billion, a reduction of $1.5 billion from the previous year, and the New Starts program — a key revenue source for transit projects throughout the country — loses $280 million, though the resulting figure is reportedly sufficient to fund projects that have already received grants from USDOT. Other cuts include:
$6.3 million from the Transportation Planning, Research, and Development account
$2.5 million from the Federal Railroad Administration's Research and Development; and
The Transit Research and University Research Centers Program budget is reduced to $64.2 million.
Details on the remainder of the fiscal year cuts and how they will affect transportation are not yet available, although Politico has early information on a few items:
One of the toughest fights, casting the White House as the budget cutter against reluctant Republicans, was in highway and transportation spending. But here the administration succeeded in cutting about $630 million in so-called orphan earmarks and $2.5 billion in unexpended contract authority.
We expect to hear more about the final package soon.
UPDATE: A White House blog post confirms that the fiscal year 2011 cuts include $630 million in earmarked transportation projects and $2.5 billion in funding that was slated for transportation projects.
Photo courtesy of the Washington Post.