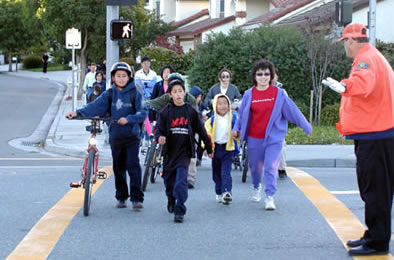 Photo courtesy of the California Department of Transportation
In the last couple of weeks, we suggested First Lady Michelle Obama's Task Force on Child Obesity consider transportation and the built environment.
Another important component is enhancing infrastructure for walking and bicycling.
Infrastructure to support walking and biking includes bike lanes, shared-use paths, and routes on existing and new roads as well as sidewalks, footpaths, walking trails and pedestrian crossings.  Improving bicycling infrastructure results in more bicycling, which makes intuitive sense.
Street-scale neighborhood design, such as improved street lighting, street crossings and traffic calming approaches, can also facilitate physical activity in small geographic areas.
On average, people in highly walkable neighborhoods take one or two more walking trips per week than those living in places with poor walkability. This additional 15 to 30 minutes of walking per week means a 150 pound person expends the energy equivalent of about one extra pound per year.
After only two years, participating schools in the Safe Routes to School Program in Marin County, CA, serving 4,665 students in 15 schools, reported an increase in school trips made by walking (64%), biking (114%), and carpooling (91%) and a decrease in trips by private vehicles carrying only one student (39%).
One way to facilitate increased bicycling and walking in through Complete Streets policies, which can happen at the state, local or national level. A Complete Streets approach requires jurisdictions to consider the needs of all users—whether walking, bicycling, taking public transportation or driving—in transportation projects.
As Michelle Obama's task force continues its work, we hope they will take a look at active living through increased changes to get outside, walk and bike.