Americans have spent the last several decades moving farther and farther away from urban centers, in search of affordability. Rapidly growing communities ranging from the sunbelt cul-de-sacs of greater Phoenix to the exurban fringes of Northern Virginia have sold people on a lower cost of living. The decades of "drive-til-you-qualify" resulted in millions moving out for supposedly cheaper housing. Broadly speaking, we have been buying what they are selling. But was it actually more affordable?
New research from the Center for Neighborhood Technology, with funding from the Rockefeller Foundation, turns the conventional wisdom about affordable housing on its head. Rather than considering solely housing prices as a measure of affordability, CNT computed a formula that factors in transportation costs, yielding a very different portrait of affordability. They redefine true affordability as less than 45 percent of income for housing and transportation costs combined. (Typical affordability falls around 30 percent or less of income.) By this expanded measure, 48,000 communities deemed affordable by conventional metrics are actually unaffordable. The percentage of affordable communities drops from almost 70 percent by traditional measurements to just below 40 percent.
This release expands CNT's previous work on this tool from just the biggest 52 metro areas to 337 metropolitan statistical areas across the U.S. So what does "location efficiency" mean?
While the concept of energy efficiency is a familiar term, locations can be efficient too. Compact neighborhoods with walkable streets, access to transit, and a wide variety of stores and services have high location efficiency. They require less time, money, and greenhouse gas emissions for residents to meet their everyday travel requirements.
The contrast between two communities – the Mt. Washington neighborhood in Pittsburgh, Pennsylvania and the Southern California suburb of Palmdale – provides a telling snapshot of affordability and "location efficiency."
In Mt. Washington, perched above downtown Pittsburgh across the river, residents enjoy walkable streets, ample open space, a vibrant business district and close proximity to schools. Transit ridership is above average for the region, with 23 percent of workers using transit for the daily commute, and residents spend an average of $474 a month on transportation. The average combined housing and transportation cost, according to CNT's formula, was 39 percent of income. In low-density Palmdale, the fastest growing city in Los Angeles County in 2009 but miles from the heart of L.A., only 4 percent of workers use public transportation for their daily commute and average transportation costs per month are nearly $900. According to CNT's formula, average housing and transportation costs require 54 percent of income.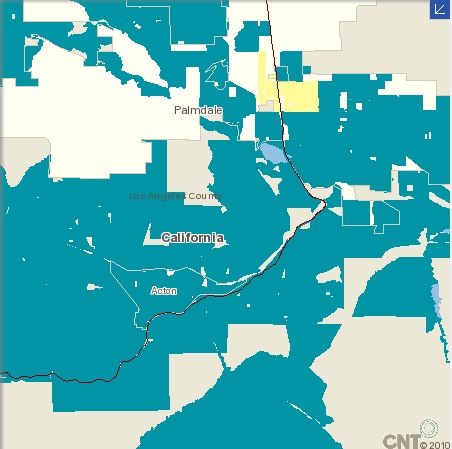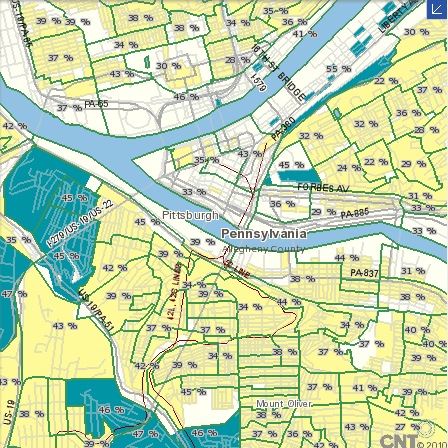 Palmdale, California, left, and Mt. Washington pictured with the blue areas showing places where housing + transportation costs total more than 45%. Screenshots from CNT.
Penny-wise and pound-foolish (or pound-fuelish) is how the report's describes many Americans' approach to affordability. So how can we increase people's options, raise awareness of hidden transportation costs and encourage a broader view perspective on affordable housing?
CNT has three suggestions.
First, transportation costs should be as transparent as possible. A bill sponsored by Congressman Earl Blumenauer would do just that by requiring transportation costs to be disclosed in real estate transactions.
Second, future policies and investments in transportation should measure true affordability with this new yardstick. The Livable Communities Act, sponsored by Senator Chris Dodd of Connecticut, would move us in that direction.
And third, federal transportation law ought to provide more funding and incentives to increase transportation options and greater proximity between housing, transit and jobs. These changes must be included in the next reauthorization of the transportation bill, which Congress just extended to the end of 2010.
With low-income and impoverished residents increasingly concentrating outside of central cities in areas where transportation costs are much higher, we need to invest in the kinds of transportation options that will keep them from getting stranded when gas prices go up.
The good news is that many public officials get it. Transportation Secretary Ray LaHood has expressed his desire to broaden the criteria for transportation projects, and a new partnership between the Environmental Protection Agency, DOT and Housing and Urban Development is included in President Obama's 2011 budget. As Elana Schor said on Streetsblog this morning, this data is "aimed at encouraging the Obama administration to update its measurement of affordability, a goal embraced by the heads of the three agencies participating in the inter-agency sustainability work."
Ron Sims, deputy secretary at HUD, said the Center's report "demands that we address the issue of transportation costs and the built environment so people can make a better decision about where they live and what they can afford."
We echo that demand.