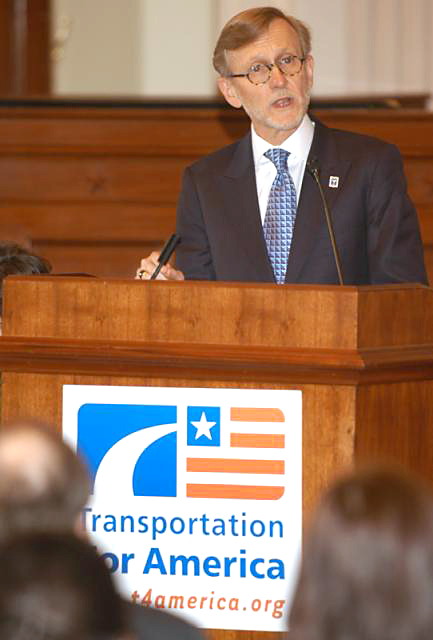 John Robert Smith is co-chair of the Transportation for America campaign and former mayor of Meridian, Mississippi.
Hearing President Obama call high-speed rail "the infrastructure of tomorrow" gave me great hope. Very rarely has transportation investment made the final cut in a presidential State of the Union address. The fact that it did make the cut this time really speaks to the president's commitment to making high-speed rail a reality.
I've heard critics say over the years that the U.S. is too big for high-speed rail. China is the biggest country in the world and they built over the Himalayas and are now committing an additional $500 billion over the next 20 years. Saudi Arabia too is investing in high-speed rail in preparation for that certain day when oil reserves will no longer sustain the country. If they can do it, we can do it.
High-speed rail investment is about jobs, and not just temporary jobs, but long-term American jobs that cannot be outsourced. These jobs will employ Americans to build both rail networks and passenger rail equipment. This could be a real lifeline for unemployed automotive workers struggling to get and keep a new job. And these Americans will be going to work building a cleaner environment and more sustainable future for all of our children.
I have seen first-hand what investment in rail infrastructure and transit-oriented development can do to lift a mid-sized city like Meridian, Mississippi. Now there are people living in downtown, there's entertainment downtown and a conference center has been built. It all started with a public sector investment done right. The vibrancy that returns to smaller communities as a result of rail service has improved the quality of life for millions of Americans. This is not about big city versus small, or urban versus rural. Chicago and Los Angeles will surely benefit from rail investment, but so too will places like Minot, North Dakota and Whitefish, Montana. This addresses the needs of our entire country and should be embraced by our representatives in Washington from all corners.
Of all the issues facing Congress, surely high-speed rail investment can transcend partisanship. As a Republican, I have worked with some the most liberal and conservative members of the United States Senate to protect Amtrak for people who depend on it. I see the potential for similar partnerships today and am heartened that we have a president who is leading the way.
Mayor John Robert Smith is co-chair of the T4 America Campaign, president of Reconnecting America, and former mayor of Meridian, Mississippi.