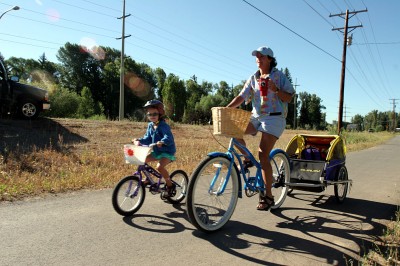 Being able to bike or walk safely can help keep people healthy. Photo by Dan Burden, walkable.org
Our transportation decisions have a huge impact — positive or negative — on the health and well-being of all Americans.
This idea that health and transportation are connected is gaining traction all across the country due in large part to groups (and T4 America partners) like the American Public Health Association, Prevention Institute, Partnership for Prevention and Health by Design.
They've started asking important questions that need to be answered: Can we safely walk as part of our daily routines? Is future pollution and its harmful effects considered when planning a new highway or where to build it? Are we designing communities where seniors can still get around and avoid being stranded at home?
An influential doctor and T4 partner wrote a smart op-ed for an Eastern Tennessee newspaper this week asking some of these pointed questions on behalf of Tennesseans.
The piece, "Sidewalks and Bike Paths: Transportation Reform Would Help With Air Quality, Health," ran in the Sunday edition of the Johnson City Press (no online link available) and was authored by Dr. Anthony DeLucia, a member of the faculty at East Tennessee State University. DeLucia is also a former chairman of the American Lung Association and member of the Environmental Protection Agency Clean Air Act Advisory Committee.
He recently met with the offices of Tennessee Senator Lamar Alexander and Representatives John Duncan Jr. and Zach Wamp as a participant in T4 America's health fly-in last October to emphasize the link between health and transportation policy.
DeLucia argues that Tennessee has succeeded at getting its fair share of Washington transportation funds but fails to address transportation challenges in a comprehensive way.
The problem is that Tennessee, like other states throughout the country, has neglected to address core transportation challenges in its five major metropolitan areas. Instead, we have provided an illusory and one-dimensional economic stimulus. In transportation policy, "my way or the highway" literally means "my way is the highway." We need a fresh look at policy, funding and accountability that addresses the challenges of local metropolitan planning organizations, state departments of transportation and the Federal Highway Administration.
He also compels us to look at our transportation policy as a reflection of our broader societal values and the country we want our children to grow up in.
The right kind of streets allow kids to burn those calories by bicycle, foot or skateboard to school, recreation, social engagements and the like. For our growing senior population, some of whom cannot drive, a complete street and sidewalk system with amenities like crosswalks, raised medians, trees, fountains and benches is a thing of beauty and utility.
DeLucia cites Transportation for America's Dangerous by Design report to highlight how Tennessee's major cities stack up on pedestrian safety. Nashville ranked second-best among cities with more than 1 million people in spending on pedestrian safety, while Memphis clocked in as the fifth worst among 52 large metros. On quality of life statistics, DeLucia points out that Tennessee lags most other states, with high rates of poverty and poor air quality. He concludes with this:
From health and the environment to equity and economic development, smarter transportation policy can help us turn a corner for the better in Tennessee and the entire nation.