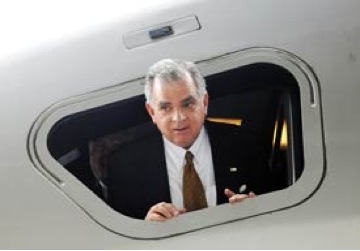 A top priority in the transportation debate is addressing the mobility needs of the 56 million residents of rural areas and small towns in America – about 20 percent of the population of the United States. Rural areas and small towns often fall through the cracks of federal transportation policy, which focuses on statewide priorities for building new highways and often overlooks local needs and preferences.
Access to jobs, schools, shopping, and critical community services is just as vital for Americans living in small cities, towns and rural communities. Transportation for America has been working closely with our coalition partners on this important issue for some time. Now, it looks like Secretary of Transportation Ray LaHood is also getting on board.
Listening to folks at the La Crosse Interstate Fair in Wisconsin this week, he heard many of the same things that we already know:
It's getting harder financially to depend on a truck or car for all of a family's transportation needs.
Rural residents need public transportation just like city-dwellers do.
Access to commercial air service is increasingly difficult for rural areas.
Shippers of grain and other products need better freight options to get rurally produced goods to markets.
Clearly, the transportation system in rural areas and small towns faces challenges and demands that are unique from those in our metropolitan areas. Small cities and towns have higher concentrations of older Americans and families in poverty who would absolutely benefit from more affordable transportation options, beyond just driving. In addition, children in rural areas are 25 percent more likely to be overweight or obese than those in urban areas and face unique barriers to being active and maintaining a healthy weight. Non-metro areas have a larger share of people over age 65 (15 percent) than the country as a whole (12 percent) particularly across the middle of the country. (According to 2004 numbers.)
These challenges are amplified by global changes in the economic marketplace, insufficient funding to maintain substandard or unpaved roads, improve public transportation services, and upgrade or replace substandard and deteriorating bridges.
Our nation's transportation infrastructure should provide access for all Americans, regardless of their geographic location, age, income, or disability status. While there are no easy answers here, Secretary LaHood's comments are a good starting point for reframing the debate towards policy options that benefit all Americans, regardless of geography.