Over the last 60 years when streetcar tracks were torn up and the streetcar companies were consolidated into bus companies or forced out of business, we lost more than just convenient public transportation in our cities. We also lost an industry that created jobs and supported industry across the country. Take a ride in almost any city running a modern streetcar or light rail system, and you'll almost certainly be riding in a foreign-made product.
Because most railcars are almost entirely produced overseas, other countries have been enjoying the economic benefits of America's booming transit ridership with new light rail and streetcar lines opening from coast to coast.
That began to change today in Portland, as the first American-made streetcar in almost 60 years was unveiled to the public. The streetcars are made by United Streetcar LLC and their parent company, Oregon Iron Works. The new streetcar, which cost $2.9 million and was responsible for creating 90 jobs, according to the Portland Mercury, was unveiled in a special ceremony today with transportation secretary Ray LaHood. Updated: Here's the post summing up the visit on LaHood's blog.
To let everyone in Oregon know how significant Transportation for America thinks this event is, we took out an ad in The Oregonian today to congratulate Portland and their congressmen for making an investment in clean, green jobs in Portland that will pay huge dividends for years to come for Portland and the state of Oregon.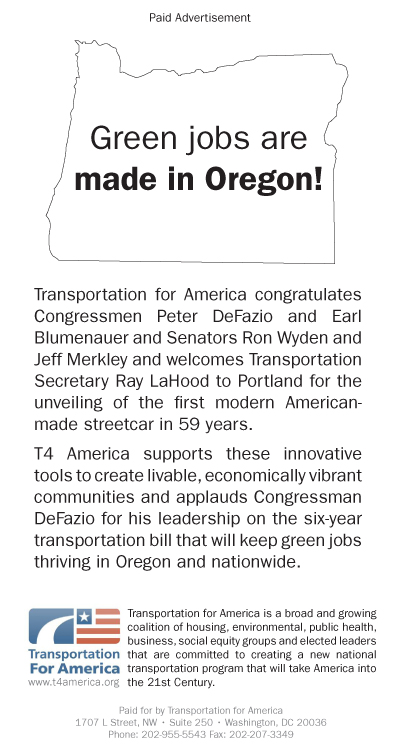 The good news is that it wasn't just one streetcar. Oregon Iron Works has an order for six more for Portland, and a $26 million order from Tuscon, Arizona. (below, Oregon Iron Works workers pose with an American-made streetcar. Photo from their site)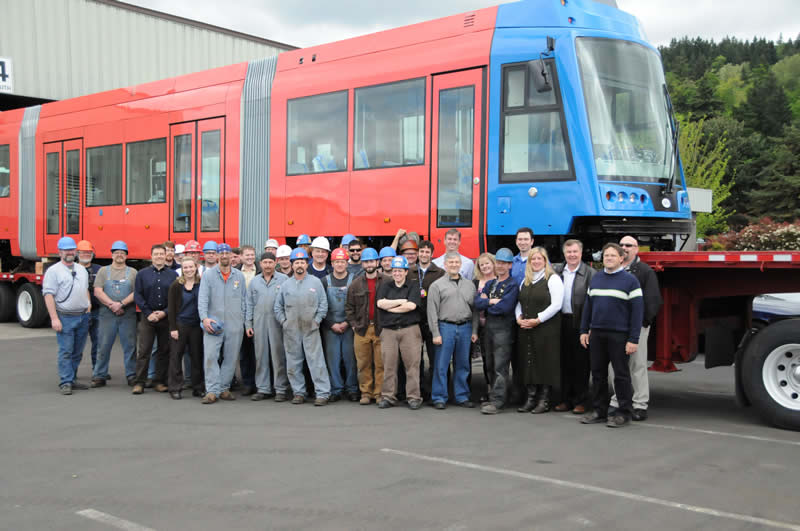 The Infrastructurist muses on the potential for this Oregon company to lead the way and revive an old industry for the U.S:
If our Spidey sense is right – as, well, it usually is – this company and Oregon have seized an incredibly valuable first-mover advantage in what could prove to be an important domestic industry in years to come. After American cities tore up streetcar tracks and junked their rolling stock en masse in the middle of last century, dozens of [them] are now planning or considering a new system. With oil at $70 a barrel in the depths of brutal global recession, our guess is that number will only grow in the years ahead.
So how about we bring these clean, green jobs home to the USA? Having American companies meeting the demand for new public transportation railcars equals good jobs and a useful product that can help us reduce our dependence on oil, cut emissions, and get us where we need to go quickly and efficiently. What's not to like?