Stories tagged with
stimulus
Click on a story title to read that post. Posts are ordered chronologically from newest to oldest.
Do you know a good job-creation story from the stimulus?
January 19, 2011
By Stephen Lee Davis
The $787 billion stimulus from 2009 included roughly $30 billion for transportation, and $8 billion specifically for transit. Also, large transit agencies had the flexibility to use a portion of their stimulus money to operate trains and buses, in many cases keeping already painful cuts and fare increases from getting any worse. So here's the [...]
Normal, Illinois breaks ground on transportation hub
August 9, 2010
By Sean Barry
U.S. Senator Dick Durbin speaks in Normal, Illinois on the site of the new multi-modal transportation hub. Photo courtesy of the Bloomington Pantagraph. Just over two months after T4 America Director James Corless visited Normal, Illinois, that same town of 45,000 broke ground on a new transportation hub that promises to spur the economy and [...]
Making Normal, Illinois the new "norm" for transportation planning
June 7, 2010
By Kathleen Woodruff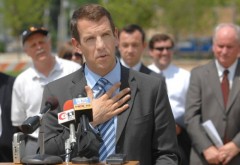 Last week, Transportation for America Director James Corless was in Normal, Illinois, a town of 45,000 and recipient of a $22 million grant for a new city transportation hub, touting the project as a model for smarter federal transportation spending in the next six-year transportation bill.
Transit grants out the federal door, but what about the cuts?
March 8, 2010
By Stephen Lee Davis
Secretary LaHood is (rightfully) touting the news on his blog this morning that the FTA met their deadline for distributing 100% of the transit grants from the stimulus package. That's great news, but it should be accompanied by the sobering reminder that these public transportation systems that get people to work each day couldn't use that money to keep from having to cut service at a time when it's needed the most.
Will the TIGER grants reinforce metropolitan areas?
February 19, 2010
By Stephen Lee Davis
Rob Puentes of the Brookings Institution, writing for New Republic's The Avenue, wrote a post this morning examining where transportation stimulus dollars have been directed. You can't get too far reading the Brookings Metro Program without seeing a notable statistic: the 100 largest metro areas contain two-thirds of our population and produce 75 percent of [...]
TIGER Grants Offer Critical Support to Communities with Innovative Transportation Projects
February 17, 2010
By Transportation for America
The Obama Department of Transportation today broke historic ground in unveiling projects chosen in a first-ever program to award federal dollars on a competitive basis to innovative projects that address economic, environmental and travel issues at once. The 51 projects announced under the TIGER grant program, funded by $1.5 billion included in the American Recovery and Reinvestment Act (ARRA), meet a broad array of challenges.
T4 jobs proposal would create nearly half a million jobs, according to Economic Policy Institute
February 17, 2010
By Sean Barry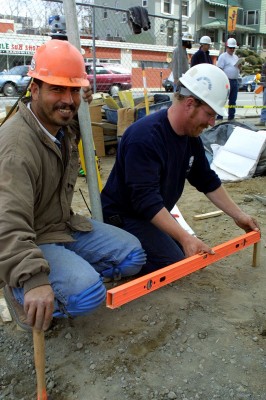 The Economic Policy Institute ran the numbers on Transportation for America's jobs proposal and concluded that our plan for increased transportation spending would create 480,000 jobs. Our proposed package for Congress directs $34.3 billion toward a mix of public transportation, highways and bicycle and pedestrian projects, closely resembling EPI's own plan.
TEN study: minority and women-owned businesses got small slice of stimulus
January 13, 2010
By Sean Barry
Although unemployment turned out worse than some forecasters anticipated, there has been some consensus among economists that the American Recovery and Reinvestment Act passed earlier this year prevented even higher job losses while channeling much-needed relief to states. But spending money quickly often relies on formulas and methods that are outdated, or — as evidenced in last month's report by the Transportation Equity Network (TEN) and Good Jobs First — inequitable. Minority-owned businesses have received only 10.2 percent of stimulus funds toward federal contracts, while women-owned businesses received 5.9 percent.
SGA analysis reveals transportation projects create the most jobs at the lowest cost
January 5, 2010
By Sean Barry
A new analysis of federal stimulus spending, co-authored by Smart Growth America, the Center for Neighborhood Technology and U.S. PIRG, reveals that during the first ten months of the American Recovery and Reinvestment Act (ARRA), investments in public transportation produced twice the jobs per billion dollars as did highway projects.
House passes short extension of transportation bill, moves to jobs bill
December 16, 2009
By Stephen Lee Davis
A few hours ago, the House passed a $636 billion defense spending bill that included a two-month extension of the federal transportation law. Don't count on two months as the final length of an extension though — House members are hedging their bets. Later today, the House will vote on a separate $174 billion jobs bill. Tucked inside that bill is a longer extension of the 2005 transportation bill that would extend SAFETEA-LU all the way to the end of September 2010.