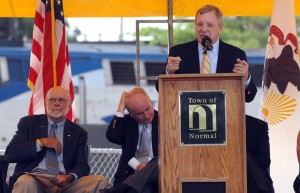 U.S. Senator Dick Durbin speaks in Normal, Illinois on the site of the new multi-modal transportation hub. Photo courtesy of the Bloomington Pantagraph.
Just over two months after T4 America Director James Corless visited Normal, Illinois, that same town of 45,000 broke ground on a new transportation hub that promises to spur the economy and facilitate the creation of good-paying jobs.  The center will serve Amtrak, city and interstate buses and taxis and will be open for business within two years. Illinois Senator Dick Durbin and Normal Mayor Chris Koons were among the participants in the first ceremonial shoveling of dirt.
The project will put 300 people to work building Amtrak's railroad cars, and create immediate construction jobs. Ronn Moorehead, the president of the Bloomington-Normal Trades and Labor Assembly told the Bloomington Pantagraph that 70 to 80 percent of construction worker's pay is spent in his or her community.
Federal Transit Administrator Peter Rogoff was also on hand for the festivities, and Transportation Secretary Ray LaHood blogged about it today, pointing out that the hub is being funded by the American Recovery and Reinvestment Act signed by President Obama in early 2009.
Debbie Halvorson and Tim Johnson, both members of Congress representing Illinois, and State Rep. Dan Brady also played a crucial role in getting the project off the ground.
Congratulations to Normal on moving forward with a great project to improve transit access, create jobs and grow the local economy.