Stories tagged with
seniors
Click on a story title to read that post. Posts are ordered chronologically from newest to oldest.
Asking the right questions about seniors' access to transit
July 6, 2011
By Sean Barry
Photo Credit: TransLink In a blog post last Thursday, Streetsblog Capitol Hill's Tanya Snyder tackled a question that has been marinating since Transportation for America released "Aging in Place, Stuck without Options," addressing seniors' mobility challenges: Is it the job of overextended transit agencies – and the responsibility of taxpayers – to expand transit to [...]
T4 America will address Senate panel on senior transit access
June 27, 2011
By Sean Barry
Transportation for America Director James Corless will testify before a key Senate panel this week about the need for better and expanded transit options for seniors. The Wednesday hearing of the Senate Banking Subcommittee on Housing, Transportation and Community Development comes on the heels of T4 America's recent finding that 15.5 million older Americans will [...]
Seniors and transit report generates widespread coverage and discussion
June 22, 2011
By Sean Barry
Last week, we released Aging in Place, Stuck without Options, documenting the more than 15.5 million Americans 65 years and older who, by 2015,  will live in places with poor or non-existent public transportation. The report ranked metro areas according to the percentage of seniors projected to face poor transit access, and asked: How do [...]
Throwing grandma off the train…and under the bus
June 15, 2011
By David Goldberg
True to his M.O., the Cato Institute's Randal O'Toole (right) resorts to name-calling, distortions and untruths to attack our report highlighting the transportation challenges facing communities with a rapidly growing number of seniors. It is ironic to hear Randal O'Toole – who is largely a shill for the highway lobby and its pet subsidies – [...]
Most Aging Baby Boomers Will Face Poor Mobility Options
June 14, 2011
By Transportation for America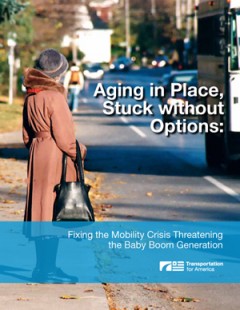 By 2015, more than 15.5 million Americans 65 and older will live in communities where public transportation service is poor or non-existent. That number will grow rapidly as the baby boom generation "ages in place" in suburbs and exurbs with few mobility options for those who do not drive. This new report ranks metro areas by the percentage of seniors with poor access to public transportation, now and in the coming years, and presents other data on aging and transportation.
Demographic changes make transportation reform more important than ever
June 10, 2009
By Andrew Bielak
While it's hard to predict how our country will change in the coming decades, one thing we can say for sure is that our population won't look anything like what it does today. The number of seniors in the U.S. is projected to jump by 36 percent from 2010, outpacing the growth of the overall [...]
AARP joins Transportation for America
March 25, 2009
By Stephen Lee Davis

Transportation for America is proud to announce that the American Association of Retired Persons (AARP) has joined the campaign as a partner, bringing their 40 million members into the fold, joining us to push for reforms to our federal transportation program.
Chicago mass transit falls short in evacuation planning, report says
July 22, 2008
By Andrew Bielak
A federal report from the National Research Council's Transportation Research Board reviews the capabilities of 38 urban areas to evacuate citizens during an emergency and finds that many transit systems would struggle to deal with vulnerable groups, such as the disable and poor. (Chicago Tribune — Richard Wronski and Jon Hilkevitch)
Financial crunch hitting seniors
July 21, 2008
By Andrew Bielak
Though all Americans are being hit hard by the slumping economy, many seniors on fixed incomes are in particularly dire straights due to rising food prices from the energy crisis and the collapsing mortgage industry. (Columbus Dispatch — Steve Wartenberg)
Old Without Wheels
July 15, 2008
By Andrew Bielak
As the American population ages, more and more seniors are going to need affordable and efficient transportation options — ones that go far beyond the personal automobile. (Miller-McCune – Matt Palmquist)